In early March of 2021, Sara Björk Gunnarsdóttir, a footballer for French club Olympique Lyonnais and the Icelandic national team, came home from evening training and realised something was off. 
Her period had been running late that month. She mentioned it to her partner, Árni, earlier in the week, and he'd asked her if she wanted to take a pregnancy test. "No, no, I feel it," she told him, and waited.
But it still didn't arrive. So on March 2, she took the test.
"You're supposed to wait two minutes," Gunnarsdóttir wrote in The Players' Tribune, "but in one, the results were there: two blue lines. I was definitely pregnant."
Loading Instagram content
It was supposed to be one of the happiest moments of her life. Instead, she was almost immediately consumed by anxiety and fear.
"Shit. How is the team going to react to this?" she thought.
She told the team doctor first, and they agreed they would keep it under wraps for the first few weeks. The doctor told the team physios, so they could keep a closer eye on her in training and games.
But things changed before a crucial match against Lyon's arch-rivals, Paris Saint-Germain. Gunnarsdóttir had thrown up three times the day before, and when the head coach asked if she could play, she had to tell them all the truth.
"It was funny to see their reactions because some of them were so shocked," she wrote.
"I think, once it really sank in, everybody was so happy for me and super excited. But they naturally had a lot of questions because I was the first person in the history of Lyon to get pregnant, and with the full intention to come back and play."
They met with the club director to arrange the next steps. The doctor suggested she should stop playing at this point, and with another round of COVID-19 sweeping through the team, Gunnarsdóttir was worried about how it could affect her pregnancy.
She wanted to fly back to Iceland for the remainder of the process, to be close to her partner, her family and friends. The director signed off on it, helped with all the paperwork and insurance, and she departed, overjoyed, in early April.
"I didn't have any reason to think anything would go wrong," she wrote. "Until I didn't get my first pay cheque."
A legal whirlwind
Over the course of the next few months, Gunnarsdóttir realised she was not receiving the payments that she was entitled to under FIFA's new maternity policy, which had been implemented in January 2021.
Under that policy, pregnant players were entitled to at least 14 weeks of maternity leave paid at a minimum two-thirds of a player's full salary.
But that's not what Gunnarsdóttir was receiving. Her first pay cheque didn't arrive in full. At first she thought it was a clerical error, but her teammates had received their total salary deposits on time. She was only getting a fraction. The next month, it happened again.
She wrote to Lyon repeatedly asking where her payments were, but they ignored her. After three months of no responses, the club sent her an email saying they were following French law, not the rules of FIFA, meaning they didn't owe her anything else.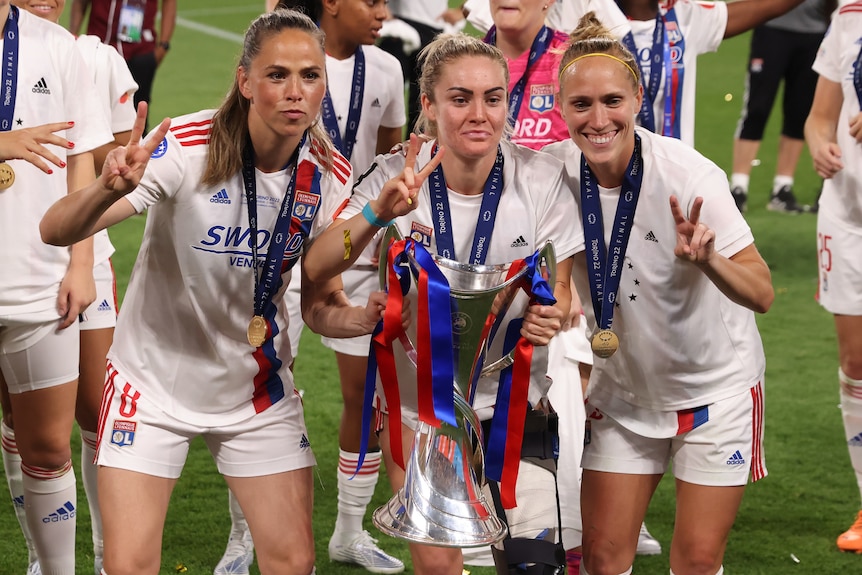 Gunnarsdóttir knew she was being paid far less than what she was owed. It was an even more egregious move as Lyon is the biggest and most-successful women's club in history, and had just won another UEFA Champions League final, so they weren't short of a quid. But Lyon refused to budge.
So she took the issue to FIFPro, the global players' union, who continued to demand answers. Months passed with no resolution. So they told Lyon that if it didn't resolve the matter, they'd take it to FIFA's Dispute Resolution Chamber. That's when a club representative made the threat: If Sara goes to FIFA with this, she has no future in Lyon at all.
"I was just shocked," Gunnarsdóttir wrote. "This should have been the happiest moment of my life.
"The whole situation made me feel crazy. How could any team get away with this?
"There wasn't going to be a discussion or negotiation. [The club] completely shut it down.
"So, I'm in Iceland. Pregnant. And now I'm thinking, wait, did I just lose my job?"
Gunnarsdóttir wouldn't give in, though. She continued training throughout her pregnancy, paying out of her own pocket to maintain her fitness and give herself every chance to return to the club. She gave birth to her son, Ragnar, in November.
As she was still under contract, she returned to Lyon the following January, but when she started back at training, she noticed that she was being treated differently. The club didn't want her to bring Ragnar on away trips with them, saying he could disrupt other players. She couldn't leave him at home as she was still breastfeeding, so the club agreed to two trips as a "test".
"I wasn't comfortable with him being 'tested'," she wrote. "I wasn't going to put myself and Ragnar in that situation. The understanding between us just was not there, and I felt that. They always made me feel like it was a negative thing that I had a baby."
Eventually, a meeting with the club director and its president, Jean-Michel Aulas, was the turning-point.
"It was the first time [Aulas] had seen me since I had returned with my baby. He didn't even greet me, didn't look at or acknowledge Ragnar. But [the director] had just reassured me, five minutes before, regarding the case, that 'it wasn't personal'. After that moment, with the president, it was clear that it was."
A landmark decision
Meanwhile, FIFPro was continuing to fight for Gunnarsdóttir in the background, sending regular emails to the club requesting they pay her what she was owed while putting together a legal case.
Last May, after a full FIFA investigation that took all correspondence, timelines, and policies into account, the governing body handed down its findings. In a world first, it ruled in her favour.
They found that Lyon had discriminated against a contracted player on the basis of pregnancy, and ordered the club to back-pay her the amount of salary they owed her under the maternity leave policy.
There was also a consequence: if they failed to do so within 45 days, they could face a club-wide transfer ban for the next three windows.
As the first footballer to successfully sue a club for pregnancy discrimination, Gunnarsdóttir has set a new precedent for the professional game all over the world.
In women's football, pregnancy and family planning have been two of the biggest influences in players' decisions to retire early: not because they are physically incapable of returning to the sport, but because the clubs and leagues around them have, historically, offered little to no support in doing so.
Proportionally, only a handful of athletes in Australia have successfully returned to professional sport following pregnancy, including Matildas midfielder Katrina Gorry and newly retired AFLW player Daisy Pearce. This is, in part, due to the increasing strength of player unions and the ongoing fight to include maternity policies in national team and domestic league collective bargaining agreements over the past few years such as in cricket, netball, football, basketball, and Aussie Rules (with varying degrees of implementation so far).
But this is the first time that FIFA, a global governing body, has handed down such a ruling. It's significant because it is a standard that will affect clubs within all 211 of its member associations and provide professional athletes who wish to fall pregnant — particularly women — with the reassurance that they have an added global layer of legal protection that did not exist a few years ago.
As Gunnarsdóttir's case shows, FIFA's regulations even over-rule domestic civil laws, which Lyon had cited as the reason for their decreased payments to her, but which FIFA's tribunal ultimately rejected.
Alexandra Gomez Bruinewoud, a senior legal counsel at FIFPro who worked on the case and helped shape FIFA's maternity policy, said this was exactly the reason they fought so hard for their development.
"We did not expect such a case when we pushed for these regulations, but we knew there would come a time when these protections would be used," she told Reuters.
"The relevance is that now, players will not have to choose between playing and being a mother. They will be able to combine it. It wouldn't be easy, of course, but at least they have the legal basis where they have some protections."
For Gunnarsdóttir, whose contract with Lyon ended after she captained Iceland at the UEFA Women's European Championships last year and now plays with Juventus in Italy, this was not just a win for her: it's a win for footballers everywhere.
But this is just the beginning. Changing the laws is one thing. Changing the culture that still shuns players for falling pregnant is quite another.
Loading Instagram content
"These are part of my rights, and this can't be disputed — even by a club as big as Lyon," Gunnarsdóttir wrote.
"That's why I'm writing this. The victory felt bigger than me. It felt like a guarantee of financial security for all players who want to have a child during their career. That it's not a maybe, or an unknown.
"I want to make sure no-one has to go through what I went through ever again. And I want Lyon to know this is not OK. This is not just business. This is about my rights as a worker, as a woman and as a human being.
"I'm very hopeful about the women's game. There's a lot to celebrate. The facilities? The investment? The level? The fans filling up the stadium? We've come so far. That's undeniable.
"But the reality is, when it comes to the overall culture, there's a lot more work to do. We deserve better."
#australiannews #australian_news