Bella Ma grew up watching her grandfather and older brothers play ice hockey at their local ice rink in Sydney, eventually joining in on the fun herself five years ago.
This weekend, the 14-year-old will debut for the Australian under-18 girls ice hockey team at the World Championships in Scotland.
"It's a very big opportunity. I've always dreamed of playing for Australia and getting that phone call. For the Australian coach to even know me, was pretty good," Bella said.
Bella only received her first passport just before Christmas, and getting to the national squad and the World Championships has been a challenge.
Bella's local club, the Liverpool Catholic Club Saints, created a GoFundMe page and helped organise fundraising events to raise money for her trip.
"Bella got a lot of support from the hockey community," her grandfather and carer Mick Lynch said.
"We've been extremely lucky and grateful at the same time that people have been able to get that money together."
Changing lives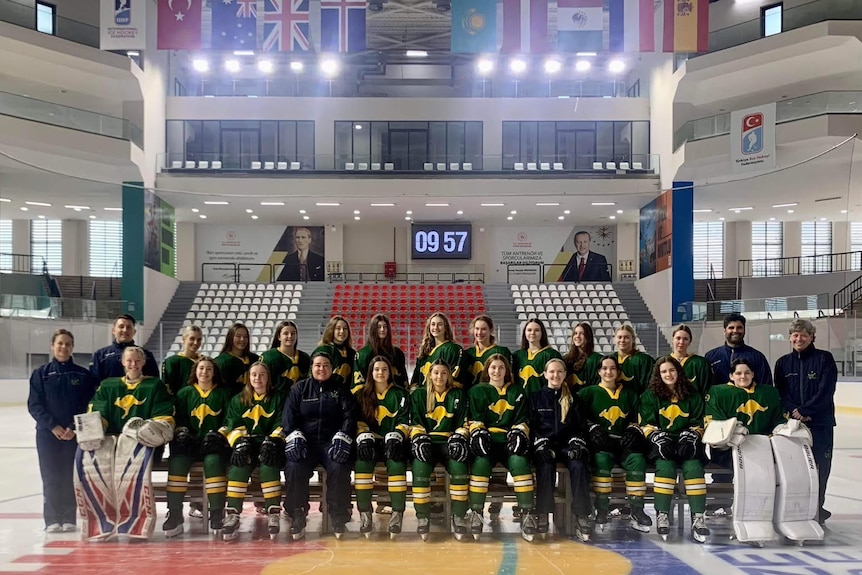 Australia brought home bronze and silver medals from their past two tournaments, and this time the Aussies are hunting for gold, and for promotion to the next division.
Like most winter sports in Australia, ice hockey struggles with funding and there are many young players like Bella who've had far from a smooth path to the national team. 
"The thing with Australia, we aren't just hopping on a bus or train to get [to the World Championships]," head coach Tamra Jones said.
"The hotel and meals are covered by the IIHF (International Ice Hockey Federation), but flights and any pre-tournament camps and games are costs we have to pay for."
On average each World Championship tour costs each player between $4,000 to $4,500.
There is some funding from Ice Hockey Australia, but it's limited, and players are expected to self-fund their participation.
Jones said the team takes different approaches to ensure that playing comes down to talent and not financial support.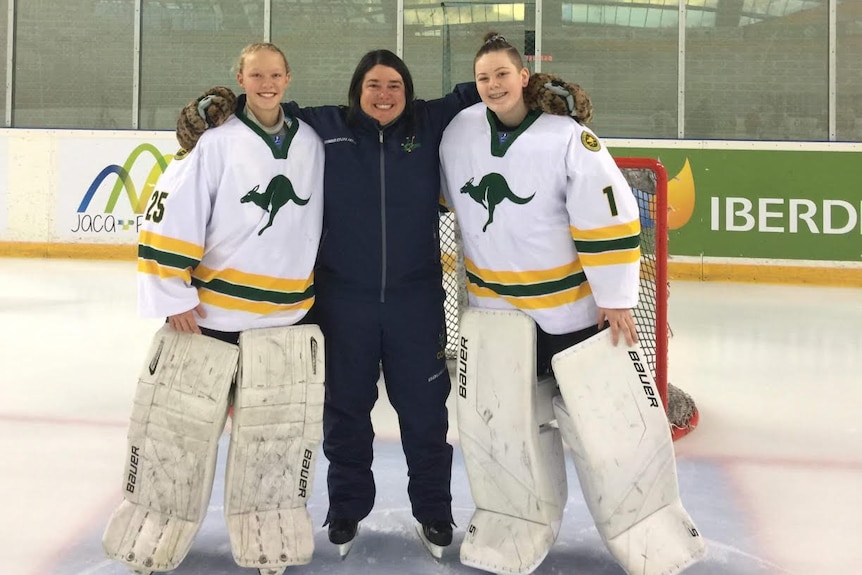 "We've been very fortunate with this program in particular that we have a quiet philanthropist who sponsors players," she said.
"It's from a social justice perspective, for a child that comes from a background that would otherwise not be able to afford this opportunity on their own," she said.
"We also help with letter writing for grants and sponsorship, but we are lucky to have people to help out.
"From that we have seen girls change their life story, because someone believed in them, invested in them."
From Friday night ice discos to international competition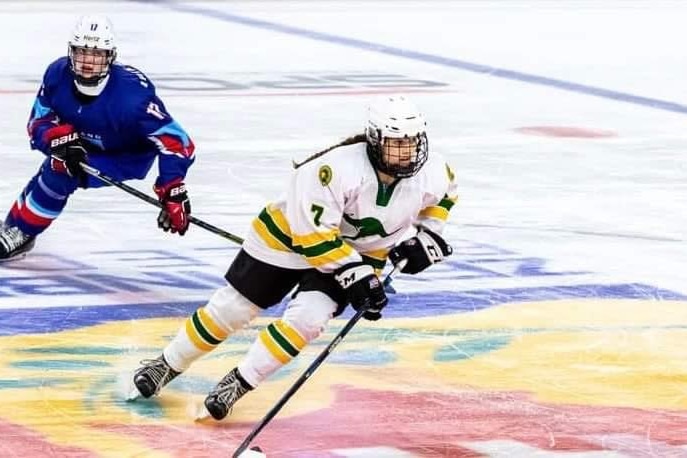 Joining Bella on the team is Phoebe Roberts, also from Sydney, who is returning for her third and final year and second as assistant captain.
Phoebe currently lives in Saskatchewan, Canada where she plays in the female U18 AAA hockey league and is just as excited to represent Australia in 2023 as she was on debut.
"I wish we could do it more than once a year, but I know that would be expensive," she said.
"This is a once-in-a-lifetime opportunity. It is something that you will grow from and take into your life.
"It's life changing, and I think Bella is going to feel the same way after her first tour."
The duo grew up in the same area, often skating at the rink in Liverpool together on Friday nights, but this will be the first time the pair play on the same team.
"Bella is my family friend … I've been really close with her and she has really developed. I can't wait to see her play," Phoebe said.
Building a team culture worth the investment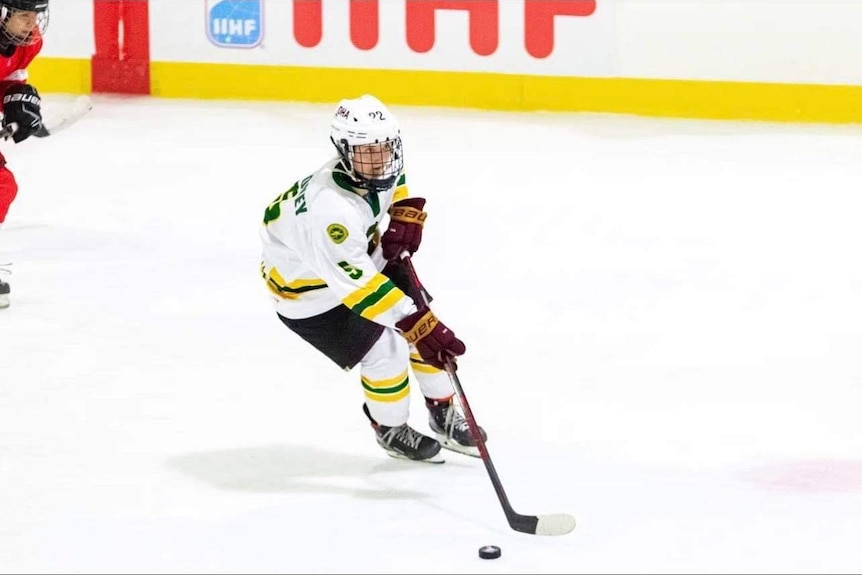 Australia will compete in Group A of Division II and play against Great Britain, Netherlands, Latvia, Turkey, and Mexico in a round-robin series.
The Australians have previously beaten the Netherlands, Latvia and Turkey but it will be tough for the team on the closing night of the tournament against the hosts, Great Britain.
"I always talk about the wins off the scoreboard. We want to win hockey games and medals, yes. But we want these girls to learn about respect, accountability, sportsmanship," Jones said.
Although ice hockey has a long history in Australia, with the Goodall Cup often being touted as the sport's oldest trophy outside of North America, the U18 girls program is new.
Green-lit by Ice Hockey Australia in 2015, the first team competed in the 2016 World Championships in Austria.
The 2023 Championships will be the team's seventh tour.
"When we first started the program in 2012, we were trying to pull numbers together," Jones said.
"When we went away for the first time in 2016, we probably only had 27 players who were eligible and at that level."
Ice hockey and the sunburnt country appear to exist at odds but while the program continues to develop and ice hockey becomes more accessible in Australia the breadth of players participating grows too.
"Last year when we went to Turkey, the list of players to really consider was over 50. There were so many that were fighting for those late spots that were realistically neck and neck," Jones said.
"That has continued. This year, we had a list of over 80 names."
The landscape for women and girls in ice hockey is growing steadily.
The five-team national league, the Australian Women's Ice Hockey League (AWIHL) supports strong open and youth national squads.
But while the growth is positive there is still a long way to go to achieve parity between the men's and women's leagues.
Unlike the women, the men's league, the Australian Ice Hockey League (AIHL) is semi-professional.
Some players are paid to play, and others benefit from accommodation, car use and flights and travel within Australia.
The women must pay out of their own pockets for the chance to play in their national league which is a shorter season played in summer.
A 'field of dreams' built on character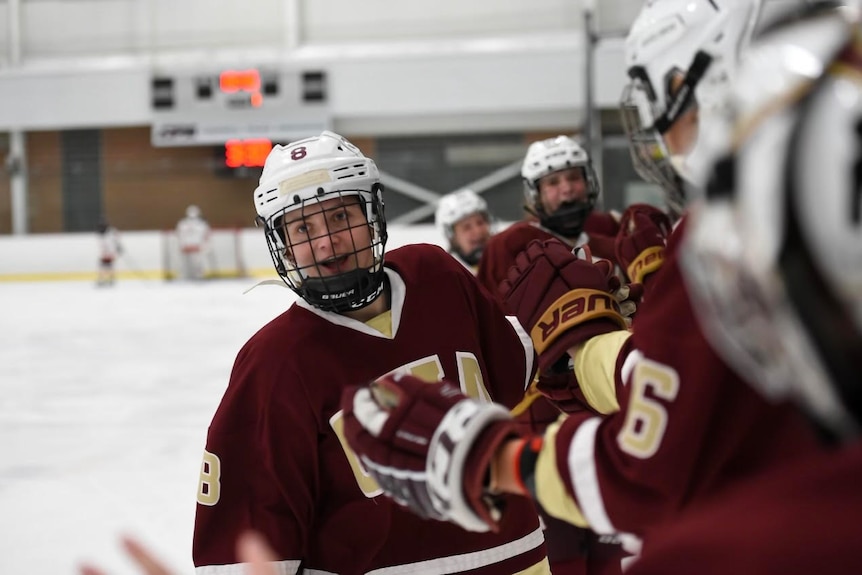 Despite the challenges of funding, the U18 team has enjoyed success in their short history.
Key to that success is the culture that Jones , assistant coach Remi Harvey and the team staff have worked hard to develop.
"I just had the attitude of 'I'm going to build this' and at the start there was so much apprehension," Jones said.
"So, it is a bit of that field of dreams, we built it and now here they are and it's surprising to me every year how strong these girls are getting."
Jones points to two players, Phoebe Roberts and Queenslander Courtney Mahoney, who exemplify that strength.
"They have been rivals their whole careers. When the U18 program first started they were 12 and coming to the camps."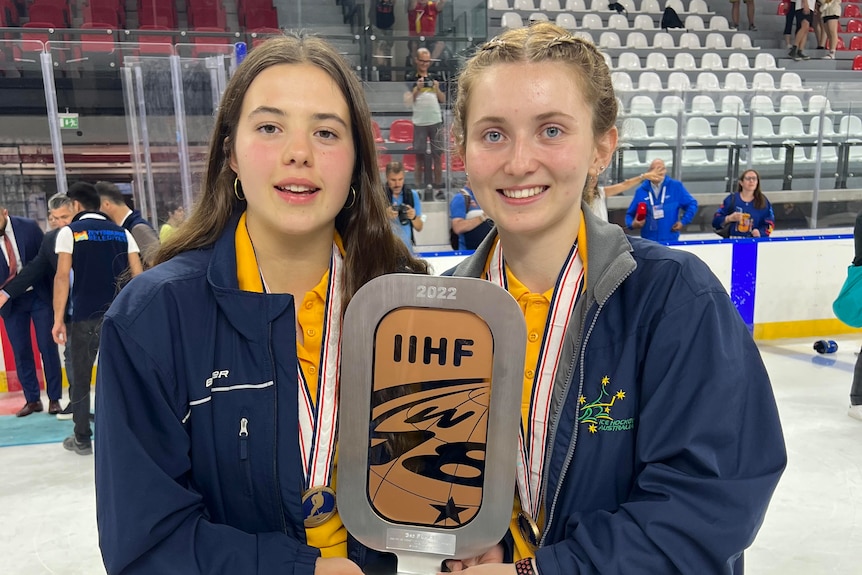 She recalls telling the pair that she wouldn't make the choice between them, instead they had to qualify for the team together.
"Now here [they] are, assistant captains together."
Courtney started playing ice hockey as a 10-year-old and after being selected to attend Sidney Crosby's Hockey School in Halifax Nova Scotia is now a part of the Ontario Hockey Academy in Canada where she lives for nine months of the year training every day.
When home in Australia, she plays for the Brisbane Lightning (formerly Goannas) in the AWIHL.
Courtney remembers the rivalry she shared with Phoebe.
"We've been compared since we were twelve. I went to ice crocs with her, and she one upped me there and got captain.
"Then you've got our state tournaments where we competed against each other, so it's been a rivalry. We are both the same, strong-headed," she said.
"She's my friend now and I see her as healthy competition, and I think you need that in a team.
"You need people to push you and I definitely look to her to make sure I am doing my best."
The Australian Women's U18 Ice Hockey team will compete in the World Championships between January 21 – 27.
ABC Sport is partnering with Siren Sport to elevate the coverage of women in sport.
Mikahlia Holmes is a writer and educational researcher living on unceded Awabakal Country, passionate about all things women in sport, specialising in ice hockey. She has written for Siren Sport and Ice Hockey Australia.
#australiannews #australian_news