Hundreds of
Victorians
have been left "heartbroken" to learn they will have to strip their loved ones' graves of decorations as a policy affecting several cemeteries is suddenly enforced.
For years, Bendigo Cemetery has radiated colour and love at all hours of the day, decorated with colourful lights, windchimes, flowers, vases, ornaments and trinkets.
Visitors want their loved ones in the cemetery to feel cherished, celebrated and to be included in their celebrations on special occasions, such as Christmas.
"It really is a beautiful sight and it's comforting having the knowledge that our loved ones are not being left in the dark," regular visitor Pauline Burns explained.
But the not-for-profit organisation which runs the cemetery, Remembrance Parks Central Victoria, as well as cemeteries in Eaglehawk, Kangaroo Flat and nine other locations, has recently decided to "consistently" enforce its adornment policy after "receiving a lot of complaints".
The policy, which it says has been around for years, states ceramic vases and items, solar lights, photo frames and pebbles are banned, while objects are not allowed to be placed outside of grave areas, including on surrounding trees or shrubs, or encroach on other graves.
Signs were posted around Bendigo and Eaglehawk cemeteries last month to say items that are not in line with the policy must be removed by February 5.
Burns said the sudden decision had shocked and distressed hundreds, potentially thousands, of mourners, adding to their grief.
"It's just killing people," she told 9News.
"A lot of them are really, really upset."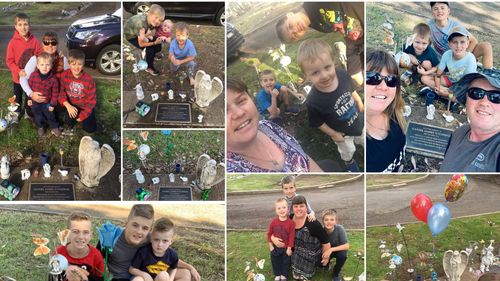 She said they could not understand the "ridiculous" decision to suddenly make them remove the decorations after years of them bringing joy.
The Bridgewater grandmother has decided to campaign on behalf of those hurt by the decision.
An online petition against the policy has garnered more than 3000 signatures in four days.
Burns has been decorating her son's grave with solar lights, flowers, ornaments and a Christmas tree in December for more than seven years and has been doing the same for her granddaughter in recent years.
She has hung lights and windchimes on the tree beside her son's grave, adding a new chime each year as a Christmas present.
Burns said someone who had not had a loved one taken from them too soon could not understand mourner's connections to the decorations.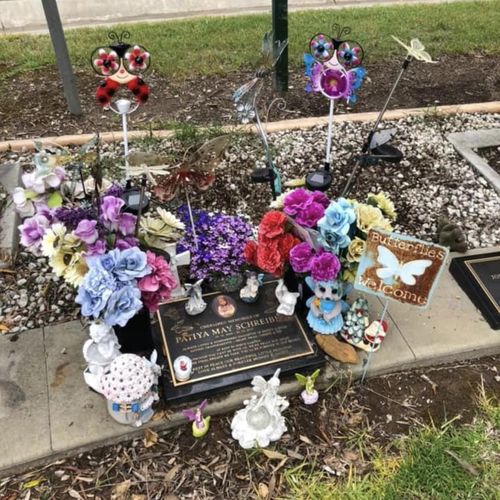 Casey Veal, whose son was killed when he was just 10 months old, also takes pride in decorating his resting place with lights and trinkets, and is adamant the policy is "heartless and cruel".
"Knowing I have to now go and strip my infant son's resting place of the small trinkets and few solar lights he has, which are not intruding on anyone's space, hurts my soul," she said.
"Solar lights might not seem like a huge deal to you, but it is something I have always replaced and maintained since I lost my son 10 years ago.
"He shouldn't have to rest in all blank, lifeless, cold, colourless site.
"How is it fair to take away my only connection to him through holidays and occasions?"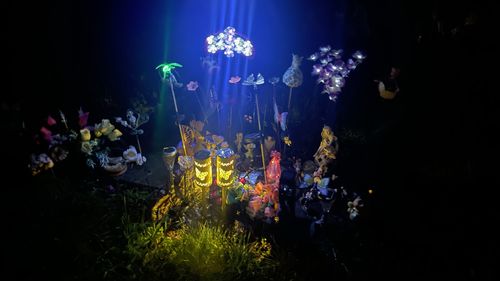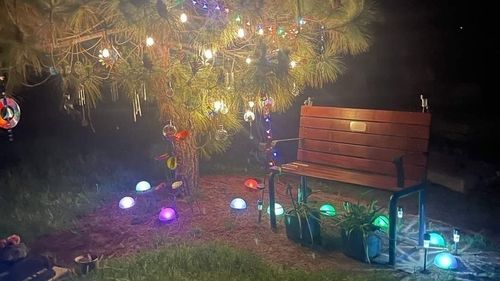 Other parents who have lost young children have told Burns they are devastated their efforts to stop their little ones being scared of the dark will be forced to end.
Some loved ones have already had their decorations taken from graves, according to Burns.
A ceramic vase full of flowers recently disappeared from the grave of a four-year-old who was killed by a falling branch, Burns said, forcing back tears.
Remembrance Parks Central Victoria chief executive Emma Flukes told 9News the organisation was "working to provide a consistent approach to applying the policy to be respectful, deal with safety issues and meet the broader community's expectations".
"Complaints and safety issues have been raised which we are seeking to address," she said.
"Keeping our Remembrance Park locations safe and tidy is a substantial task and one that we cannot do without the community's cooperation."
Flukes said complaints had centred around memorialisation items encroaching on other graves, while wind chimes and lights were not allowed in trees and shrubs because they damaged parklands.
She said breakable items created a safety risk, adding "too many injuries have already occurred".
Plastic vases are for sale from the organisation, but Burns said they did not withstand the weather.
Burns said visitors did not accept that lights and windchimes were at all damaging the parkland.
Most people regularly looked after their loved one's graves and should not be punished for the actions of some, she said.
In a Facebook group dedicated to the issue, numerous others have noted that they also ensure to remove any broken or faded items or hazards immediately.
Burns' husband has contacted Bendigo East MP and Deputy Premier Jacinta Allan, who has said via email that she will look into the issue.
Allan has been contacted for comment.
Sign up here
to receive our daily newsletters and breaking news alerts, sent straight to your inbox.
#australiannews #australian_news