A
shooter
stood over a 16-year-old mother clutching her 10-month-old baby and pumped bullets into their heads in a brazen attack in a central
California
farming community that left six dead at a home linked to drugs and guns, a sheriff said Tuesday.
Tulare County Sheriff Mike Boudreaux said the teenager was fleeing the violence early Monday when the killers caught up to her outside the home in Goshen, a central California community of about 3,000 residents in the agricultural San Joaquin Valley, and shot the young mother and her child "assassination-style."
The other four victims ranged from 19 to 72 years old, including a grandmother who was shot as she slept.
Their autopsies are expected to be completed later in the week.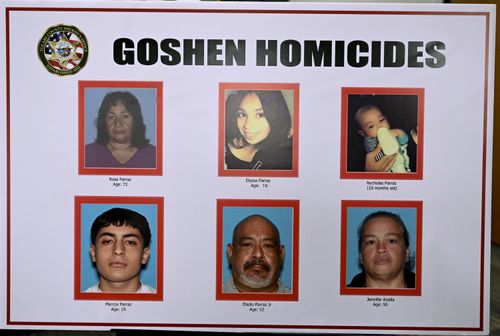 Authorities said they were searching for two suspects and offered a US$10,000 reward for information leading to their arrests.
"None of this was by accident," Boudreaux said during a news conference Tuesday.
"It was deliberate, intentional and horrific."
Boudreaux walked back his earlier comments to reporters that the attack was likely a cartel hit, saying that investigators are also looking into whether it was gang violence.
"I am not eliminating that possibility," the sheriff said.
"These people were clearly shot in the head and they were also shot in places where the shooter would know that a quick death would occur … This is also similar to high-ranking gang affiliation and the style of executions that they commit."
Law enforcement is familiar with the home, the sheriff said, citing gang activity there that "has routinely occurred in the past" without giving any specifics. He added that not everyone who was shot was a drug dealer or gang member — and said that among the victims believed to be innocent are the teen, her grandmother, and of course, the baby.
The sheriff's department on Tuesday identified the victims as: Rosa Parraz, 72; Eladio Parraz, Jr., 52; Jennifer Analla, 49; Marcos Parraz, 19; Alissa Parraz, 16; and Nycholas Parraz, 10 months.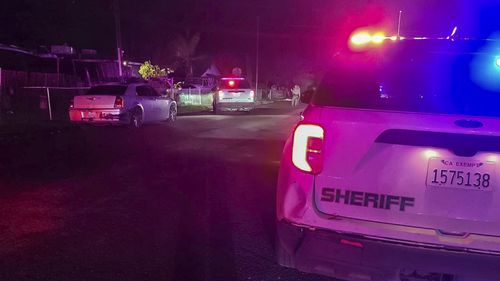 Boudreaux said "there was no reason" for the shooters to kill the young mother and her child.
"I know for a fact this 10-month-old baby was relying on the comfort of his mother. There was no reason for them to shoot that baby, but they did," he said.
Samuel Pina said Alissa was his granddaughter and the baby, Nycholas, was his great-grandson.
"I can't wrap my head around what kind of monster would do this," he told The Associated Press on Monday.
Pina said Parraz and her baby were living with her father's side of the family in Goshen, and that her dad's uncle, her dad's cousin, her grandmother and her great-grandmother were also killed.
He said the family is in shock.
"It comes in big waves," he said.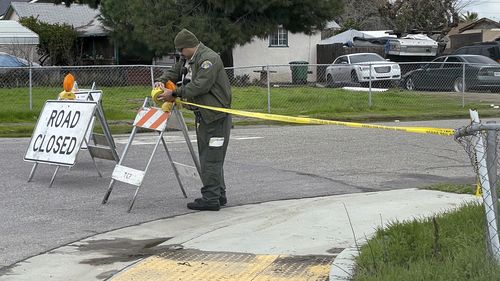 Authorities received a call at 3:38 am Monday about multiple shots being fired — so many that it initially seemed like an active shooter situation — at the residence in the town of Goshen, some 273.59 kilometres south of downtown Los Angeles.
It was later determined the person who made the call was someone hiding at the property. Deputies arrived seven minutes later and found two bodies outside the home in the street, and a third body at the doorstep, Boudreaux said.
Deputies found more victims inside the home, including the grandmother. Down the street they discovered the mum and her baby. A forensics investigation revealed she had tried to run away before the shooter caught up with her and stood over her and fired multiple rounds into her skull, Boudreaux said.
"It is very clear that this family was a target," he said.
Three people survived and will be interviewed by authorities. They include a man who hid in the home as the killings happened.
"He was in such a state of fear that all he could do was hold the door, hoping he was not the next victim," Boudreaux said.
On January 3, a search warrant at the home led to the arrest of Eladio Parraz Jr, a convicted felon who was killed in the shooting Monday — though Boudreaux said Parraz Jr. was not the "initial intended target" and declined to elaborate.
Parraz Jr, 52, had an extensive criminal record including driving recklessly to evade arrest, and possessing firearms and drugs, according to prison records.
The search warrant stemmed from a parole compliance check during which investigators found shell casings on the ground, the sheriff said. The occupants refused to let officials inside the home, Boudreaux said.
They returned with a search warrant and arrested Parraz Jr after discovering ammunition, a rifle, a shotgun and methamphetamine in the home, court records show. He was released on bail four days later.
Rural California is no stranger to drug-related violence. In 2020, seven people were fatally shot in a small, rural Riverside County town where the property had been used for an illegal marijuana growing operation — a common practice in that area.
The following year, a man accidentally shot himself while working at his family's illegal marijuana grow in Butte County's Forbestown. His father and two brothers were accused of moving his body to prevent investigators from discovering the grow site.
#australiannews #australian_news