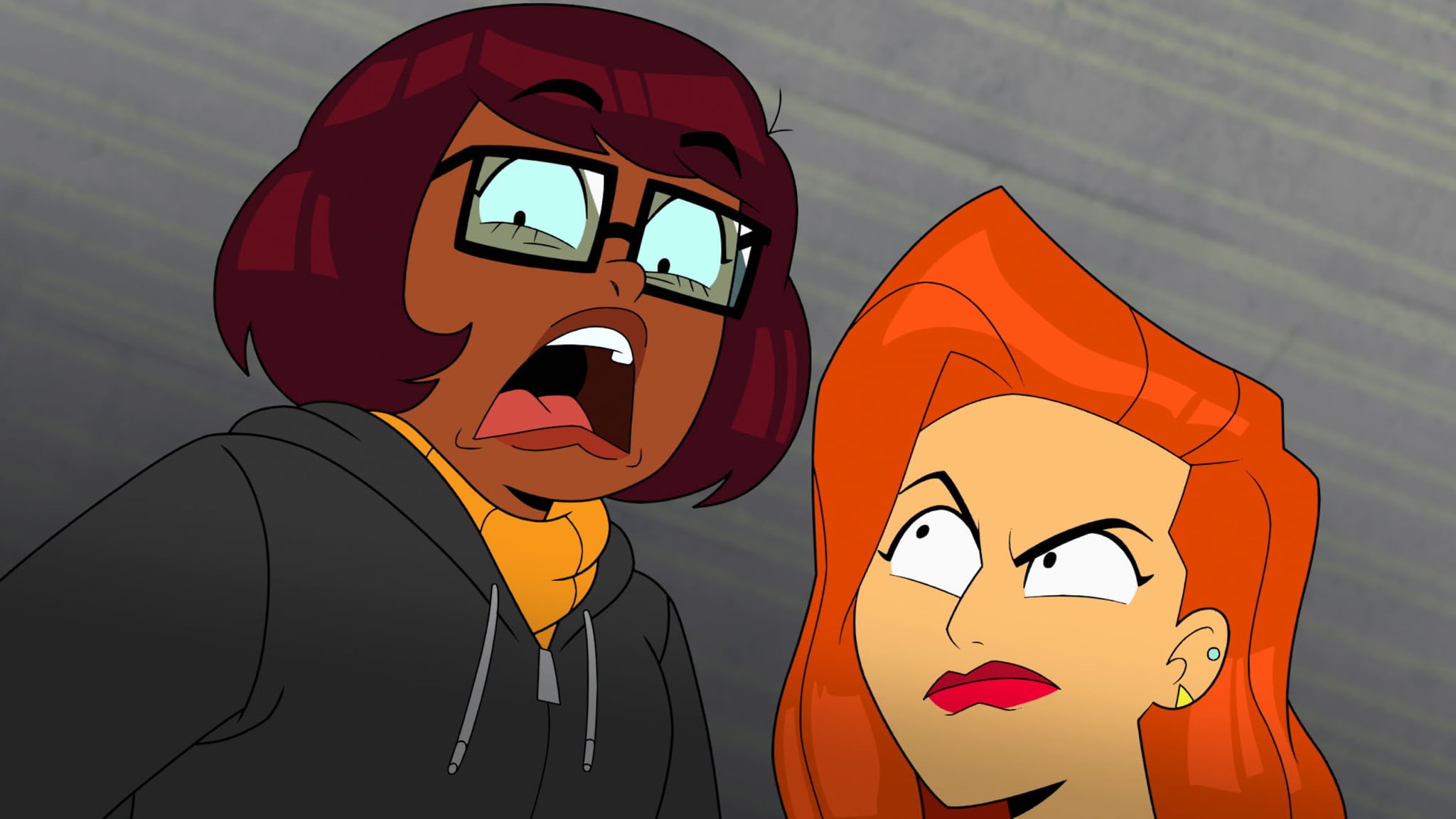 HBO Max's "Velma" isn't your average Scooby-Doo show — and not just because there's literally no Scooby-Doo in it. In the new animated series, the world of Mystery Inc. gets an adult twist with Mindy Kaling, Sam Richardson, Glenn Howerton, and Constance Wu voicing the roles of Velma Dinkley, Norville "Shaggy" Rogers, Fred Jones, and Daphne Blake, respectively.
The series was developed by Charlie Grandy, with Kaling serving as an executive producer. The show's first two episodes, which premiered on Jan. 12, feature some jokes about its more adult tone and even some nudity. But the biggest change to the beloved mystery-solvers cartoon comes at the end of "Velma"'s second episode — when Daphne kisses Velma!
Here's how it happens: The show's plot follows Velma, who loves solving mysteries because her mom was a mystery writer. However, her mother went missing years back, and whenever Velma tries to solve a mystery now, she has terrifying, debilitating panic attacks. On top of that, Daphne and Velma used to be friends but had a dramatic falling out. In the first two episodes, some girls at school are murdered and Fred is the number one suspect. But when Velma starts to investigate, those pesky panic attacks get in her way. At the end of episode two, Velma has another panic attack when Daphne gives her some info about her mom's disappearance, and the latter can't figure out a way for her to snap out of it — so she kisses Velma. The panic attack ends, and soothing music plays. Daphne then asks if it worked. Velma says it did, so they kiss some more while a heartbroken Norville watches from afar.
In episodes three and four, which were release Jan. 19, Daphne and Velma's friendship — and potential relationship — gets a little more complicated. In episode three, Velma is shocked in the aftermath of the kiss — and pretty happy about it. But she tells Norville it's "not a big deal" and that she's still pretty confused because she's always had a crush on Fred. And when she and Daphne try to talk to each other about it, they just get into a fight, and Velma convinces herself she's not popular enough for Daphne in the latter's mind. In order to get back at Daphne, Velma reads aloud from her own diary to the whole school, which backfires.
At the end of the episode, Velma apologizes to Daphne, who tells her she's been dealing with a lot of abandonment issues around the search for her birth parents and also the end of her friendship with Velma. She admits their kiss was "amazing," but they decide to be friends again while they both try to figure their stuff out.
In episode four, the town decides that the serial killer is only going after hot girls, so they task Velma with making a list of the hottest girls so they can protect them. Velma says that for her, Daphne is the hottest girl. She gets Fred to make the list for her. Fred, meanwhile, decides that he's really in love with Velma, who turns him down once and for all.
As the season continues, it seems the budding romance between Velma and Daphne will continue to be part of the plot. This is pretty huge for the world of Scooby-Doo, as the cartoon has been long held as a childhood classic. Many fans have been interpreting Velma as queer for years, and 2022's "Trick or Treat Scooby-Doo!" showed Velma developing a crush on a woman she meets. Many fans celebrated the moment, as it was the first time the character was canonically queer.
However, that special didn't include any implications about Daphne, who many fans have also viewed as queer for years. James Gunn even revealed in 2020 that in his original script for 2002's live-action "Scooby-Doo: The Movie" (which stars Sarah Michelle Gellar as Daphne and Linda Cardellini as Velma), Velma was portrayed as gay and she and Daphne kissed.
Daphne and Velma kissing — and maybe even dating — in "Velma" is huge for both characters and will likely make some fans very, very happy. Long live these mystery-solving queer icons.
#celebrity #celeb