Aussie actor Samuel Johnson has called out Molly Meldrum's antics at Elton John's farewell concert in Melbourne last week.
The Secret Life of Us alum was not impressed with the entertainment guru after Meldrum joined Elton on stage for a duet of the song The Bitch Is Back last Friday, only for the 79-year-old to shock the crowd by dropping his pants and appearing to bare his backside.
"He needs to hang up his hat. Now," Johnson said yesterday during an interview on Brisbane 4BC radio program Afternoons with Sofie Formica. 
Watch the video above.
READ MORE: Legendary Italian actress Gina Lollobrigida dead at 95
In his criticism, Johnson, 44, brought up the 2017 Logies moment when he won the coveted Gold Logie for his portrayal of Meldrum in the 2016 miniseries Molly.
At the time, Meldrum shocked the actor when he joined him on stage and an awkward moment ensued between the pair.
READ MORE: Jailed TV star ordered to complete mental health treatment program
In his acceptance speech, Johnson had wanted to raise awareness for his charity, Love Your Sister, and dedicate his win to his sister, Connie, who was battling cancer at the time. She died later that year.
Instead, Johnson said Meldrum hijacked his moment when he started talking about his own career.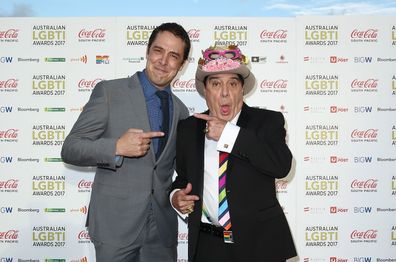 "A few years ago, I won a Gold Logie for playing Molly Meldrum and we weren't getting along at that point because for six months, he told me who to thank and he wasn't even nominated for the Gold Logie," Johnson recalled.
"He wanted to make it all about the network and I wanted to make it all about cancer and we disagreed on that and didn't speak to each other the whole night."
Johnson said he was given the head's up from music mogul Michael Gudinski that Meldrum wanted to join him onstage if he won the award, to which the actor said no.
READ MORE: Why singer Marie Osmond won't leave fortune to her eight kids
"[But] they announced my name, my million-dollar moment where I was going to plug the charity, and Molly got up and gave me a hat and interminable dribble for about eight minutes," Johnson recalled. "Nobody understood, and he took away my moment.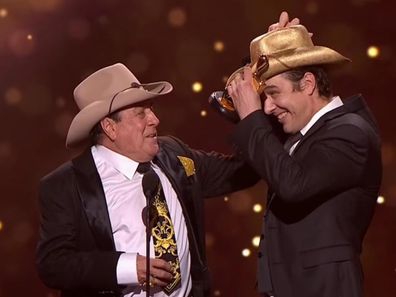 "And recently, he took away the moment of Elton John as well. I'm sick of him doing this, I'm sick of it, hang up your hat, mate."
After drawing widespread criticism from fans after the Logies ceremony, Meldrum issued a public apology to Johnson, saying he didn't mean to steal the spotlight from the actor.
"I profusely apologise if I upset anyone," Meldrum told NewsCorp at the time.
"I'm so very proud of Sam. Everyone should be proud of him. His speech for his sister Connie was beautiful and his charity work is simply amazing."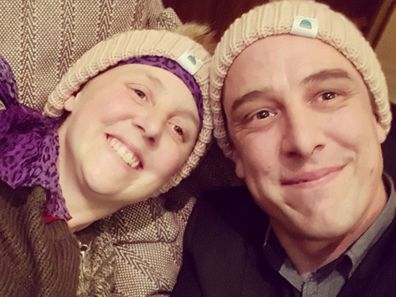 This week, Meldrum also issued an apology for what transpired at Elton's concert. Speaking to the Herald Sun, Meldrum explained the British singer had no idea he would join him onstage but insisted it was not a stunt, rather a wardrobe malfunction caused by a faulty belt.
"I shouldn't have crashed Elton's show. As for my performance being more revealing than it should have been … well, at the start of the night, my belt buckle broke and my pants were already falling down. And on stage, one thing led to another."
For a daily dose of 9Honey, subscribe to our newsletter here.
#celebrity #celeb