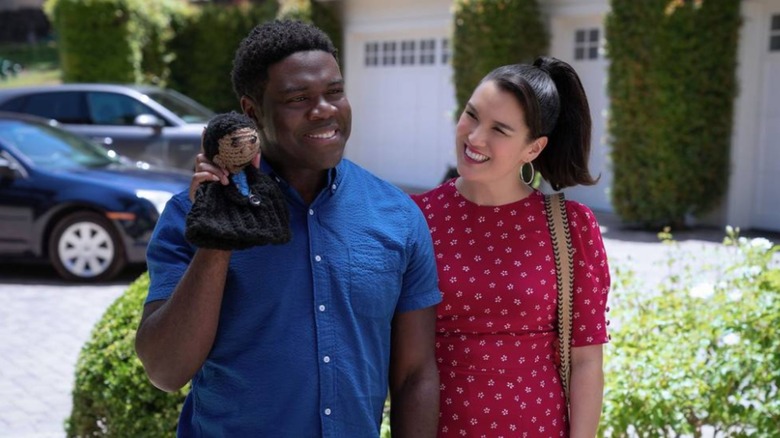 (Welcome to …And More, our no-frills, zero B.S. guide to when and where you can watch upcoming movies and shows, and everything else you could possibly stand to know.)
"The Afterparty" never stops! Christopher Miller and Phil Lord's mystery-comedy debuted to acclaim last January on Apple TV+, and while it found an answer to the question of who killed the pop star Xavier (Dave Franco) in the final episode, detective Danner (Tiffany Haddish) wasn't ready to call it quits just yet. Haddish and co-stars Sam Richardson and Zoë Chao are now set to return for a second season that'll feature a new ensemble, a new set of genre-skewing detours, and of course, a new murder.
While we won't know exactly what to expect from "The Afterparty" season 2 until the show's trailer drops closer to its premiere date, the cast and crew of the show appeared at the 2023 Winter Television Critics Association press tour to share some first look images at the new season (above and below), as well as some fascinating plot teases.
The Afterparty Season 2 Release Date And Where You Can Watch It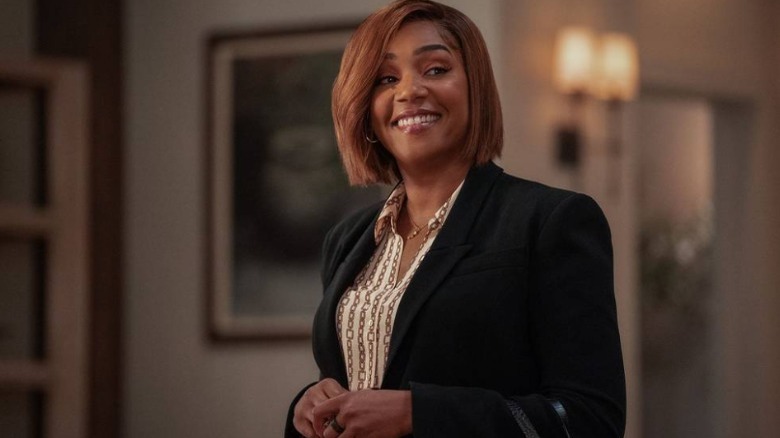 The second season of "The Afterparty" will debut on Apple TV+, just like the first. Its premiere date is Friday, April 28, 2023, and it'll be dropping two episodes in a row that day as is pretty typical for Apple shows. After that, new episodes of "The Afterparty" will drop weekly on Fridays. The season has a 10-episode order, which means it'll wrap up on June 23, 2023.
While the weekly release schedule isn't everyone's cup of tea in the instant gratification era of Netflix, many found that it proved to be well-suited to a rather episodic show like "The Afterparty." The show's premise involves multiple people telling the same story in completely different ways, so spacing out the episodes makes each story feel more unique. The breaks between episodes may even make the clues tougher to keep track of than a binge-watch model, making for a more satisfying mystery.
What We Think The Afterparty Season 2 Will Be About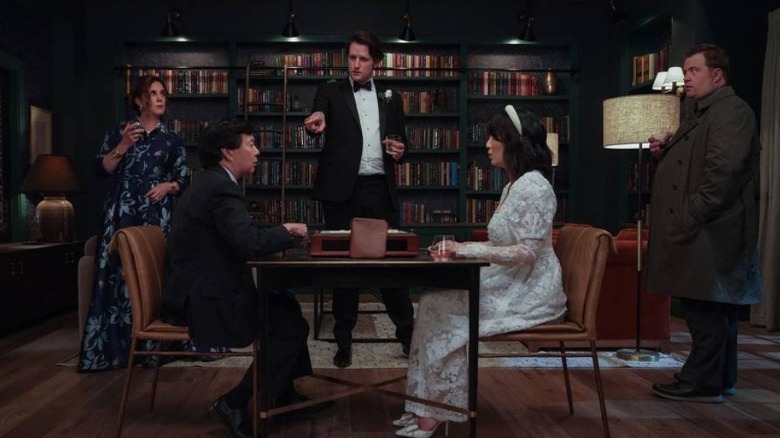 Some official plot details for the sophomore season of "The Afterparty" have already been revealed, while others can be inferred from the intriguing first-look images from the show. When a groom-to-be is murdered during a wedding weekend (at the afterparty, I wonder?), Detective Danner shows up to help Aniq (Richardson) and Zoe (Chao) figure out who did the dirty deed. This poor couple can't stop wandering into crime scenes! At least this time around they have each other after last season ended with the pair sharing a kiss after years apart.
It's unclear whether Zoe and Aniq are wedding guests or get embroiled in the case some other way, as the only picture we have of them so far features Aniq holding a knitted beanie-style cap with a head-shaped puff on top. Other photos reveal the edge of the groom's prone body laying on a bed surrounded by guests, as well as a retro-cool library-like room in which Zach Woods' character seems to be grilling wedding guests who sit opposite one another. Danner will question the suspects as she did last season, but aren't sure which genres we'll get from these people quite yet.
The Afterparty Season 2 Cast And Crew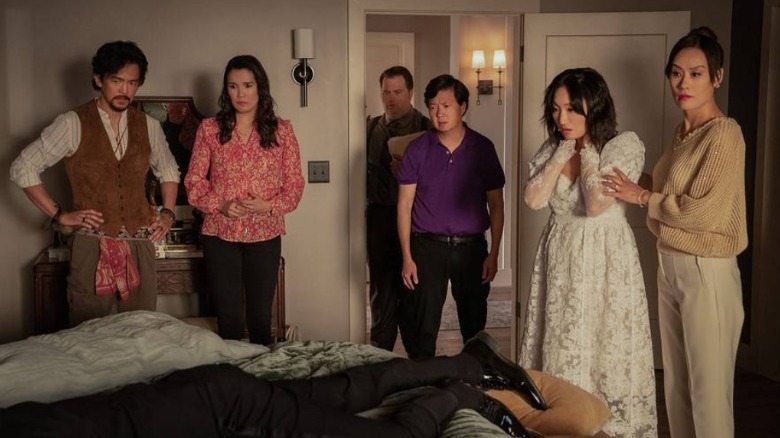 The new cast of "The Afterparty" is stacked. Aside from Haddish, Richardson, and Chao, there's a whole new group of potential murderers. Among them: "Weeds" star Elizabeth Perkins, "Silicon Valley" funnyman Zach Woods, "Black Bird" award-winner Paul Walter Hauser, "Hacks" breakout Poppy Liu, "Pen15" star and co-creator Anna Konkle, comedian Jack Whitehall, "The Pillow Book" star Vivian Wu, "Star Trek" star John Cho, and "Community" alum Ken Jeong.
Miller will be sharing showrunner duties for the second season with Anthony King, while he, King, and Lord executive produce. Aubrey Lee is also on board as a producer. Since the series is an anthology, most of the season one cast isn't expected to return, though you'd think if anyone does, Ike Barinholtz's Brett might be the most likely of the bunch. After all, Aniq is now dating his ex-wife, Zoe, and they both really love their adorable daughter Maggie (Everly Carganilla).
The Afterparty Season 2 Synopsis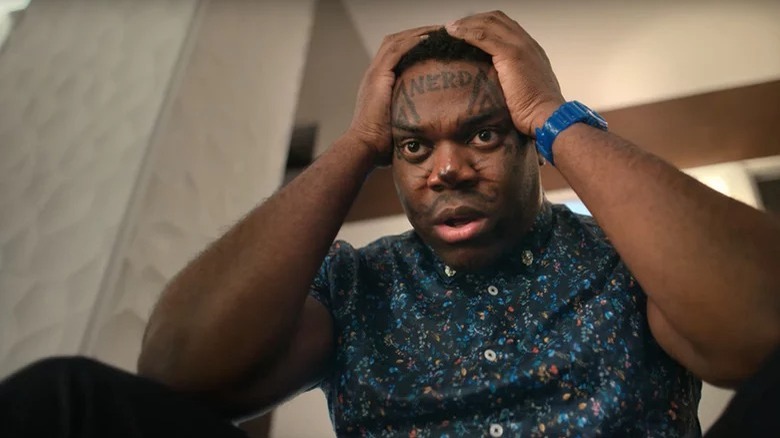 Here's the official synopsis for season 2 of "The Afterparty," according to press materials. Feel free to do your best Danner impersonation and take a magnifying glass to the fine print to search for clues.
Created by Miller, each episode of "The Afterparty" explores a different character's account of one fateful evening, all told through the lens of popular film genres and unique visuals to match the storyteller's perspective. Starring Tiffany Haddish, Sam Richardson, and Zoë Chao, season two will introduce new film genres and an expanded cast of characters played by Elizabeth Perkins, Zach Woods, Paul Walter Hauser, Poppy Liu, Anna Konkle, Jack Whitehall, Vivian Wu, John Cho, and Ken Jeong.

In season two, a wedding is ruined when the groom is murdered and every guest is a suspect. Detective Danner (Haddish) returns to help Aniq (Richardson) and Zoë (Chao) solve whodunnit by questioning family members, star-crossed lovers, and business partners, and hearing each suspect's retelling of the weekend, each with their own unique perspective and visual style.
Read this next: The Best TV Episodes Of 2022, Ranked
The post The Afterparty Season 2: Release Date, Cast, And More About Apple TV+'s Murder Mystery Comedy appeared first on /Film.
#celebrity #celeb