In many ways, Australian export Margot Robbie is the epitome of a classic 1920s Hollywood star.
She has the talent down pat, her perfect blonde hair and dazzling smile resembles Mae West and Marilyn Monroe and her fast rise from relative unknown to global star was unprecedented (well, for us Down Under anyway).
And it seems even Robbie, 32, agrees. Speaking to 9Honey Celebrity, the Babylon actress says she is a lot like her "wild child" character Nellie LaRoy – even if she doesn't care to admit it.
"There's been a lot of crossover, I didn't think I was anything like Nellie, but all of my friends who have seen the film are like, 'Oh, it's so much like you'," Robbie laughs. "I think I should be slightly offended by that."
Watch the video above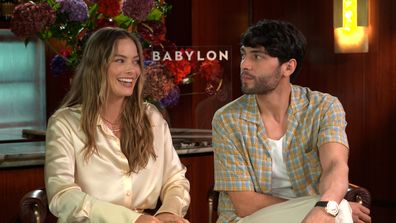 Babylon is a three-hour long love letter to the epic rise of Hollywood in the mid-20s, when sound-on-film utterly revolutionised the silent movie industry. 
Robbie's character Nellie is a chaotic hybrid of many 1920s cinema darlings.
The film also touches on the sometimes brutally short-lived careers of Hollywood stars and the fact that, no matter how beloved you might be, there is a constant fear of losing it all.
Luckily for Robbie, she isn't so worried about her star power fading. 
"A huge portion of my life is dedicated to producing and I get so much joy and fulfilment out of it that it actually mitigates the fear," she explains.
"I can't imagine a world where I never get to act anymore. That would be heartbreaking – but I'd find a way. [Even if] I did regional theatre! I'd still do it.
"I get so much fulfilment out of the filmmaking process and I know that if something happened, and they wouldn't let me act, I would still hopefully find a way to be on a film set, and that's what matters."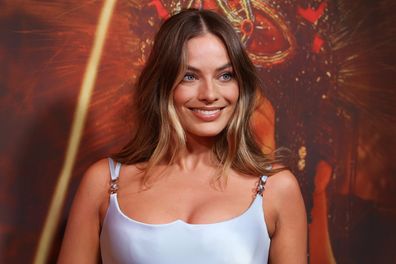 Robbie is dedicated to her craft even in the most gruelling of times behind the camera.
In one lengthy scene, her character is made to repeat the same line over and over again in an frustrating yet realistic snapshot of working on a film set.
As Robbie explains, that very meta moment was eerily accurate for her. "That scene was so funny," she giggles. "But that's what it's like when you're making a movie and doing a take.
"We did one walk and talk that went for two and a half minutes, we did that 36 times at the end of a shooting day. That's just what you do when you're making a movie."
I can't imagine a world where I never get to act anymore. That would be heartbreaking – but I'd find a way
Robbie adds: "It was fun to be able to depict that on screen so people can actually see how it's done, because that is a hilarious part of it."
Babylon is tantalising movie eye candy. It's a brilliant kaleidoscope with hundreds of extras, stunning landscapes and at one point, an elephant, a snake and a snapping alligator. 
Robbie paid tribute to the film's French-American director, Damien Chazelle, who worked tirelessly to create the fantasy you witness on screen.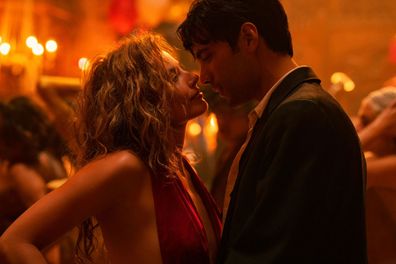 "There were so many elements that all need to be done correctly at the same time for a take to work, and when you're doing a movie with Damien Chazelle, he's very ambitious with his camera work and what he wants on screen," Robbie says.
"We were sometimes doing wonders that involved hundreds and hundreds of people, animals and stunts and music – all this kind of crazy stuff at the same time. 
"In the moment, it is true movie magic when it happens. And everyone's like… 'did we get it?' and everyone cheers and screams and it's so special."
And special it was indeed. Babylon is jam-packed with fun cameos (including Kaia Gerber and Olivia Wilde), but one of the biggest stars was none other than the legendary Brad Pitt, who played '20s heartthrob Jack Conrad.
For Diego Calva, who locked down his first blockbuster role as Manny Torres, he filmed some of his debut scenes with Pitt.
"I learned a lot about him because something that I really liked was his calm, his confidence," Calva explains.
"He gives advice and honestly, it was like going to college – like a one-on-one lesson on acting with Brad Pitt."
Robbie is already familiar with Pitt's intimidating celebrity, having worked with him in The Big Short and Once Upon A Time… In Hollywood.
However, it was a first for Robbie to work alongside her fellow Australian actresses and close friends, Samara Weaving and Phoebe Tonkin.
"It was so fun," she gushes. "For years we were like, 'When are we going to be in a film together or a TV show?' We just wanted to be on screen together.
"Finally we got the moment and, especially with Sam, we were butting heads in the scene which was even more hilarious to just be egging each other on. It was just brilliant."
Babylon is in cinemas from January 19.
For a daily dose of 9Honey, subscribe to our newsletter here
#celebrity #celeb