Place/Date: – January 18th, 2023 at 5:12 am UTC · 4 min read
Source: Snowfall Protocol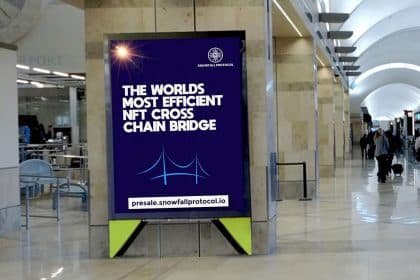 Binance, the largest cryptocurrency exchange by volume, is well-known for its continued bullish attempts in the ecosystem, and in 2023 it seems to have Shiba Inu (SHIB) and Terra classic (LUNC) in its list. Binance has been instrumental in assisting Terra Classic in reducing its LUNC supply through burns. What's more, Binance has staked 4 trillion SHIB in the Shiba Inu ecosystem ahead of the highly anticipated Shibarium release.
In other news, Snowfall Protocol (SNW), a relatively newer player in the industry, has continued to outperform established titans such as Terra Classic and Shiba Inu in growth. Snowfall Protocol (SNW) is a multi-chain interoperability protocol that allows for secure asset transfers and cross-chain transactions between blockchains. Read on for more on Snowfall Protocol (SNW) and Binance's recent bullish moves.
Binance Stakes 4 Trillion in Shiba Inu (SHIB) As Community Developers Announce New Shibarium Updates
According to a popular whale tracker on Twitter, the leading crypto exchange recently sent a whopping 4 trillion Shiba Inu worth approximately $35 million at the time of press to an unknown wallet for staking purposes. Binance's action follows Shiba Inu developers' announcement of fresh updates to the layer-2 scaling protocol Shibarium, which Shiba Inu will soon launch.
Shiba Inu recently announced that Bone (BONE) will be the official crypto used in Shibarium, with each transaction burning SHIB tokens. Binance staking Shiba Inu is positive for the ecosystem because it reduces the token's circulating supply, increasing the value of Shiba Inu.
Binance Announces Support for Terra Classic Upgrade
Binance has also pledged support for the Terra Classic upgrade, which will end re-mints and raise the gas fee at the end of the epoch. The upgrades concern proposals 11242 and 11243.
In proposal 11242, it was proposed that the network get rid of the seigniorage burn tax parameter, which returns a portion of every LUNC burn to the community pool for development funding. Proposal 11243, on the other hand, proposed that the network raise gas fees by 500% to fund the community pool and increase staking rewards and received nearly 90% approval.
Proposal 11242 is particularly critical to Terra Classic's relationship with Binance. The cryptocurrency exchange recently decided to stop burning LUNC because it disagreed with token re-mints. However, with the passage of Proposal 11242, Binance should be able to resume the LUNC burn campaign beginning March 1. Following Binance's announcement, the price of Terra Classic saw a sudden increase of more than 6%.
Snowfall Token Hype Continues in The Crypto Community as The New Player Continues to Outshine Mainstream Cryptos
Snowfall Protocol (SNW) has a unique interoperability model that allows users to transfer both fungible and non-fungible tokens across popular EVM and non-EVM chains. This feature has helped win the hearts and funds of savvy investors and market analysts. Interoperability issues have long plagued the blockchain industry, and Snowfall Protocol is here to fill that void.
Snowfall Protocol (SNW) will go live on February 3rd with three core features: a dApp, a wallet, and a staking feature. Snowfall Protocol (SNW) users can use these features to exchange stablecoins, bridge assets, stake assets, wrap NFTs for cross-chain swaps, and move assets to any blockchain – all in one place. Snowfall Protocol (SNW) native token, SNW, will be staked for lucrative returns.
Snowfall Protocol (SNW) presale campaign has been a huge success. In 2023 alone, Snowfall Protocol's value has jumped over 500%. Investors anticipate up to 5000% returns upon launch. The campaign's first two rounds saw Snowfall Protocol (SNW) raise $3 million. It's anticipated that the final two rounds of the four-phased campaign will surpass this performance.
Snowfall Protocol (SNW) will be listed on PancakeSwap first at $0.22. The current price of $0.191 means that this is a golden opportunity for you to purchase this gem at a discount. Don't pass it up. Register for the presale today!
For more information: Presale, Website, Telegram, Twitter.
Subscribe to our telegram channel.
Join
#Cryptonews #Crypto_news