NEW DELHI: China's population shrank last year for the first time in over six decades, according to official data released on Tuesday.
The mainland Chinese population stood at around 1,411,750,000 at the end of 2022, the National Bureau of Statistics (NBS) reported — a decrease of 850,000 from the end of the previous year.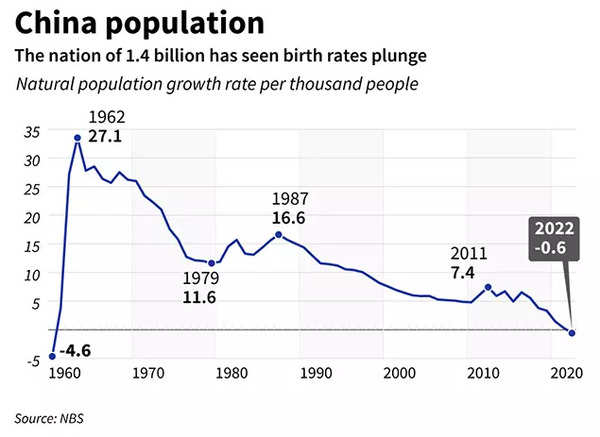 The nation has seen birth rates plunge to record lows as its workforce ages, in a rapid decline that analysts warn could stymie economic growth and pile pressure on strained public coffers.
Demographic crisis
China ended its strict one-child policy — imposed in the 1980s owing to fears of overpopulation — in 2016 and began allowing couples to have three children in 2021.
But that has failed to reverse the demographic decline for a country that has long relied on its vast workforce as a driver of economic growth.
The data released by the National Statistics Bureau show 62% of the population were of working-age, which China defines as people aged 16 to 59, down from around 70% a decade ago, highlighting the challenges the country faces as its population ages.
"The population will likely trend down from here in coming years," Zhiwei Zhang of Pinpoint Asset Management said, adding: "China cannot rely on the demographic dividend as a structural driver for economic growth … Economic growth will have to depend more on productivity growth, which is driven by government policies."
Independent demographer He Yafu also pointed to "the decline in the number of women of childbearing age, which fell by five million per year between 2016 and 2021" — a consequence of the ageing of the population — as a reason for the low birth rate.
Impact on China's economy
The drop in population is the first since 1961, the final year of the Great Famine under former leader Mao Zedong.
It has come much faster than previously expected, and could act as a brake on economic growth by slowing demand for goods such as new houses. Due to the decline, the Chinese economy may struggle to overtake the US in size.
Hit hard by the zero-Covid policy and slump in the real estate market, China's economy shrank to 3% in 2022, registering its second lowest growth rate in 50 years. The annual GDP of China totalled 121.02 trillion yuan (USD 17.94 trillion) in 2022, falling below the 5.5% official target.
The labor force is already shrinking, long-term demand for houses will fall likely further, and the government may also struggle to pay for its underfunded national pension system.
The country is following in the footsteps of other nations in East Asia such as Japan or South Korea, which have seen their birth rates plummet and populations age and start to shrink as they've become wealthier and developed.
Loss of global influence
Besides significant economic implications, a shrinking workforce means there will be fewer people to support the country's growing elderly population, which will put a strain on the country's social welfare system. This could also lead to a decline in economic growth, as there will be fewer people to drive economic activity.
Additionally, a smaller population may lead to a loss of global influence.
The declining population also has social implications. The aging population will lead to a shift in societal priorities, as more resources will be needed to support the elderly. This could also lead to a decline in the country's cultural heritage, as there will be fewer young people to carry on traditional customs and practices.
India to become most populous this year
The Chinese population could decline each year by 1.1% on average, according to a study by the Shanghai Academy of Social Sciences updated last year.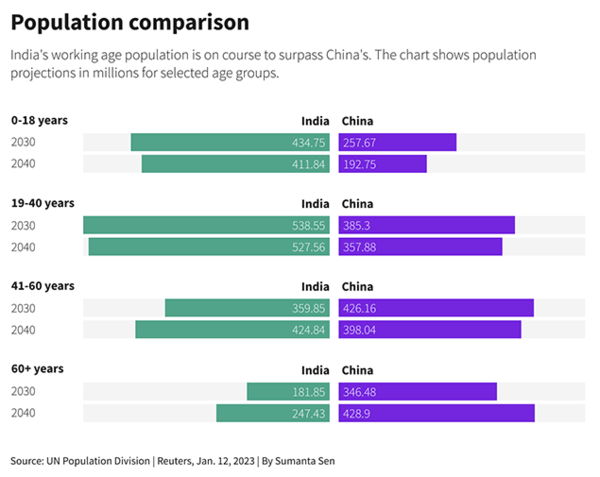 China could have only 587 million inhabitants in 2100, less than half of today, according to the most pessimistic projections of that team of demographers.
And India is set to dethrone China this year as the most populous country in the world, according to the United Nations.
"A declining and ageing population will be a real concern for China," Peng said. "It will have a profound impact on China's economy from the present through to 2100."
(With inputs from agencies)Watch China population makes a new record, shrinks for first time in 6 decades
#indianews #indiannews