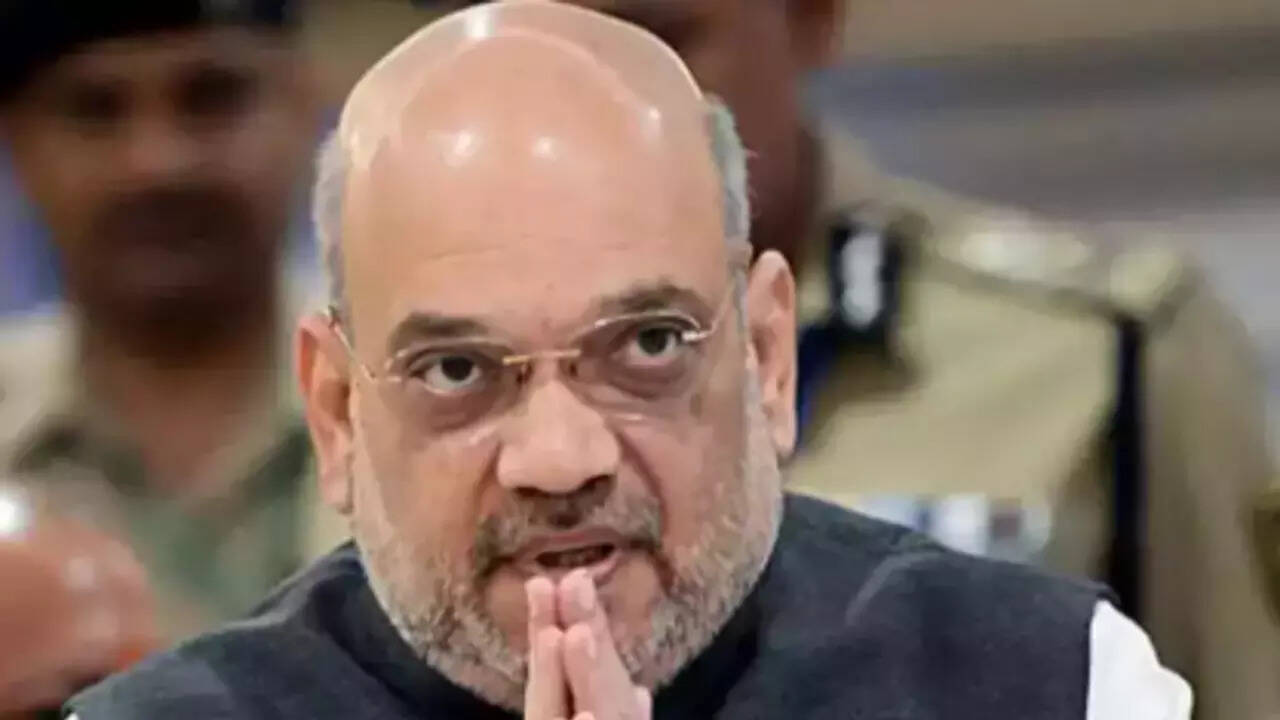 NEW DELHI: Home minister Amit Shah on Friday said challenges to policing have now drastically transformed: from tackling geographical problems like terrorism and unrest in J&K, Left-wing extremism and unrest in the northeast to countering new-age "thematic" threats of cyber security and data theft, with problems becoming multi-dimensional as narco-terror and fourth-generation warfare catch on.
He was addressing the inaugural session of the annual conference of DGPs and IGPs of all states and UTs as well as heads of the central paramilitary forces, central police organisations and intelligence agencies.
Emphasising on the need for police to cope up with the changing times, Shah outlined five focus areas for police forces: urban policing, capacity-building, police technology, critical infrastructure security and securing digital goods.
Stating that police and paramilitary forces as well as central agencies were now on top of most security challenges, the home minister stated: "On the internal security front, we have been by and large successful in maintaining peace in the country despite the odds."
"Under Prime Minister Narendra Modi's leadership, situation drastically improved in the three hotspots of
Jammu and Kashmir
, northeast and Left-wing-affected areas. This shows that we are on the right track," he stated.
Elaborating, Shah said terror incidents, deaths and areas with terrorists' presence had drastically reduced in J&K. "There was a time when children from J&K used to leave their homeland to pursue studies. But today, 32,000 children from different states are studying there, which has enhanced the trust of the people and the nation," he underlined. The minister added that the record 1.8 crore tourist footfall in J&K in 2022 reflects the confidence of the entire nation in peace returning to the region. "I congratulate Jammu and Kashmir Police, CRPF, BSF, IB, RAW as their efforts are slowly bearing fruit," he said.
Bringing up the "massive success in taming left-wing terror", the home minister said LWE-hit districts across the country have reduced to 46 from 96 in 2010. "As much as 72% of the security vacuum has been plugged and I have complete faith that by 2024, we will plug 100% vacuum and take absolute control of the situation," he stated.
Regarding the northeast region, Shah underlined that 9 rebel groups have signed peace accords, leading to surrender of 9,000 insurgents with their arms. Also three border disputes in the region have been resolved, he said while expressing confidence that the remaining four disputes too will be sorted out by next year. In view of nearly 42% decline in violence, Shah said, Armed Forces Special Powers Act (AFSPA) had been withdrawn from over 30% of the areas in the region.
Referring to last year's crackdown on the Popular Front of India (PFI), Shah said the cooperation extended by the states during multi-state raids to nab the PFI culprits "shows the power of India's cooperative federalism and maturity as a democracy in handling security-related issues".
"Given Prime Minister Narendra Modi's zero tolerance policy on terror we have strengthened the anti-terror laws, fortified the agencies, conviction rates have increased," he said while congratulating NIA for achieving the highest conviction rate in the world.
On the first day, deliberations centred on topics such as security challenges along the land borders with Nepal and Myanmar, strategies to identify overstaying foreigners in India and targeting of Maoist strongholds.
Shah distributed police medals for meritorious service and gave away trophies to the top three police stations of the country.
Over the next two days, the police brass will discuss the emerging security challenges and opportunities along with experts, field functionaries and academia.
#indianews #indiannews