Late on Tuesday evening, even as the lights blinked out at most of the buildings at Al Hasnath Colony in Hyderabad's ToliChowki, there was plenty of buzz in one house. It was almost festive, bikes and cars parked in front of the huge gate and the tall compound walls. People crossing the house even took a pause, before breaking into a smile as the laughter kept getting louder inside. "(Mohammed) Siraj must be here," said one before walking on.
Siraj, known as 'Miya bhai' in these parts, was at home on match day too. He finished with figures of 10-2-46-6, the best by a distance in the high-scoring India-New Zealand first ODI of the series. Siraj's bowling went a long way in India recording a 12 run win. Had it not been for the local boy's fine show with the ball, Michael Bracewell (140 off 78 balls) threatened to run away with the match. In the company of Mitchell Santner, he launched a stunning onslaught that left India short on answers as he was the last wicket to fall.
The left-hander brought up his century of 57 balls and despite asking rate mounting, kept the Black Caps in the mix. The dismissal of Santer changed the tide and despite Bracewell's fighting innings, New Zealand fell short by 12 runs.
For Hyderabad it was a perfect outing. The Rajiv Gandhi International Cricket Stadium is the place where Siraj first made a name for himself. Plucked from Hyderabad's maidans where he played tennis ball cricket, Siraj is one of India's lead pacers across formats these days. Although the pacer didn't turn up for the optional net session on the eve of the game, as he boarded the team bus on the morning of the match, his memory might well have rolled a few years back. It is the same route that Siraj in his formative years used to take on his two-wheeler Bajaj Platina – filling petrol for Rs 60 from the pocket money that his father gives.
This time, due to security protocols, the local police had totally cordoned off that road. But still, the Hyderabadis – 31, 187 to be precise — flocked in to see one of their own wearing the India jersey on home soil. And among those were Siraj's close circle of family and friends seated in a corporate box in the second floor, who have been waiting for the moment ever since the pacer donned the India cap.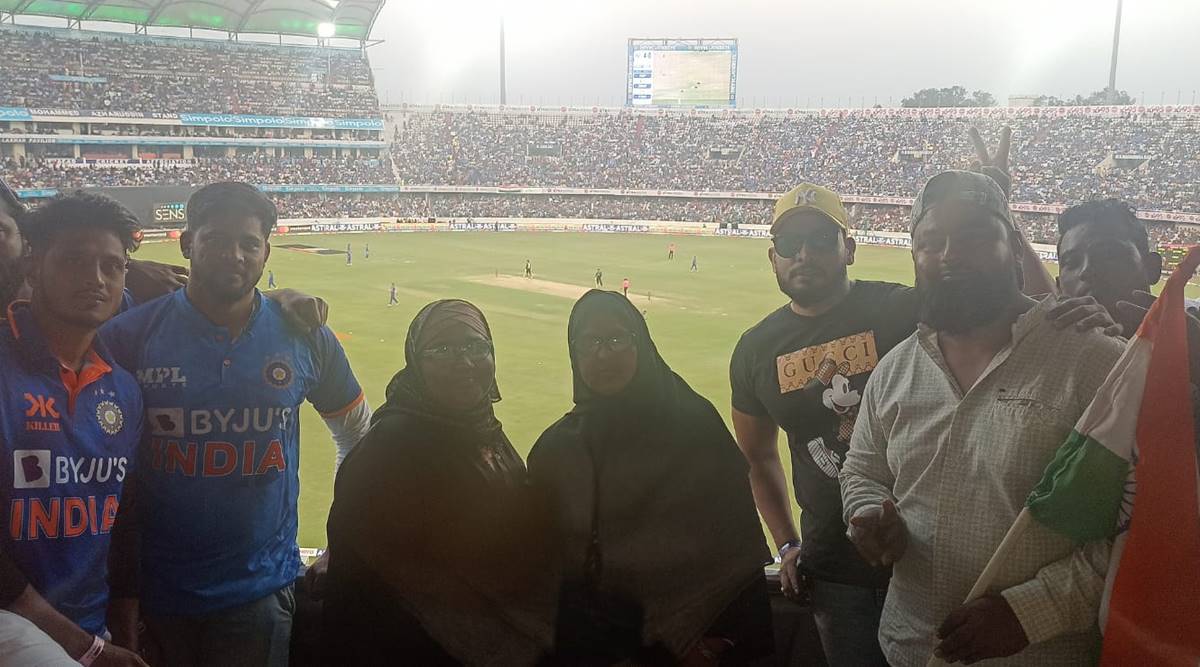 Hyderabadis flocked in to see one of their own wearing the India jersey. (File)
The capacity crowd had already been treated to fireworks from Shubman Gill. As Mohammed Shami completed the first over and Siraj picked the new ball, the crowd got another chance to increase the decibel levels in the stadium. As the unifying roar hit the crescendo, Shabana Begum, Siraj's mother could no longer sit in the front-row chair of the corporate box balcony. With her sister next to her as the crowd chanted Siraj's name, she was overwhelmed with emotions, holding on to the grill railing tightly. Even as others engaged in a conversation, she just stood still. She was oblivious to all that was happening around her. As much as this is Siraj's moment, this was her too. For a brief period, it looked like she was into her own world, where only the son and mom were around.
Right through Siraj's first spell — he bounced out Devon Conway to break New Zealand early into the chase of 350 – where he had figures of 5-2-20-1, Begum hardly moved. She would sit silently, deeply engrossed in prayer whenever Shami ran in from the other end. And it was precisely what Siraj had wanted from her – prayers – the day he landed in Hyderabad.
On Monday he had made a surprise visit to his mother at the home, from the team hotel. "I was offering Namaz… and when I opened my eyes, my Miya was there, saying 'Mubarak.' Thoda shock tha pehele kyunki usne bola tha ki Tuesday aayega; humne kuch khaas nahi pakaya. Isliye, mein pehle usko daanta (He had told us he would be visiting us only on Tuesday; we hadn't cooked anything special. So, I first scolded him!) "Lekin usne kaha, aapki dua dijiye; bus woh kaafi hai (Just give me your blessings, that's enough, he said). Mein jaldi uski pasand – kichdi banayi (I quickly made his favourite khichdi)," Begum told The Indian Express.
Alongside his mother, Sofia Sultana (Siraj's young sister), grandmother, aunt and his maternal uncle were around and so were a dozen friends. "He wanted all of us to be here in the stadium and made all the arrangements. Had his father been around, he would have felt very proud because more than anything, as a mother I feel that despite all the fame and success, he hasn't changed as a person and is looking after all of them," says Begum even as Sofia shows the new iPhone that Siraj has gifted her.
When Siraj made his Test debut in Australia in December 2020, picking up two wickets, his family had told his friends not to come to their home. A three-month mourning for Siraj's father was on. When they saw Siraj standing with the Indian team during the national anthem, the mother and grandmother broke down. They switched off their phones and watched the game.
Even though all his close friends, especially the ones who used to play cricket in the First Lancer Maidan are seated in the balcony at the stadium on Wednesday, Mohammed Shafi stands out from the rest as he is the only one wearing the India jersey with Siraj's name imprinted on it above the No. 73. Shafi was Siraj's captain when they used to play tennis ball cricket tournaments in the city. "Siraj and Shafi used to hang out together at all times. Bachpan ka dost hai," the mother introduces him as her own. And as Shafi's phone rings, he proudly shows it: "Yei dekhiye…. iPhone. This was gifted by Siraj. And also this smartwatch. There is another G-Shock watch that he presented me on my birthday, I've kept it safe because it is expensive," Shafi says about his "priceless friend".
And during the course of the game, Siraj showed how priceless he is for India as his four wickets helped India win the first ODI by 12 runs.
#indianews #indiannews