The most awaited release of 2023 is almost here!
Shah Rukh Khan
returns to the silver screen with Yash Raj Films' spy-action thriller Pathaan and his entire fandom is all geared up to celebrate his comeback after four long years. The film also features a cameo by
Salman Khan
as Tiger, marking the merger of franchises to build a spy universe.
Amidst all the excitement, filmmaker Rajkumar Santoshi is releasing his historical drama Gandhi Godse – Ek Yudh that discusses the ideological warfare that caused many crises through the two figures Mahatma Gandhi and Nathuram Godse, and how it ended in a disaster between them.
While this may come across as a bold move on the part of Santoshi, given the huge scale of Pathaan, such clashes between a big budget and small budget films have been a common occurrence with varied results.
Back in 1975, Jai Santoshi Maa clashed with the star-studded Sholay, and surprisingly both the films did great business in the end. Same was the case when Secret Superstar clashed with Golmaal Again, or when Haider clashed with Bang Bang. Tables were turned when Adivi Sesh's biographical action film Major clashed with Akshay Kumar's Samrat Prithviraj, and trumped the Bollywood biggie. The same, however could not be said about No Smoking that tanked as it released alongside Jab We Met. And most recently, we saw how The Kashmir Files surpassed way beyond the collections of large scale film Radhe Shyam and subsequent release Bachchhan Paandey.
In today's #BigStory we seek perspectives from filmmakers, critics, trade analysts and exhibitors and find out what impacts the performance of small budget films clashing with big budget movies and what it could mean for Gandhi Godse – Ek Yudh as it releases alongside Pathaan. Read on.
Aftermath of clashes
With a large number of films releasing in a year, clashes for release dates are inevitable. History has seen some of the biggest clashes in Bollywood – be it between two big budget movies or a big budget and a small budget film. The results however have been varied.
Film exhibitor and distributor Akshaye Rathi believes it is perfectly fine to have films clashing at the box office. "We've had all kinds of scenarios – there have been movies like Jab Tak Hai Jaan, Veer Zaara, Don, Om Shanti Om and Raees, which came with other films and did better. And we've also had movies like Zero and a couple of others, which also came with other films and didn't do as well as the others. It is a part and parcel of the movie business, where fortunes change very regularly. And you know, every Friday sets a new model," he says.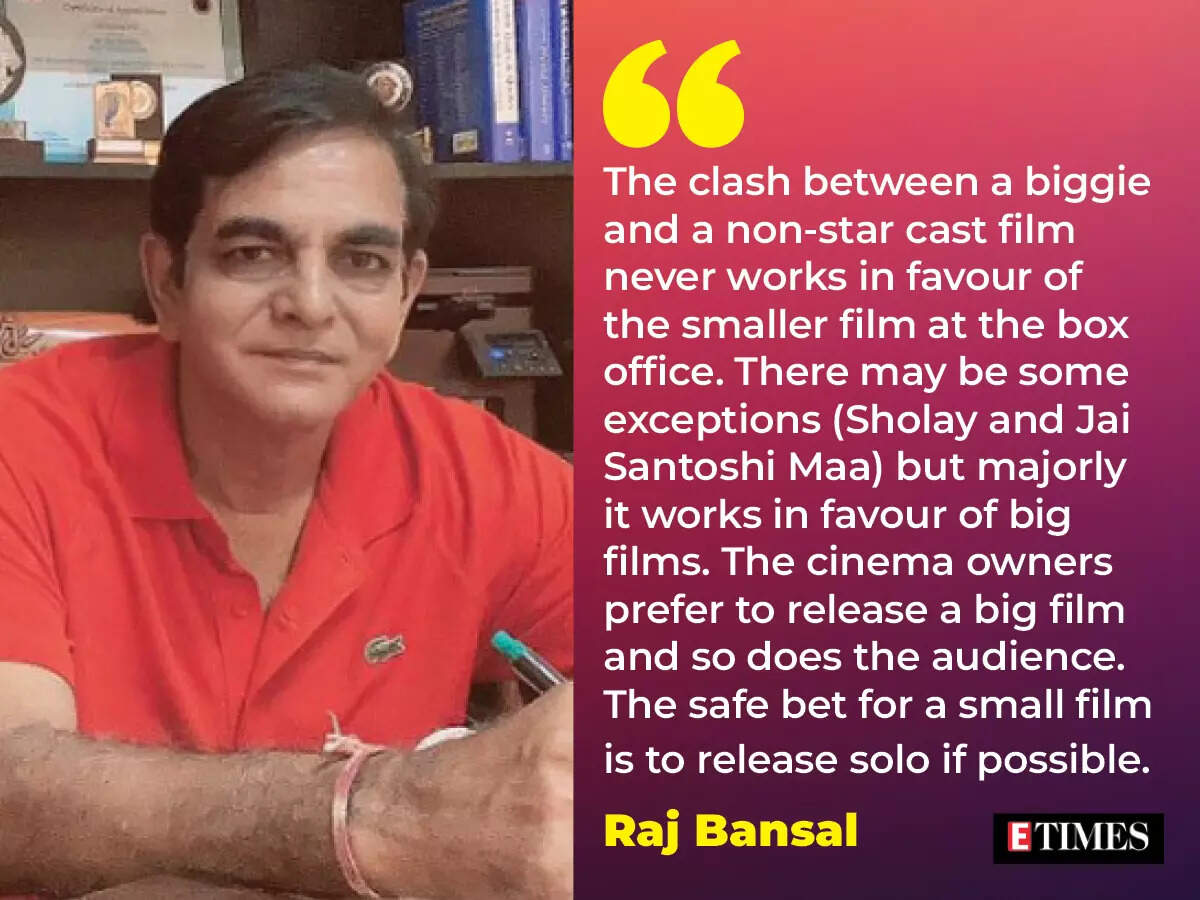 Film analyst and distributor Raj Bansal has an interesting observation. "The clash between two big films has been accepted and most of the time successful. But the clash between a biggie and a non-star cast film never works for the small film at the box office," he says. "There may be some exceptions (like Sholay and Jai Santoshi Maa) but majorly it works in favour of big film. The cinema owners prefer to release a big film and so does the audience. The safe bet for a small film is to release solo, if possible."
The year 2001 saw two of the biggest films clash at the box office – Gadar and Lagaan. Recalling the same, Gadar director Anil Sharma tells ETimes, "We merely focussed on the film and never thought which film it is clashing with. People worry when there is a clash because the screens get reduced. But it's not that multiple releases cannot survive at the box office. If the film is good, it will perform. Look at Kantara, for example. It was such an underdog that surprised us all with its content."
"These days there is so much space in theatres that we can easily accommodate two films," opines Drishyam producer Kumar Mangat. "Dil and Ghayal released on the same day, but there was no problem. When Son of Sardaar clashed with Jab Tak Hai Jaan, initially there was an issue with the screen count, but it was sorted later. Earlier, before the multiplexes came in, they would evaluate which of the two films is big budget or small budget film and then shows would be allotted accordingly. If both were big budget films, the shows were divided equally. The Kashmir Files clashed with Radhe Shyam, but it worked better than the big budget film," he shares.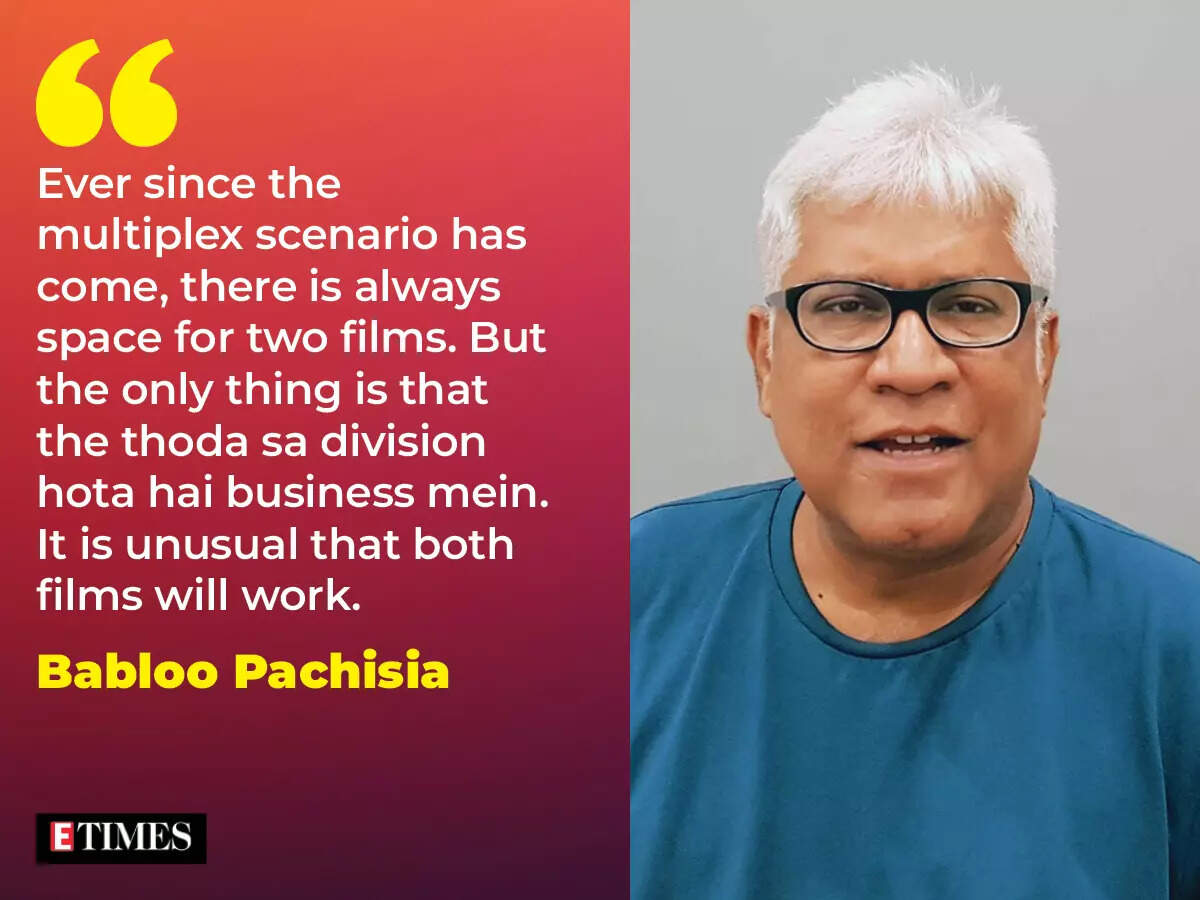 Producer Babloo Pachisia agrees, "Ever since the multiplex scenario has come, there is always space for two films. But the only thing is that thoda sa division to hota hai business mein. It is unusual that both films will work."
Small films have a market of their own

Over the years, the Hindi film industry has witnessed a revolution of sorts where many small budget films have made their mark in the minds of the audience. While on one hand, we saw big budget films with a huge star cast and renowned directors bombing at the box office, there were also films like The Kashmir Files, Bheja Fry, Iqbal, Khosla ka Ghosla and Honeymoon Travels Pvt. Lt .that did extremely well even without a popular star cast and with limited budgets. These films with great stories and a gripping presentation clicked well with the masses.
Amurag Kashyap's Black Friday, which was made on a budget of Rs 6.5 crore, earned around Rs 8 to 9 crore at the box office. Sriram Raghavan's Johnny Gaddar had a production cost of merely Rs 2 to 2.5 crore, but went on to earn around Rs 4 to 4.5 crore upon release.
Rajat Kapoor's Bheja Fry turned out to be a big hit as it earned a whopping Rs 16 crore, while its production cost was approximately Rs 70-80 lakh. Reema Kagti's Honeymoon Travels Pvt. Ltd. earned Rs 9 crore when it had a production cost of Rs 3-3.5 crore. Dibakar Banerjee's Khosla Ka Ghosla made on an economical budget of Rs 1 to 1.5 crore went on to earn over Rs 7 crore.
Pathaan will be huge!

When it comes to clashes, Shah Rukh Khan has a good track record as his films have (almost) always performed well. Case in point Jab Tak Hai Jaan, Veer Zaara, Don, Om Shanti Om and Raees that trumped the BO collections of the films they clashed with. And nothing less is expected from Pathaan.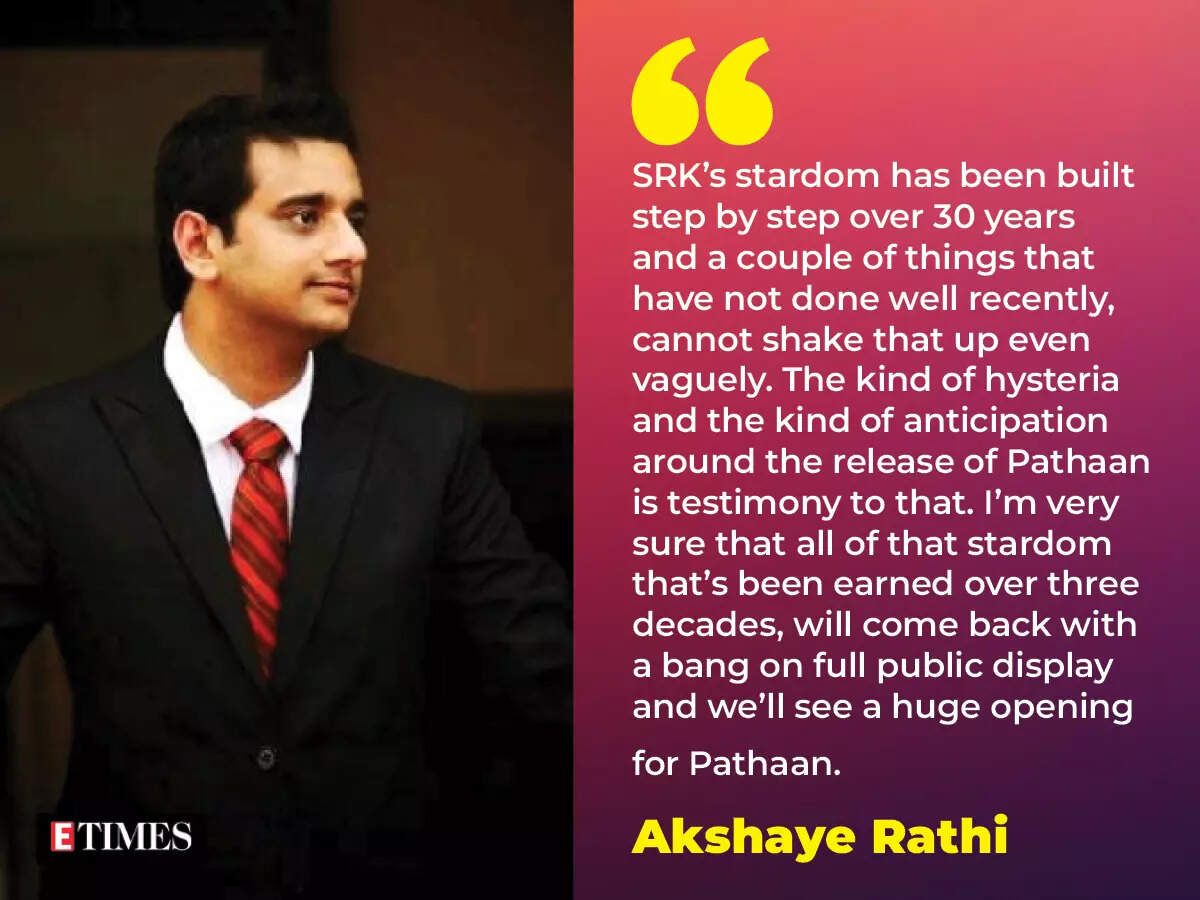 "What cannot be denied is the fact that Shah Rukh Khan's stardom has been built step by step over 30 years and a couple of things that have not done well recently, cannot shake that up even vaguely," says Akshaye Rathi. "The kind of hysteria and the kind of anticipation around the release of Pathaan is testimony to that. So I'm very sure that all of that stardom that's been earned over three decades, will come back with a bang on full public display and we'll see a huge opening for Pathaan and God willing if the movie is great, it will sustain a great lifetime total as well."
Film critic and trade analyst Taran Adarsh agrees, "Shah Rukh Khan's star power is strong and he is coming after four years. It is bound to leave a mark."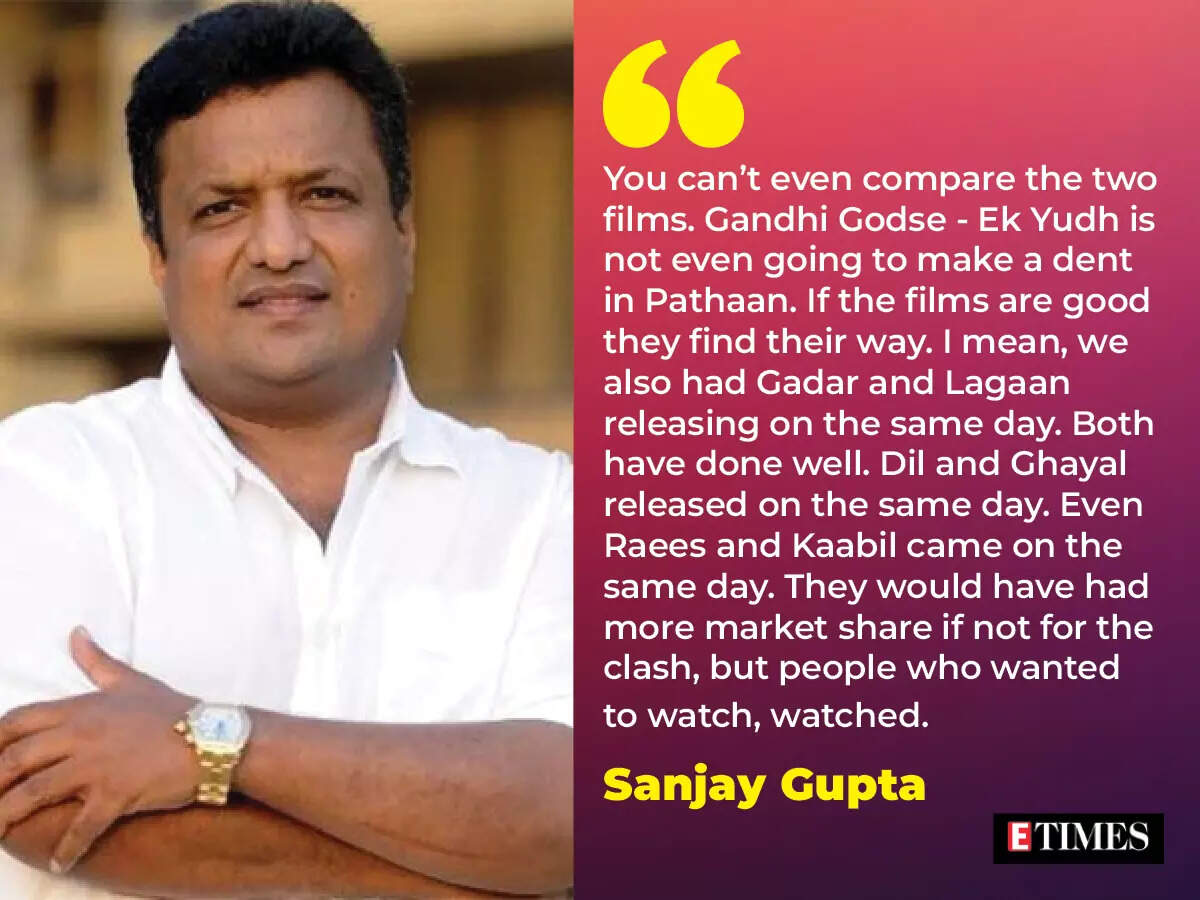 Filmmaker Sanjay Gupta may have been sore when Shah Rukh Khan's film Raees clashed with his film Kaabil. But he says there is no comparison between Pathaan and Gandhi Godse – Ek Yudh. "Gandhi Godse is not even going to make a dent in Pathaan," he says. "If the films are good they find their way. I mean, we also had Gadar and Lagaan releasing on the same day. Both have done well. Dil and Ghayal released on the same day. Even Raees and Kaabil came on the same day. They would have had more market share if not for the clash, but people who wanted to watch, watched. These had too big superstars coming on the same date. I was very disheartened because Rakesh ji had announced the date first. They also suffered, we also suffered."
Film exhibitor Manoj Desai remarks, "Pathaan will definitely make a difference to Bollywood. Super-duper hit nahi hui toh Bollywood wapas pit jayega."
Gandhi Godse – Ek Yudh director Rajkumar Santoshi wants maximum number of people to watch Pathaan, "It is my wish to watch this movie in a theatre along with the audience," he says. "I will do that when Godse Gandhi – Ek Yudh releases as well. To be honest, we wanted our film to release on October 2 last year. But, the post production work was challenging and it took time since we wanted to do the best in that department. Our second option was a January 30 release this year – the same date as Gandhiji was assassinated. We chose January 26 because coming out on that date means we will also get the benefit of being in theatres on January 30. We came to know about Pathaan's release date later on."
Fate of Gandhi Godse

While a clash with a biggie may not be considered wise by many, insiders believe there is still hope for Gandhi Godse – Ek Yudh if the content is up to the mark. As Kumar Mangat notes, "Pathaan is a very big release as compared to Gandhi Godse – Ek Yudh. But Rajkumar Santoshi's film is content based, and it will have its own audience and catch up with the critic reviews and word of mouth publicity."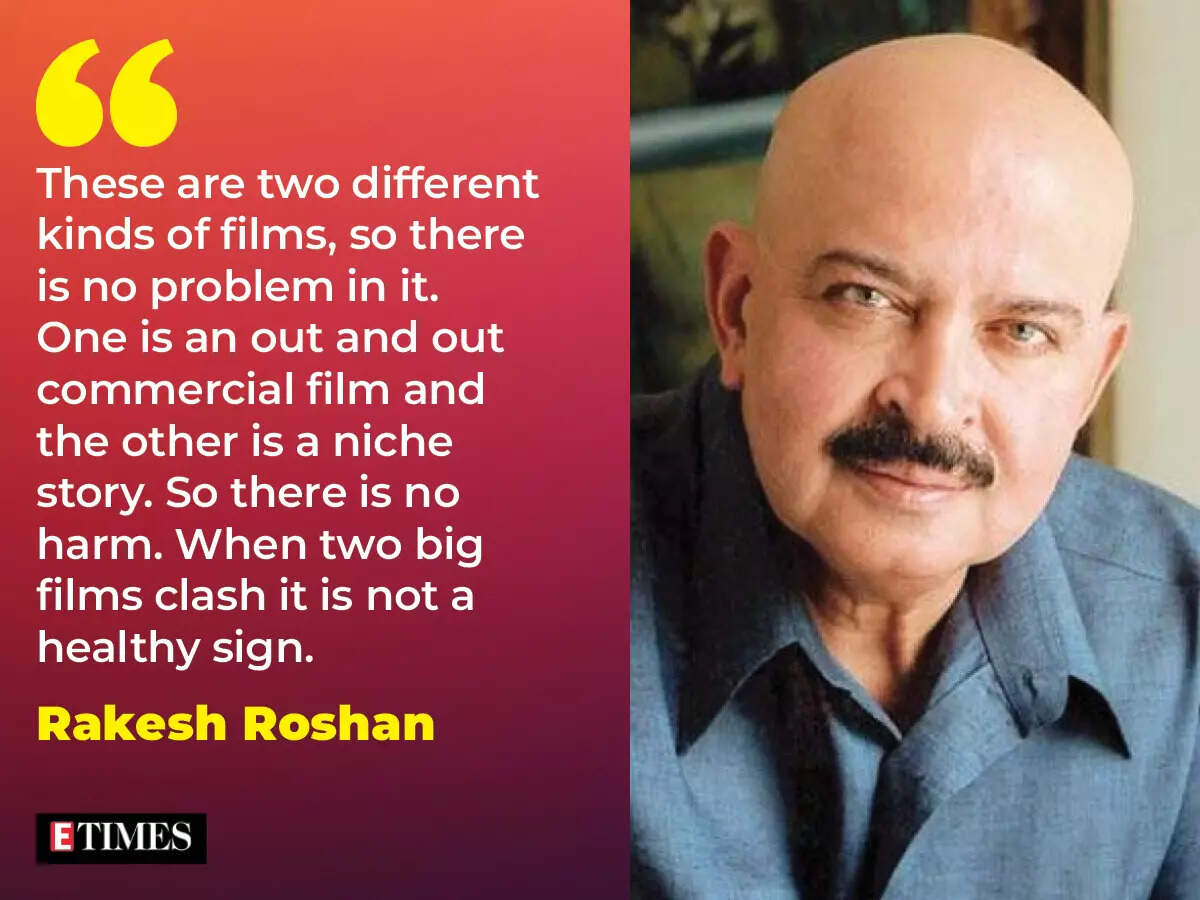 Rakesh Roshan agrees, "These are two different kinds of films, so there is no problem in it. One is an out and out commercial film and the other is a niche story. So there is no harm. When two big films clash it is not a healthy sign."
Anil Sharma echoes the sentiment, "Both the films are different, and they appeal to different audiences. If the films are good, they will both work well."
Whereas Babloo Pachisia believes there is nothing like a small film or big film. "According to me, if somebody likes the content, he will go and watch it," he says. "It's not necessary that Gandhi Godse cannot work or is not compulsory that Pathaan will work. Definitely it will take a sweeping opening, yeh thehregi ya nahi woh alag baat hai. The Kashmir Files did not let Bachchhan Paandey thrive, but RRR still worked despite this film."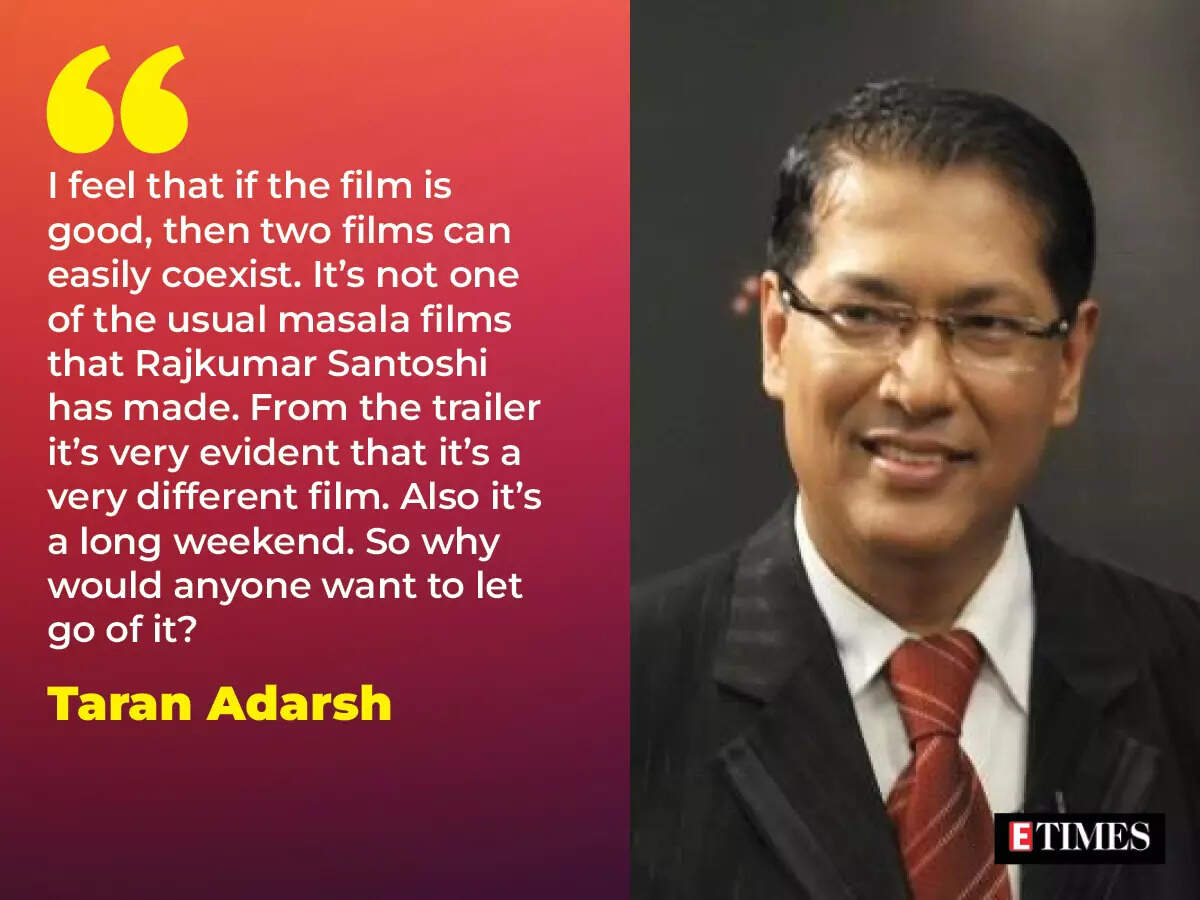 Taran Adarsh too has high hopes from Santoshi's film. "I feel that if the film is good then two films can easily coexist. It's not one of the usual masala films that Rajkumar Santoshi has made. From the trailer it's very evident that it's a very different film. I'm sure it will have its own audience. But it's a long weekend also. So why would anyone want to let go of it? History has proven that never underestimate the audience. When it's a long weekend, both films can easily perform."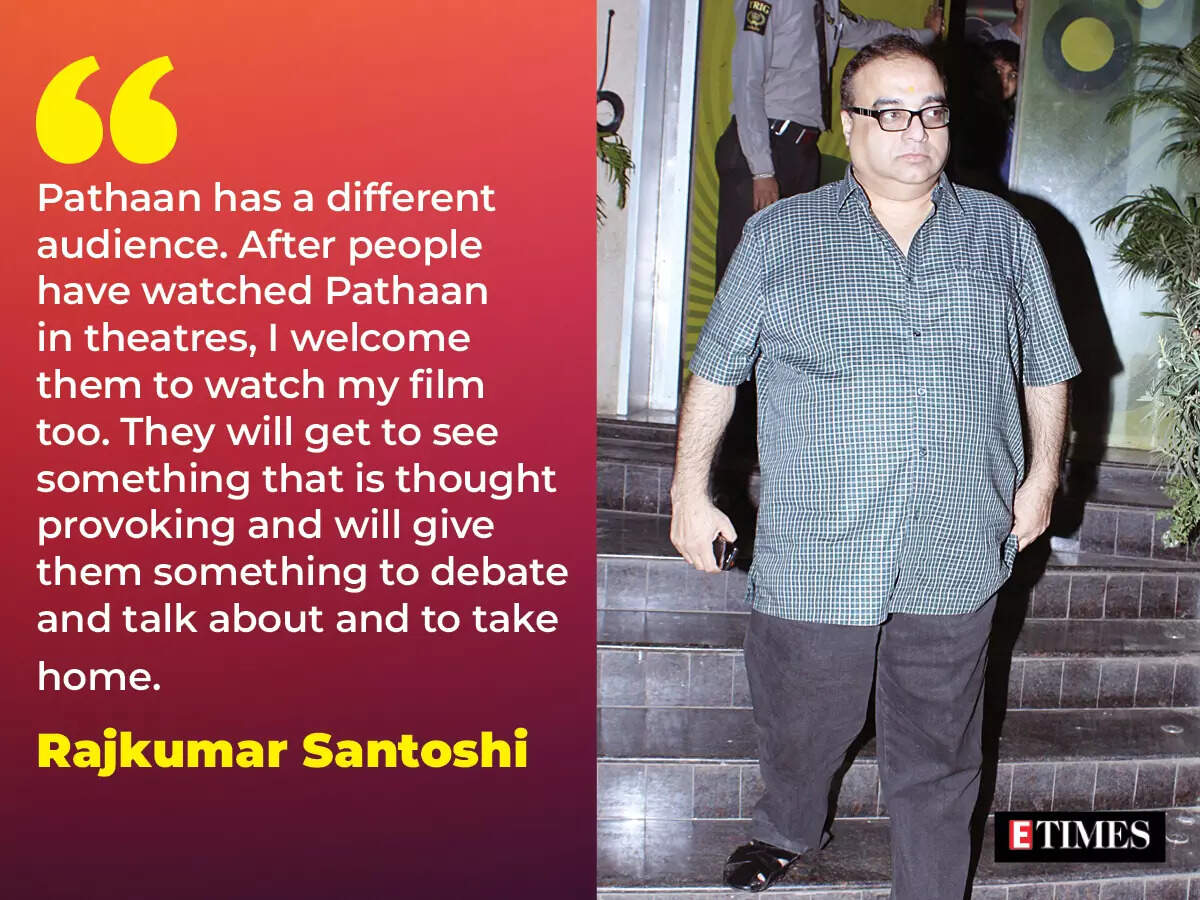 Lastly, Rajkumar Santoshi sums up on a positive note, "My good friend Shah Rukh Khan is the leading man in Pathaan, he is a huge star, a respected actor and human being. The film is produced by a huge and respected banner like Yash Raj Films. It's a big film. I have the best wishes for their release. But Pathaan has a different audience. After people have watched Pathaan in theatres, I welcome them to watch my film, too. They will get to see something that is thought provoking and will give them something to debate and talk about and to take home."
#indianews #indiannews