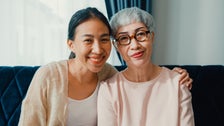 1. Ask about their plans and dreams for retirement without judgment.
2. Ask if they have been saving for retirement, and share expert-backed options for improvement.
3. Ask if they've thought about using a financial planner, and share alternatives if an adviser is not affordable.
4. Ask if they need you to provide financial assistance, and determine what help you can offer.
5. Ask if they are familiar with the Social Security benefit they expect to get.
6. Ask if they've thought about long-term care, and find out if they qualify for any options now.

#usanews #usa_news