Bloody clothing, rags and sharp tools were among the items investigators found while searching for Ana Walshe, a Massachusetts woman whose husband Googled how to dispose of and dismember a body before she was reported missing, a prosecutor said Wednesday.
The bloody items were recovered last week in 10 trash bags that Brian Walshe, 47, discarded over several days while he was searching online for tips on handling a dead body, according to Norfolk First Assistant District Attorney Lynn M. Beland.
"Can you be charged with murder without a body? Can you identify a body with broken teeth?" Beland read out in court, listing two of the questions Walshe allegedly Googled and requesting that Walshe be held without bail for his wife's murder.
Prosecutors say that Walshe's initial internet searches took place on the morning of Jan. 1, which is the day he told police in Cohasset, Massachusetts, that he last saw the mother of his three young kids.
Walshe, who was initially arrested for allegedly impeding authorities' search for his 39-year-old wife, stood emotionless as Beland described his alleged internet search history and the items recovered from dumpsters that coincided with his phone's location history.
"How long before a body starts to smell? How to stop a body from decomposing? How to embalm a body?" were some of the questions Beland read to the court.
Walshe also allegedly searched how quickly a body in a plastic bag decomposes compared to one left out in the woods and asked: "How long for someone to be missing to inherit?"
"Rather than divorce, it is believed that Brian Walshe dismembered Ana Walsh and discarded her body," said Beland, who said that he Googled "What's the best state to divorce for a man?" on Dec. 27.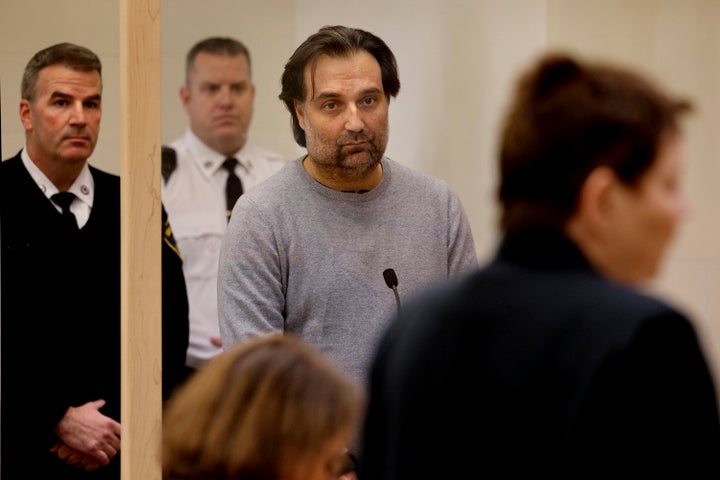 Beland recited the trash bags' contents in court, saying investigators found items they believe belonged to Ana Walshe, along with cleaning supplies and sharp tools, in dumpsters outside various apartment buildings that investigators tracked down using Brian Walshe's phone. The items were bloody, and tests showed that they contained DNA belonging to both Ana and Brian Walshe, Beland said.
These items included bloody slippers, a Tyvek suit with boot covers, a Prada purse, a COVID-19 vaccination card listed as belonging to Ana Walshe and a piece of a necklace that she had been seen wearing in photos. There were also bloody towels, rags, a hack saw, a hatchet and cutting shears. Investigators also found a pair of stained boots described as the same pair the missing woman was last seen in, Beland said.
Beland also read out a timeline of Brian Walshe's alleged activities in the days after Jan. 1, saying he went to a Home Goods store on Jan. 2, where he purchased three rugs. He also allegedly bought $450 worth of cleaning supplies at a Home Depot, including mops, tape, buckets, a hatchet and a Tyvek suit with boot covers.
Investigators reported seeing Walshe's vehicle parked at his home with its seats down and a plastic cover over them. This cover was later removed. When questioned, Walshe allegedly said that he threw it away. Later, chemists analyzed the car and detected blood inside, said Beland.
Not all of the bags Walshe was filmed throwing away were recovered, including one that he appeared to struggle to lift into a dumpster. Some of the discarded bags were sent to waste treatment facilities where they were destroyed before investigators could locate them, Beland explained.
Walshe is being held without bail. He has pleaded not guilty to the charges against him, and his attorney has not responded to requests for comment.
#usanews #usa_news