CNN
 — 

Brian Walshe is expected to be arraigned in court Wednesday after being charged with murdering his wife Ana Walshe, a Massachusetts mother and corporate real estate manager who had been missing since the new year.
Brian Walshe, 47, has been in jail since January 8 when he was arrested and charged with misleading investigators, to which he has pleaded not guilty. Prosecutors have accused Walshe of intentionally delaying investigators in order to cover up evidence, alleging he lied about some of his actions in the days following his wife's disappearance.
Evidence supporting the murder charge against Walshe is likely to be presented in court Wednesday, Norfolk District Attorney Michael Morrissey said. He declined to share further details.
The husband, who is being held in a Norfolk County corrections facility, will be brought to Quincy District Court for the arraignment, which could begin as early as 9 a.m., the district attorney's office said.
An attorney for Brian Walshe declined to comment Tuesday.
Since Ana Walshe's employer reported her missing on January 4, authorities have scoured the couple's home, performed a sweeping search of the town of Cohasset, and poured through dumpsters looking for any sign of what happened to the 39-year-old mother of three.
The searches have uncovered several pieces of potential evidence, including a hacksaw and apparent bloodstains at a trash collection site and searches in Brian Walshe's internet records for how to dismember and dispose of a body, law enforcement sources have previously told CNN.
And while prosecutors say police have found blood stains and a bloody, broken knife in the couple's basement, authorities have yet to announce the discovery of Ana Walshe's body.
Ana Walshe's friend and former colleague Pamela Bardhi told CNN she felt rage and relief upon hearing investigators believe her friend was murdered.
"I just had this horrible gut feeling and I prayed I was wrong," she said Tuesday. "I prayed that it wasn't the case. And here we are now finding out a few hours ago there's a murder charge … That's a heavy, heavy thing,"
Though Bardhi is terrified to learn the details in the case, she said she hopes the truth will emerge.
"I think that the truth is a real double-edged sword. It's painful to know, but it's necessary," she said. "I think that those kids deserve to know what happened to their mother, no matter what, and her family and her friends."
The couple's three children, all between the ages of 2 and 6, are in the custody of the Massachusetts Department of Children and Families, a spokesperson said.
So far, several pieces of possible evidence have emerged in Ana Walshe's disappearance, including her husband's allegedly false statements to police and multiple items found in and around the small coastal town of Cohasset.
Brian Walshe told police he last saw his wife the morning of January 1 when she left for a work trip to Washington, DC, according to a police affidavit. The husband said he spent the rest of the day running errands for his mother and spent January 2 spending time with his kids.
However, prosecutors say there is no evidence Ana Walshe took her usual rideshare or taxi to the airport, or that she took a flight or arrived in DC. Her phone also pinged near the couple's home overnight on January 1 into January 2.
Additionally, investigators allege Brian Walshe never ran errands for his mother on New Year's Day and say he took an undisclosed trip to Home Depot on January 2, where prosecutors say he spent about $450 on cleaning supplies, including mops, a bucket and tarps.
On January 4, Ana Walshe's employer, real estate company Tishman Speyer, called police to report her missing, according to investigators. A Cohasset police log obtained by CNN says, "Company has contacted the husband. He has not filed a police report." Brian Walshe's defense attorney Tracy Miner has said he called his wife's workplace before they reported her missing to say he hadn't heard from his wife.
A number of items were collected when investigators conducted searches north of Boston and were sent to be tested as potential evidence, the Norfolk district attorney has said, declining to provide details.
Law enforcement sources have told CNN that investigators found a hacksaw, torn cloth and apparent bloodstains at a Boston-area trash collection site.
A bloody knife and blood stains were also found in the couple's basement, prosecutor Lynn Beland said. Additionally, the husband's internet records show searches for "how to dispose of a 115-pound woman's body" and how to dismember a body, according to two law enforcement sources briefed on the investigation.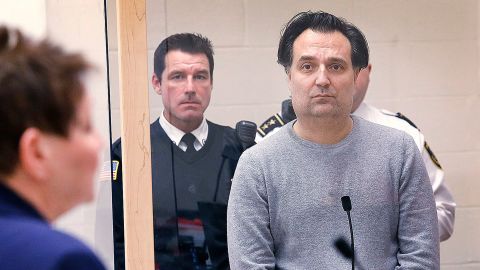 The charges against Brian Walshe in his wife's disappearance are the latest in a string of legal troubles for the husband.
In 2021, he pleaded guilty to three federal fraud charges related to a scheme to sell fake Andy Warhol art online. He was placed under house arrest as he awaits sentencing and was required to get approval to leave his house for specific activities at specific times.
Investigators allege Brian Walshe took several unapproved trips the week after his wife disappeared that could be violations of the terms of his house arrest, a police affidavit says.
Additionally, a police report obtained by CNN shows Ana Walshe reported someone threatened to "kill (her) and her friend" in 2014. Brian Walshe was the person involved in the report, a spokesperson for the Washington DC Metropolitan Police Department confirmed.
The case was closed because the victim refused to cooperate with the prosecution, police said.
In 2019, a relative and family friends also painted Walshe as a violent and untrustworthy person during a legal battle over his father's estate. In affidavits filed in the case, two friends of Brian Walshe's father accused Walshe of financial misconduct and said he is "a sociopath."
CNN has reached out to current and previous attorneys for Brian Walshe but has not heard back.
#usanews #usa_news