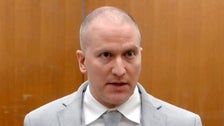 ST. PAUL, Minn. (AP) — An attorney for Derek Chauvin asked an appeals court Wednesday to throw out the former Minneapolis police officer's convictions in the murder of George Floyd, arguing that legal and procedural errors deprived him of a fair trial.
Floyd died on May 25, 2020, after Chauvin, who is white, pinned the Black man to the ground with his knee on his neck for 9 1/2 minutes. A bystander video captured Floyd's fading cries of "I can't breathe." Floyd's death touched off protests around the world and forced a national reckoning with police brutality and racism.
Chauvin's attorney, William Mohrman, told a three-judge panel of the Minnesota Court of Appeals that the trial judge should have moved the case out of Minneapolis because of extensive pretrial publicity and unprecedented security precautions due to protest fears.
"The primary issue on this appeal is whether a criminal defendant can get a fair trial consistent with constitutional requirements in a courthouse surrounded by concrete block, barbed wire, two armored personnel carriers, and a squad of National Guard troops, all of which or whom are there for one purpose: in the event that the jury acquits the defendant," Mohrman said.
But Neal Katyal, a special attorney for the state, said Chauvin got "one of the most transparent and thorough trials in our nation's history. … Chauvin's many arguments before this court do not come close to justifying reversal."
"Judge Cahill managed this trial with enormous care, and even if Chauvin could identify some minor fault, any error is harmless," Katyal said. "The evidence of Chauvin's guilt was captured on video for the world to see."
Appeals Judge Peter Reyes said Wednesday that the court would rule within 90 days. Chauvin did not attend the oral arguments, but Minnesota Attorney General Keith Ellison, who assembled the prosecution team, sat in the front row.
Even if Chauvin wins his appeal, his federal sentence will keep him in prison longer than his state sentence likely would because he would qualify for parole earlier in the state system.
Mike Brandt, a Minneapolis defense attorney who has been following the cases arising from Floyd's murder, said a victory at appeal "would be functionally meaningless" and that Chauvin's time in prison is "pretty well locked in stone" given his federal sentence.
Mohrman argued in his brief that the pretrial publicity was more extensive that any other trial in Minnesota history, and that the judge should have moved the trial and sequestered the jury. Mohrman wrote that the publicity and the riots, the city's $27 million settlement with Floyd's family announced during jury selection, the unrest over a police killing in a Minneapolis suburb during jury selection, and the sealing off of the courthouse, were just some of the factors prejudicing Chauvin's chance of a fair trial.
Much of the questioning Wednesday centered on one juror who participated in a civil rights event commemorating Dr. Martin Luther King, Jr.'s March on Washington a few months after Floyd's death. Only after the trial did the juror reveal that he had been there.
He was questioned during jury selection about whether he had participated in any demonstrations or marches "in Minneapolis" against police brutality after Floyd's death. But Chauvin's original attorney, Eric Nelson, did not ask whether he had participated in any marches elsewhere.
Mohrman argued that Cahill should have held a hearing after the revelation to determine whether the juror's nondisclosure constituted misconduct. He said the appeals court should send the case back to Cahill for a hearing on that issue — a request that Cahill had denied.
Reyes said judges have "fairly broad discretion" in conducting trials, and that Nelson questioned the juror and could have struck him but did not. Reyes said case law puts the burden for asking the right questions on the defense.
Katyal told the judges that the juror accurately answered the questions and insisted repeatedly that he could render an impartial verdict. He said the defense didn't use three of its peremptory strikes, which he called an indication of satisfaction with the jury.
In their brief, prosecutors said pretrial publicity had blanketed the state making a change of venue for the trial pointless. They also said Cahill took sufficient steps to shield the jurors from outside influences so there was no need to sequester them before deliberations.
#usanews #usa_news