Hybrid smartwatches can offer the best of mechanical and computerized watches — so long as they're done correctly. Fossil's latest attempt at that is the Gen 6 Hybrid Wellness, a new fitness-oriented sibling to the original Gen 6 Hybrid which focused more on style.
The Gen 6 Hybrid Wellness tries to offer the best of both worlds. It carries over a lot of the fitness tracking features from the Gen 6 Wellness — like automatic workout detection, blood oxygen monitoring, and various workout options — while offering the classic style and multi-week battery life of the hybrid model.
I've been using the watch for the past two weeks to figure out if it's worth buying over a traditional smartwatch. Here's what I found out.
A smartwatch that gives you the best of both worlds
If you want something that lasts longer and looks more traditional than a standard smartwatch, the Fossil Gen 6 Wellness Edition is a good pick. Just note that you won't get the same smooth app experience or fast performance of an Apple or Galaxy Watch.
Max Buondonno/CNN
Find me one person who doesn't think this watch looks spectacular. I asked Fossil for the glossy stainless steel model which comes with a blue face and silicon band, and I was thrilled to unbox it when it arrived at my doorstep. You can also get it with a Blush case accent (aka rose gold) or Black.
The Gen 6 Hybrid Wellness has essentially the same design as the standard Gen 6 Wellness, minus the touchscreen. In its place are easy-to-read hands for its analog dial and an E-Ink display in the back. This lets you see a good amount of data despite not having a traditional screen to use.
The analog watch face gives you that traditional look without sacrificing smarts, which is a big reason why people love hybrid smartwatches. I've been using hybrid watches a lot recently to find the best ones, and in terms of looks, the Gen 6 Hybrid Wellness is definitely one of the best.
Fossil includes a standard silicon strap out of the box which isn't my favorite, but it gets the job done. Unlike the original Gen 6 Hybrid, the Gen 6 Hybrid Wellness supports 20 mm straps, so you can use any third-party band you'd like to enhance your look.
Along the side of the watch are three buttons which you use to navigate the interface. When you press the crown, the hands will move out of the way to show you the content that appears on the E-Ink display. You can then use the two other buttons to cycle through menu options, health data, notifications, and more by using the hands as pointers. It's a simple system to get the hang of. If there's one thing to remember, though, it's that while the crown can physically twist, it doesn't do anything.
Max Buondonno/CNN
Fossil includes a good amount of fitness and wellness tracking tools on the Gen 6 Hybrid. Out of the box, there are 10 workout options: Walk, Bike, Hike, Spinning, Elliptical, Treadmill, Weights, Row Machine, Run, and a generic Workout tracker. It also features heart rate tracking, blood oxygen monitoring, sleep tracking, auto workout detection, and VO2 Max measurements.
I dipped into a lot of these features to see how well they worked, comparing them to my Apple Watch Series 8 and Pixel Watch. I was delighted to find that all of them worked just as well. The Gen 6 Hybrid Wellness was able to record the same amount of calories I burned as my Apple Watch did, give or take 10 to 15 calories depending on the workout. My heart rate measurements were also in the same ballpark, as was my daily step count.
All of your health data syncs with the Fossil app on your phone. If you'd rather keep it in one place, you can sync it to Apple Health or Google Fit. It's not as robust as some other watches or fitness trackers on the market, as workouts like watersport, HIIT, and yoga can't be recorded. But for most people, it'll get the job done.
Max Buondonno/CNN
The Gen 6 Hybrid Wellness relies more on your phone than most other hybrid watches I've used in the past. Watches like the ScanWatch from Withings primarily depend on your phone for two things: notifications and occasionally syncing data. Fossil's watch, on the other hand, uses your phone for much more like notification history, weather data, and even Amazon Alexa.
This makes the Gen 6 Hybrid Wellness one of the most robust hybrid watches on the market. It's great that you get a full-fledged voice assistant (which can be used for things like web searches and controlling your smart home), a rolling history of your notifications, and weather conditions at a glance on a watch that feels stylish and sophisticated.
Plus, the watch is great on its own. It's not running Wear OS, but you get a decent set of features like a stopwatch, timer, music controls, the ability to ring your lost phone, and more. You can also customize the watch face background through the Fossil app, just in case you aren't feeling the new Wellness face that comes pre-installed.
Max Buondonno/CNN
It's difficult for hybrid smartwatches to mess up battery life, if only because there's no bright and color touchscreen, resource-heavy operating system, or cellular connectivity to juggle. The Gen 6 Hybrid Wellness is quoted for two weeks of battery life on a full charge, and I can safely say that metric is accurate.
At the time of writing this review, it's been a little over two weeks, and I've never killed it. I've gotten it down to around 40% before throwing it on the charger, but I really had to use it in order to drain it. That meant playing with Alexa, tracking one or two workouts a day, and pulling weather data a bunch. If you use it casually throughout the day to check the time, track a workout, and look at the weather a couple of times, you can easily last two weeks or more on a full charge.
That's the best part of using this watch over traditional smartwatches. One of the biggest issues people have with smartwatches is the limited battery life, which usually doesn't go past two or three days in the most extreme cases. But with a hybrid watch, only charging once or twice a month becomes the norm, and that's sweet.
Fossil says you can go from zero to 80 percent in an hour, and while I haven't tested that, I will say that the watch charges pretty quickly. From 40 percent to 100, it took far less than an hour using a standard 5W charging brick (which isn't included in the box).
Max Buondonno/CNN
One of my biggest gripes with the Gen 6 Hybrid Wellness is its performance. From cycling through the interface to interacting with Alexa, this watch is just plain slow.
This could be due in part to the E Ink screen, which doesn't have a very fast refresh rate and takes longer to show information than the LCD screens we see on most watch. It's also likely due to whatever processor Fossil included which, oddly enough, doesn't feel powerful enough for this device.
Using the watch is also tedious. Sure, the buttons make controlling everything easy, but it's far from efficient. Take notifications for example: if you want to clear them from your watch, you have to hit the downward button until you reach the bottom of the list for the option to clear them, which could take a while depending on how many notifications you have.
Mind you, this isn't entirely due to the lack of a touchscreen and operating system. The Withings ScanWatch is by far one of the snappiest watches you can get, thanks to its digital display and rotating crown. Fossil could've improved its implementation of the watch's "smarts," but chose not to.
Overall, you'll be spending a lot more time on the Gen 6 Hybrid Wellness to do the things that would normally take a couple of seconds on a traditional smartwatch.
Max Buondonno/CNN
One of the E Ink display's other big issues is that it gets hard to see. During the day, you'll have no problem since you're surrounded by light, but things take a turn for the worse the second you're eclipsed in darkness.
The hands don't glow in the dark for some reason, and you have to tap the display twice to turn on the backlight. There's no ambient light sensor that'll turn the backlight on automatically, and you can't keep it on for more than a few seconds (likely to save battery life).
This feels like an obvious misstep on Fossil's part, and I'm curious how it slipped through the cracks during the watch's development. Maybe the next generation will give you an easier way to check the time at night.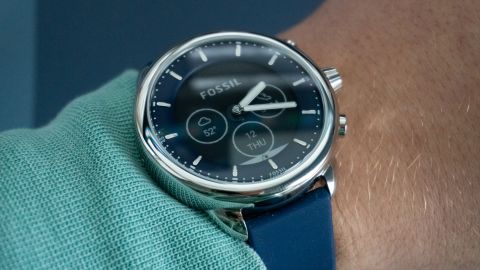 Max Buondonno/CNN
Fossil is only selling the 45mm Gen 6 Hybrid Wellness, with no option for a smaller one. That's a shame, since 45mm watches don't sit very nicely on wrists that are skinnier than mine. If you're okay with a larger than average watch on your wrist, you won't have any issues. But it's safe to say that's not going to be the case for everyone, and those who prefer a smaller watch will need to shop elsewhere.
Max Buondonno/CNN
If you were planning to go swimming with the Gen 6 Hybrid Wellness, think again. The watch is only rated 3 ATM water resistant, which means it can withstand rain showers or splashes but not extended submersion. That contrasts with other watches we've tested like the Apple Watch Series 8 and Galaxy Watch 5 Pro which are both 5 ATM water resistant, capable of withstanding intense swimming and diving sessions.
Max Buondonno/CNN
During my review process, I captured a couple of blood oxygen recordings on the Gen 6 Hybrid Wellness. It's one of the watch's marquee features, so I was expecting it to work pretty well.
Unfortunately, I'm not sure it can be trusted. After two recordings, it told me my SP02 levels were at 99 percent and 100 percent, respectively. I then recorded with my Apple Watch Series 8, which said my levels were at 96 percent. Ever since, I've recorded my blood oxygen a couple more times with Fossil's watch, and it always gave me an extra point or two on top of what my Apple Watch suggested.
You want your blood oxygen to be between 95 and 100 (anything lower is worth calling your doctor over). The Gen 6 Hybrid never suggested I should go to the hospital, but it definitely seemed to inflate the amount of oxygen in my blood.
Max Buondonno/CNN
After you pair the Gen 6 Hybrid Wellness with your phone and start using Fossil's companion app, you get a feeling that something's missing. It tripped me out the first few times I used the app. I thought, "Wait, am I doing this correctly?"
Sure enough, I was, and the only reason I felt this way is because the app is shockingly bare. It gives you enough features to keep the watch up and running, but there are barely any settings, any health data, or status indications from your watch.
The user interface is particularly strange. If you want to access anything like your alarm, step count, sleep data, or configure notifications, you'll find it in a horizontally-scrolling "For You" menu (which is also chock-full of ads). Below that is the Wellness list which presents glanceable health data. You can tap on any of it for an expanded view, but none of it is as well-detailed as what you'd get out of an Apple Watch, Fitbit, or ScanWatch.
It's a pretty poor experience, is what I'm trying to say. Fossil definitely needs to work on how its app works since it's the bridge that connects its watches to your smartphone.
| | | | |
| --- | --- | --- | --- |
| Compatibility | iOS, Android | Android | iOS |
| Size options | 45mm | 44mm, 40mm | 45mm, 41mm |
| Water resistance | 3 ATM | 5 ATM | 5 ATM |
| Battery life (rated) | Two weeks | 40 hours | 18 hours |
| Color options | Black Silicone, Navy Silicone, Blush Silicone | Graphite, Silver, Pink Gold | Midnight, Starlight, Silver, Red (Aluminum); Graphite, Silver, Gold (Stainless Steel) |
| Price | From $229 | From $230 | From $399 |
The Gen 6 Hybrid Wellness is a striking watch, with excellent battery life and a bevy of fitness features. While it's far from perfect, I think anyone who wants to dip into the world of hybrid smartwatches would have a fine time starting here. It's not that much different from a traditional smartwatch, and in exchange for some modern niceties, you'll get two-week battery life, weather data, notification history, and fitness tracking right on your wrist.
Of course, the compromises are a bit much. You have to live with a lackluster app experience, spotty blood oxygen monitoring, a chunky case, and a dim E Ink screen. At $229, that might seem like a hard sell, but compared to other hybrid smartwatches like the Withings ScanWatch, you get much more versatility and a longer list of "smart" features.
At the end of the day, the Gen 6 Hybrid Wellness is a really interesting entry from Fossil, one that will likely see dramatic improvements over the years. And if you decide to pick it up as your first hybrid smartwatch, you'll find a lot to like — as long as you know what you're getting into.
#usanews #usa_news