Is date night deodorant a thing? No? Well, Glossier is about to make it one. The beauty brand launched its first deodorant line today with four scent options, including one boasting its signature Glossier You fragrance. It's warm, spicy and alluring just like the beloved perfume — but that's not the only great thing about it.
After testing the new deodorant, here are my first impressions.
Glossier's latest addition to its clean girl beauty line will have you feeling and smelling clean, too. The Deodorant keeps underarms stink-free with a sensitive-skin-friendly formula, recyclable and refillable packaging and three fragrances, plus an unscented option.
Dermatologist tested, the Glossier Deodorant is aluminum-free and made without baking soda, acids or water — elements that can imbalance your underarms' pH level and cause odor — and instead features gentle ingredients that won't irritate sensitive underarms. Potato starch and magnesium hydroxide help absorb moisture, while elderberry extract and coconut oil condition the skin and reduce odors. When swiped on, it doesn't leave a chalky feeling, nor an overly wet one, and dries down invisibly.
It comes in a convenient refillable format with a reusable and recyclable case. Simply pop in one of the refill sticks and you're good to go — it's really that simple. When you're finished with a stick, you can recycle the refill and then endlessly reuse the case with your favorite scent or try a new one. I love that the product makes it easy to make an eco-friendly swap and trade a traditionally disposable product with hard-to-recycle components into something that has an endless life cycle.
Glossier
The variety of fragrance options is also a plus, as you can choose from the cult-favorite Glossier You-scented version, the refreshing Sandstone, floral Orange Blossom Neroli or simply Unscented. Refreshing and spa-like, Sandstone boasts notes of sandalwood, clary sage and fig leaf; fans of Glossier's Body Hero line will recognize the pear, mandarin and cypress notes of Orange Blossom Neroli; and for those who want to stay fresh and natural, Unscented will mask any odor without adding any either.
Each of the three fragranced deodorants are quite strong, with a perfume-like effect that lasts all day. Depending on your preference, the strong fragrance might be a drawback. I wore Sandstone to an hour-long yoga class and found that the deodorant successfully hid any body odor, but didn't get rid of it entirely. Instead, the scent covered it up and lingered — I could smell the deodorant on myself throughout the entire class and afterwards until I took a shower. Usually, I don't notice the scent of my own deodorant (I had been using Alo Yoga's Supernatural Deodorant) after it dries, so it feels like Glossier's deodorant has an effect similar to applying a scented body lotion.
Moreover, after wearing the Glossier You deodorant on a night out, the scent was still ever-present and could clearly be smelled on my clothes. In fact, I've been chucking all of my shirts in the laundry after one wear (no matter how brief) when using the scented Glossier deodorants because the scent transfers so strongly onto my clothes.
On the flip side, if you're determined to smell good all day long, the deodorant worth a try. Especially if you're already a fan of Glossier You, layering the perfume and deodorant will ensure that you're surrounded by a cloud of the irresistible scent.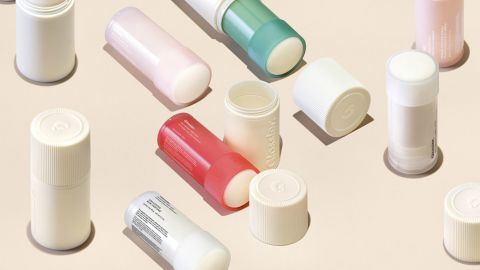 Glossier
The Glossier Deodorant is a frontrunner in taking a skin care-forward approach to underarm care and successfully hiding any stink. The closest comparison I can draw is to the Alo Yoga Supernatural Deodorant, which is similar to Glossier's deodorant in application and texture. The round stick is easy to throw in a gym bag, feels conditioning on the skin and dries invisibly. Alo's deodorant, however, has a subtle, fresh fragrance that you won't notice after applying. Therefore, it doesn't hide body odor as well, and I will usually reapply once during the day or before I go to an event.
I've also tried other aluminum-free deodorants made by beauty brands, such as Kosas' Chemistry Deodorant and Boscia's Prebiotic Probiotic Freshening Allover Body Deodorant, but never stuck with them due to issues with application and efficacy. From past experiences, there's often a compromise between a deodorant that works and one that's free from aluminum, but Glossier's Deodorant seems to have found the trick.
Sophie Shaw/CNN
Considering the aluminum-free formula, I was impressed with the lasting power of each of the fragranced versions and how successful they were at hiding any odor. They might be too perfume-y for the gym or working out, but for day-to-day outings and, yes, even date night, the scents provide an ambient mask for any body odor.
#usanews #usa_news