After years of "will they, won't they" from Google, the company finally released a Pixel-branded smartwatch designed to go up against the best smartwatches and fitness trackers on the market. We gave the $349 Pixel Watch a pretty positive review, thanks to its tight integration with Fitbit, beautiful design and excellent Wear OS 3 experience.
But can it stand up against our pick for the best smartwatch you can buy in the $399 Apple Watch Series 8? After all, it's one of the best Apple Watches to date with amazing performance, a wide variety of supported apps, great fitness tracking features and all-day battery life.
Let's see how these two watches duke it out.
| | | |
| --- | --- | --- |
| Compatibility | Android | iOS |
| Display options | 41mm | 45mm, 41mm |
| Weight | 1.26 ounces | 1.36 to 1.49 ounces |
| Water resistance | 50 meters | 50 meters |
| Battery life (rated) | 24 hours | 18 hours |
| Key health and safety features | Full Fitbit integration, optical heart rate sensor, blood oxygen sensor | Blood Oxygen, ECG, Temperature Sensing, Cycle Tracking, Crash Detection |
| Color options | Champagne Gold, Matte Black, Polished Silver | Midnight, Starlight, Silver, Red (Aluminum); Graphite, Silver, Gold (Stainless Steel) |
| Price | $350 | $399 |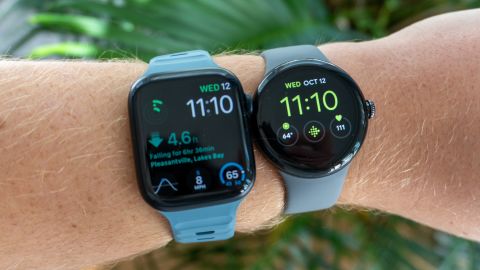 Max Buondonno/CNN
Side by side, the Pixel Watch is definitely the more attractive watch. Its simplistic pebble-like aesthetic looks refined and elegant, while the Apple Watch Series 8 looks like the same curvy rectangle we've been staring at since 2015. It's not a bad design by any means, but Google clearly has it beat in terms of looks.
The Pixel Watch comes in three colors: Matte Black, Polished Silver and Champagne Gold. The Apple Watch Series 8 ships in Midnight, Starlight, Silver and Product Red as well as in a few stainless steel finishes including Graphite, Space Black and Gold. All of these colors and finishes look great in their own respect, so you'll undoubtedly find something to fit your style regardless of which watch you choose.
Where the Apple Watch has a leg up is in the size department. The Series 8 comes in 41mm and 45mm sizes, while the Pixel Watch only comes in a single size that's about the same as the 41mm Apple Watch. If you prefer bigger watches with bigger screens, you won't find that on the Pixel Watch.
Oh, that's the other thing — the Apple Watch's screens are way bigger than the Pixel Watch's. Both watches use OLED panels and get incredibly bright, but that only means as much as the amount of content you can actually see.
I'm not just talking about the 45mm model's 1.9-inch panel, but even the 41mm's 1.7-inch display dwarfs the Pixel Watch's 1.2-inch screen in comparison. It's a big downgrade in terms of usable screen real estate, which is a shame since watches are already tiny compared to your phone.
There's also a huge bezel around the Pixel Watch's display, which makes it feel dated. This might not be a big deal for some people, but coming from an Apple Watch with some of the slimmest bezels on the smartwatch market, it definitely annoyed me when I reviewed it.
Differences aside, there are some similarities between the Pixel Watch and Apple Watch Series 8. They each have a digital crown and side button, bundled silicon straps that feel nearly identical and even similar band locking mechanisms. Speaking of bands, there are a lot more to pick from for the Apple Watch since the Pixel Watch just came out, but some solid third-party options are starting to crop up.
In addition, both watches are 5 ATM water-resistant, which means they can survive after being submerged in water 50 meters deep for 30 minutes. If you plan on tracking any aquatic sports, either of these watches will do just fine.
TL;DR: If you're going for looks, the Pixel Watch is the one to get. But if you want versatility and a way bigger screen, the Apple Watch Series 8 will better meet your needs.
Max Buondonno/CNN
Many would argue the Apple Watch Series 8 is a superior fitness tracker compared to the Pixel Watch. On paper, that's correct. It has all of the normal health tracking tools you'd look for in a modern smartwatch (heart rate, blood oxygen, electrical and ECG recording, to name a few), along with a new skin temperature sensor and better ovulation tracking. Plus, it's one of the best watches for sleep tracking, thanks to its ability to deeply analyze your sleep patterns and even track temperature changes during the night. What's more, the experience of recording workouts and other fitness data using the watch's apps is top-notch.
But the Pixel Watch doesn't stray far behind. In fact, it's almost neck and neck, at least from an overall experience perspective. You get a heart rate sensor, blood oxygen monitoring, ECG support, sleep tracking and more — pretty much everything except for a temperature sensor. What makes using the Pixel Watch unique compared to the Apple Watch is its tight integration with Fitbit, a fitness-tracking experience with one of the most dedicated fan bases in the world of technology.
Max Buondonno/CNN
There's a custom Google-infused Fitbit app for the Pixel Watch that ties in with the standard Fitbit app for Android, and it's chock-full of all the workouts and tracking tools you could want. You can subscribe to Fitbit Premium (which is included for six months free when you buy a Pixel Watch) and get mindfulness tips, Stress Management Score breakdowns and more. All of this data syncs with your Fitbit account, which will help you feel right at home if you've used Fitbit products before.
The Fitbit brand continues to live on, thanks to the Pixel Watch, and if you've missed the days of opening the Fitbit app to check your step count or heart rate, you'll like what Google's watch has to offer.
TL;DR: The Apple Watch Series 8 is more technically capable when it comes to fitness tracking, and the experience is top-notch. But if you want something different or miss the days of using a Fitbit, the Pixel Watch will be right up your alley.
Apple Watch Series 8 wins in performance and battery life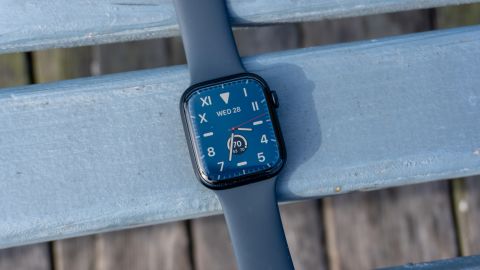 Max Buondonno/CNN
While the Pixel Watch manages to keep up with everyday tasks relatively well, the Apple Watch Series 8 simply outpaces it when it comes to performance and battery life.
The S8 processor inside the Series 8 is far more powerful than the Exynos 9110 in the Pixel Watch. Apps open quicker, notifications are more responsive to swipe through and changing the watch face feels more responsive on Apple's watch. Flipping through recent apps is also snappier on the Series 8 despite having less RAM than the Pixel Watch (1GB versus 2GB).
On a full charge, the Series 8 is able to last a lot longer than the Pixel Watch. Google claims its watch can last up to 24 hours, but in my experience, it only lasts 14 or 15 hours before dying, even after disabling the always-on display and cellular data. Meanwhile, my Apple Watch can easily last a full 16- to 17-hour day with about 20% to 30% left in the tank. That lines up with Apple's quoted 18 hours of stamina.
If the Pixel Watch pulls out a win anywhere in this category, it's charging. The Series 8 can take one and a half to two hours to charge after dying, while the Pixel Watch takes only about 80 minutes.
TL;DR: If you need your smartwatch to feel snappy and last all day, get the Apple Watch Series 8.
Max Buondonno/CNN
With the Galaxy Watch 4 from Samsung, Google finally started paying attention to Wear OS again. Since then, the company has had time to develop it into something that can hold its own against Apple's wearOS, and the Pixel Watch is perfect evidence of this.
On the Pixel Watch, Wear OS 3 finally feels like a finished operating system. The watch faces are versatile and nice to look at, Google's Quick Tiles interface is great for referencing data on the fly like your step count or the weather, notifications are easy to manage and there's a plethora of third-party applications available from the Play Store. Beyond the spotty performance, Wear OS finally feels like something I can see myself relying on to get through my day.
Of course, wearOS 9 on the Apple Watch Series 8 is still the best operating system you'll find on a smartwatch. Not only is it smoother than Wear OS, but the app selection is higher quality, it's more responsive and the UI feels easier to use, especially for those buying a smartwatch for the first time.
Still, it's great that Google's (admittedly tardy) renewed dedication to Wear OS has paid off in such a way that you can compare it to wearOS without bashing it. That's progress.
TL;DR: Apple still has a superior operating system in wearOS, but the Pixel Watch's take on Wear OS 3 is a much closer runner-up than you'd expect.
Max Buondonno/CNN
Yes, folks, even if this guide was helpful enough to decide which watch is better for you, the one you'll ultimately buy is predicated on the phone you're using. Google doesn't include iOS support on the Pixel Watch, and the Apple Watch Series 8 can't be paired with Android. I hate to be that cut-and dried about it, but it's true.
Obviously, you can buy a new phone to go along with the watch you want, but unless you're ready to upgrade (or have a stack of cash burning a hole in your pocket), there's not much point in doing that, especially since you'd be doing it over a simple smartwatch.
TL;DR: The Pixel Watch only supports Android, while the Apple Watch Series 8 only works with iOS. If you plan on buying either of these watches, check the phone currently in your pocket.
The Pixel Watch does surprisingly well when pitted against the Apple Watch Series 8. Is it the most powerful smartwatch in the world? No. Can it last as long as the Apple Watch on a full charge? Not quite. But is it an exciting peek into the future of Wear OS? Absolutely.
For some people, that'll be enough. But for everyone else who wants a proven reliable, long-lasting, powerful smartwatch, the Apple Watch Series 8 is the better overall option.
#usanews #usa_news