I was the girl who sang in Bowie's band.
At 41, this eternally glowing factoid was the highlight of my biography. It pulsated, mercilessly washing out all the other things I've ever accomplished.
For journalists, my stint with the Starman in my mid-20s was irresistible: "I just have to ask … " Inevitably they'd start in, as though we were at a party and the vibe had loosened. In rare cases, when the writer was kind, gentle or intuitive, the Bowie questions became an awkward dance. They knew what I really wanted to talk about was my own songs.
Even without the David Bowie storyline, my life, from the outside, must have appeared pretty sweet. I had a decent music career, a few award nominations, two healthy kids and a blue-eyed husband of 12 years. But optics can be twisted to benefit the most messed-up of us … and just outside the rosy narrative, disaster lurked.
I often think the way we fall in love mimics the way a tapestry is constructed. Thread over thread, breath by breath ― beauty is forged. The union of two people, their hearts and minds, habits and nuances, is formed so slowly you can't deconstruct it if you tried. Brutally, the unraveling of a relationship happens the same way. There is pain, often unspoken. An issue doesn't get talked about. Someone leaves on a life-changing trip. A tear shed on a pillow is forgotten by morning …
The unraveling of my story began with my husband admitting to an affair. In this moment, as he tearfully confessed, I lost my ability to breathe. We sat in a parking lot outside our kids' school after parent-teacher interviews and I spiraled, images of our young family flashing in my head.
I remember thinking, At least love her. If you're tearing apart our lives, at least love her.
Already deeply involved with this woman, he left our family home immediately to be with her. As weeks dragged on, we sorted out the dreary details of separation. He popped in and out of the house as he wished. I navigated life at home, alone with a 4- and 6-year-old. I cried in their beds. And because marriage implosions are rarely one-sided, I knew deep down that I had played my own role in our fiery demise. Emotional affairs were my thing for years. They were connections made on tour, justified by the ache of feeling unsupported by my partner. Alcohol also played a role in what a therapist would later clarify to me as a series of "drunk decisions" (oh, those therapists, always with their catchy phrases).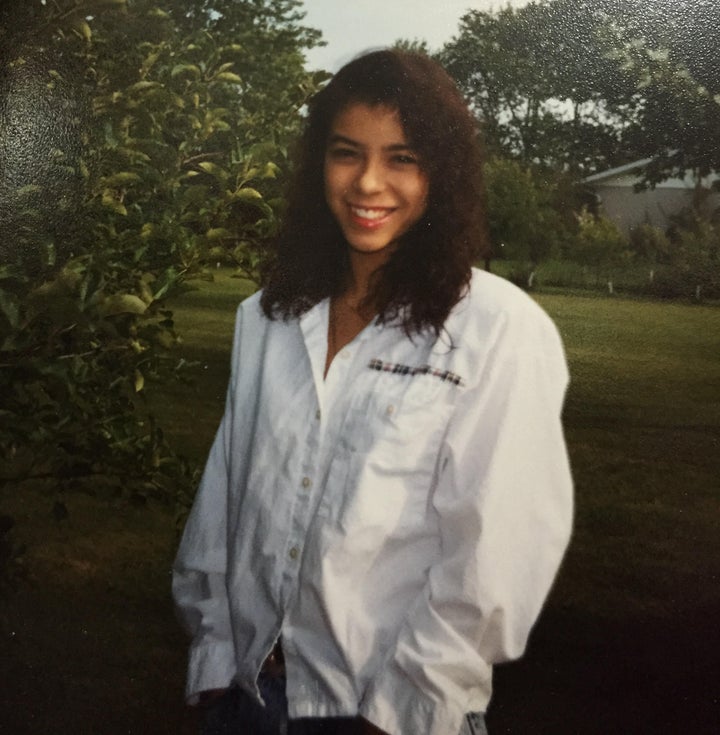 Next came the worst years of my life: hammering out the legalities while crumbling inside and out; losing weight; struggling to be a sane mom; spiraling financially; smoking, drinking, vaping, dating. So much rage. Tears were always on the edges of my eyes, it seemed.
And then "Glastonbury 2000" was about to be released. The landmark concert, considered one of Bowie's best, was coming out on video and vinyl and the media wanted to speak to me about it. Perhaps shockingly, I couldn't remember much about being onstage that night. How could I speak about something I had forgotten? So, from a place of utter despair, I watched this spectacle of rock 'n' roll beam back to me from a laptop screen.
David was radiant in Alexander McQueen. And there I was! In the back, bouncing around in front of 110,000 cheering fans. The light glowed on my pigtails, fake tattoo and big chunky boots. I sang "Ashes to Ashes," triggered horns in "Let's Dance" and bop-bop-bah-ooed to "Absolute Beginners."
Watching myself back brought tears. I was freshly 25, free and fierce ― onstage with Bowie, using my authentic voice and beaming. Afforded this rare chance to see myself in the past, the pieces of what felt like an eternally scattered puzzle began to connect. The truth was I had been a kid from the middle of the Ontario countryside without a great voice and, somehow, I had landed in the lap of musical royalty.
I started to think about my voice. When I was little, I had dreamed of being a singer. In my bedroom, I sang along with soulful vocalists like Sade, Michael McDonald and Tina Turner. I knew I wasn't technically great, so I made the decision to take vocal lessons. I built my strength, my power and sound.
But what good is a voice if love has left you? I wondered. I set aside the question and decided I would just start writing a book about my journey with my voice. Within weeks of submitting a proposal to a Toronto publisher, I was offered a book deal. The person behind this offer was a man named Michael Holmes, a poet with a Ph.D., and a longtime editor. We had one meeting over coffee while discussing my idea and during that couple of hours, I felt a goodness radiate from him that was undeniable. I knew my book would be in good hands.
I went away and wrote. I threw out the manuscript a few times. I kept going. Each chapter was a little life preserver. By Chapter 12's rough draft, I had stopped smoking. By the completion of Chapter 20, I had stopped drinking. By the book's end, I shelved dating. As I wrote, the rage began to subside.
With the manuscript almost complete, I reached out to Michael again. The pandemic had just begun and I wondered how he was. He wrote back a long email, saying that life had been thrown into disarray. His marriage of 17 years had ended and he was moving out, getting used to only seeing his son 50% of the time. I could feel his agony and his loss of agency. My heart dropped, seeing so much of his story in mine. We wrote to each other for a number of weeks, sharing our stories. It wasn't long before I knew I had fallen in love with him. That goodness I felt at our first meeting was not only genuine, it was now part of my life. His vulnerabilities, tears and humor flooding my inbox, my entire being, my every thought.
Michael assigned another editor to my project and I carried on with the book and saw it published. Throughout these days, a love was woven that was unlike anything I had ever felt. I felt seen and heard. His eyes and ears never strayed from me. We shared our love for music and talked about surviving the changes in our families. Survival turned to healing, and he entered my kids' lives. He would play hockey with my son and take my daughter to the park. We began to have hard conversations about trust and boundaries and respect. We laughed endlessly and watched documentaries about our favorite bands.
One night, I asked Michael if he wanted to collaborate with me on my next album. In 25 years, I had never co-written one of my albums with anyone before. His work as a poet ― and even in his letters ― was raw, audacious and exhilarating. He had poems that tore me to pieces. I had always envied couples who worked together as well, and I wanted that for us. He said "yes."
And then we started to work.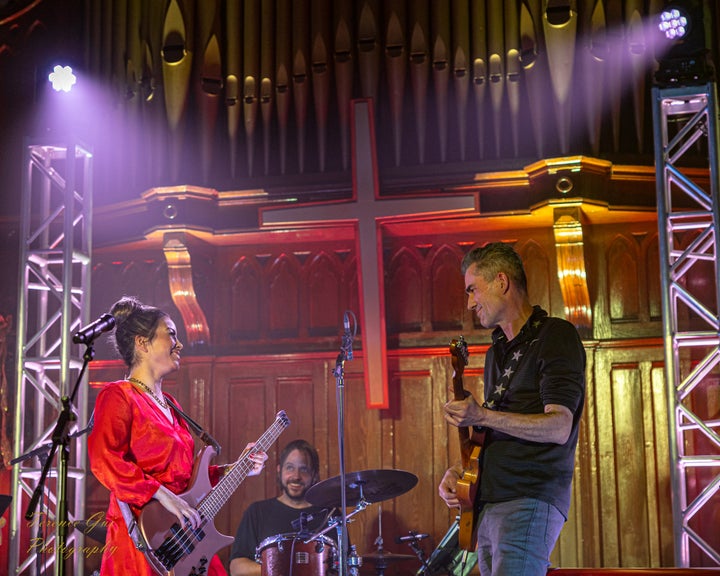 Fueled by the artists who brought us joy in the lockdown ― Donald Fagen, Michael McDonald, Stevie Nicks, heck, even Jack Wagner ― we wrote and demoed, laughed and dreamed. We pulled from the excess of the 1980s, when life wasn't so on-demand, and you could escape into the absurdity and adventure of a cop show or a concert at a hockey arena. I wrote melodies to impress this new love, and I think he wrote lyrics to impress me ― to bond us. By the end of the pandemic we had 10 songs that we believed could stand beside "Dreams," "I Keep Forgettin'" and "Peg."
By early 2022, we had found our dream record producer, a 68-year-old Canadian American chap named Fred Mollin. He had been there ― in the late 70s and early 80s ― and it was important to us that whoever we worked with would expand these songs in a way that was authentic to the time. Fred invited us to Nashville. Hoping to God that Omicron wouldn't come for us or any of the musicians, Michael and I headed south, masking through the unmasked Ohio rest stops, arriving finally at The Sound Emporium studios to make our record. We sat next to each other in the control room, in love and awe, as Nashville's hottest musicians played our creations and breathed unimaginable life into them. An album was born.
A few months later, in the June sunshine, Michael and I married in front of 30 of our closest family and friends. Our kids stood up with us, and it was a day neither of us ever dreamed we would experience. There was this beautiful energy of trust and renewal in the air that day, a redemption ― a lot like the soaring choruses we had written in our music. A feeling of second chances and intoxicating devotion.
Later that summer, we signed record deals all over the world for this new album ― something I never thought I'd do again, but secretly hoped I would.
To arrive at a place where you can trust ― yourself and others ― is a rough trip filled with hard conversations and painful self-realizations. Inevitably, things both absurd and heavenly come out in late-night talks between two people, but in a perfect world, these conversations move the needle closer to that place where love and security can reign supreme. Love without condition. The ability to move through life without constantly being on the lookout and under pressure ― words that bring me back to David.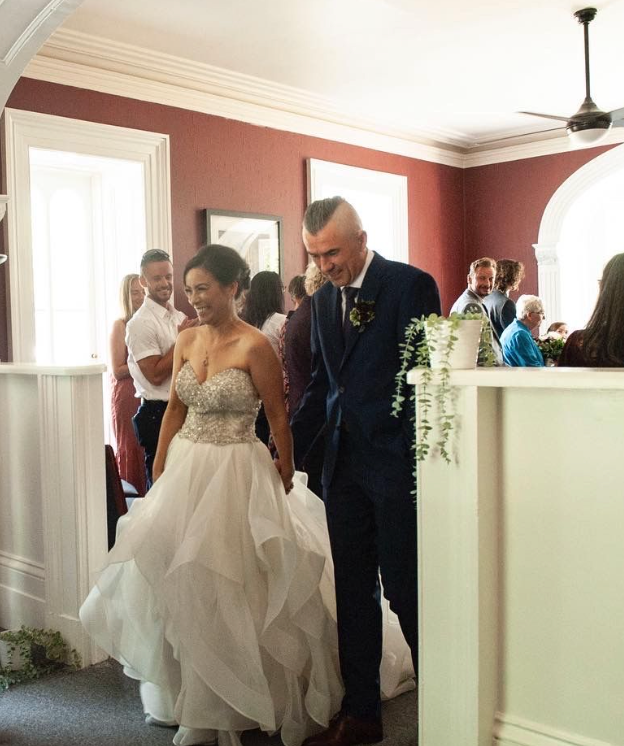 I used to tell people that Bowie taught me about fashion and how to experiment with eyeliner. It was a good stock answer for someone who didn't know how to go deeper. But after everything I've been through ― all the life I've lived over the past 20-odd years ― I now realize that what I really learned from Bowie were lessons in love.
When we were on the road, he made life dreamy as only a rock icon could, by taking us ― his band ― through a scenery of behind-the-scenes stardust, peripheral looks at the lives of his famous friends and beautiful music, all from the vantage point of love and openness. For my 25th birthday, we had ice cream cake at rehearsal. David knew and cared about what my own fashion style was, and would listen to the songs I wrote and give feedback. We went out one night to see Grandaddy, a band we both loved, at a club in New York. He took me to Tony Oursler's art exhibit.
A kid backing vocalist in a long line of rotating musicians, I was treated with kindness and care, privy to stories of his adventures in the 70s and 80s. There was the hazy one about circling a car park one chaotic day, the story about Keith Moon precariously out on a building ledge. There was his ever-present mindfulness about how old I would have been when a big tour happened or a landmark record came out. "You weren't even born yet!" he'd say to me with a smile, never missing a detail. All of this made me feel terribly at home, yet I could see no tangible benefit in it for him.
It came down to curiosity ― plain and simple. Bowie had a natural curiosity for life and the people in it, and it was this unique quality that I believe ran the show. For the time I was in his band, I wasn't just some hired singer — I was in his world. Onstage, when I'd make a mistake in a song, there were no scowls from the boss, just smiles. When he'd put his arm around me to introduce me to the audience in Vienna or Dublin or Paris, yes, it was part of the show, but the same arm went around me backstage, or there were hugs to say hello and goodbye.
This rare curiosity wasn't limited to me. One thing I've never forgotten occurred as the band drove up to Worthy Farm in a small bus. David turned to us and, referencing the waiting crowd of 110,000, directed us in a fatherly tone, "Remember everyone ― it's not about us, it's about them."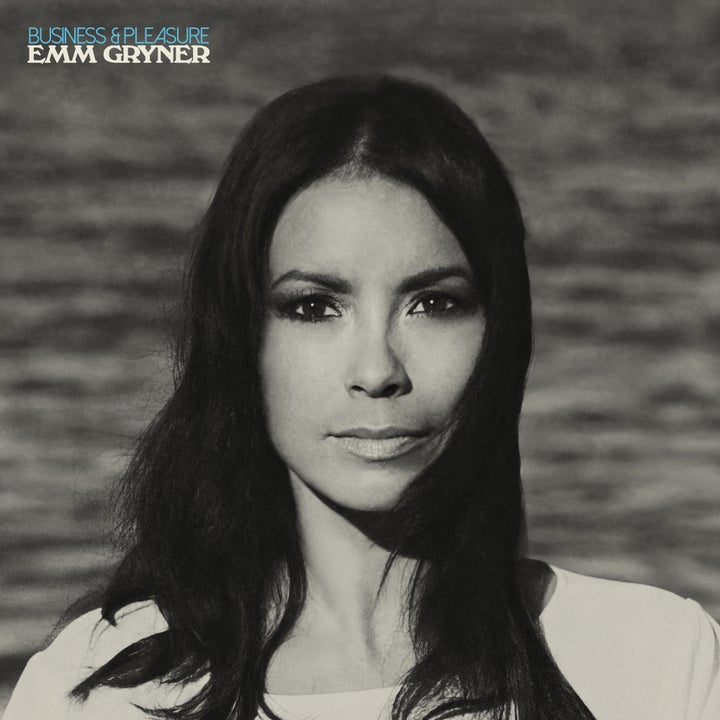 Bowie, whether he knew it or not, was showing me how to be in the world, how to continue learning and growing and seeing the world as a place that holds new possibilities ― even after everything he'd been through. Now, after everything I've been through ― from the deepest pain to the wildest, life-changing romance ― I understand how lucky I was to be in his presence. How lucky I was to witness the alchemy of turning life and all its messiness into art ― something I couldn't see before. Maybe I was just too young or too caught up in his well-deserved mythos. Or I just hadn't done enough living ― enough hurting and surviving and transforming ― to recognize the beauty of the gifts he bestowed, whether it was onstage in front of thousands or during those quiet moments backstage. But now I do, and I'm eternally grateful for it. For him.
So here I am, with a new album in the can, a new partner ― almost a new skin on me ― glowing. Sometimes I still get a glimpse of the old Emm ― the self-saboteur, the indie musician on a self-imposed race against time, the little girl who grew up tangled in the eerie combination of loud voices and deafening silences. Some days I suspect I'll fall back into it all. But then I remember that it was in that very bedroom as a child that the deepest, strangest voice came bellowing out of my radio. It was the Starman, and with him, the future, calling out to me that one day, not only could I dance the blues ― someday, like him, I would sing about it, and by doing so, learn everything I ever needed to know.
Emm Gryner is a Canadian singer, songwriter, actor and best-selling author. Emm's upcoming album "Business & Pleasure" (April 14, 2023) is a revival of the yacht rock sound, and inspired by artists such as Fleetwood Mac and Michael McDonald. Emm sang and played keyboards in David Bowie's band, and appears on numerous recordings, including his landmark 1999 "SNL" appearance, "Bowie at The Beeb" and "Toy." Bowie's acclaimed "Glastonbury 2000" documents her performance in front of more than 100,000 fans at Worthy Farm. With Trapper she shared arena stages with Def Leppard, and she also helped bring the first music video recorded in outer space to the world. Her book, "The Healing Power of Singing: Raise Your Voice, Change Your Life" (ECW Press) wasreleased in 2021. Emm lives with her partner Michael and two children in Canada. She is also a certified life coach and face fitness practitioner.
Do you have a compelling personal story you'd like to see published on HuffPost? Find out what we're looking for here and send us a pitch.
#usanews #usa_news