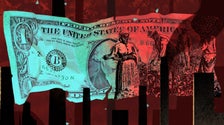 A reparations committee is proposing San Francisco give each qualifying Black resident $5 million in reparations to repair the racial wealth gap stemming from the legacy of chattel slavery. And as you can imagine, everyone has something to say about it.
The San Francisco African American Reparations Advisory Committee is a collective of Black professionals who advise the city's leaders on repairing harm to their communities. They recently delivered an extensive report that pinpoints specific strategies for reparations that address historical segregation and redlining (extensions of chattel slavery) that contributed to the racial wealth gap.
The report is detailed and thoughtful. The criteria for receiving reparations, first off, is that individuals must be 18 or older to qualify and prove they have identified as African American for at least 10 years. Individuals must also provide proof that they fit into two out of eight additional qualifying categories, such as being born in San Francisco between 1940–1966 with proof of residency for at least 13 years or being impacted by the criminal justice system's failed war on drugs (either personally or as a descendent). In addition to a proposal for a $5 million lump sum for each qualifying person, the plan outlines debt relief and supplemental income for those earning less than the city's average median income.
Before we go any further, let's agree that this nation owes Black Americans reparations, period. If you're unsure about this, immediately dive into some contemporary literature to learn why chattel slavery is the root of America's most pressing disparities.
Many Republicans, who of course hate the idea of San Francisco's proposal, argue that the plan would be too costly, unfair and divisive. Republican Florida Rep. Byron Donalds called the $5 million lump sum a distraction from solving problems like homelessness and the opioid epidemic.
The plan, which would cost the city $50 billion if just 10,000 residents qualified, is indeed ambitious. But even addressing just the financial repercussions of slavery on Black Americans is going to require ambition. And for the record, $5 million is not enough to "call it even" for slavery, especially in a city that's one of the most notorious in the country for its history of housing discrimination.
Whether you agree with the dollar amount it proposes or not, the committee's plan is innovative because it uses historical and socioeconomic evidence to identify what, exactly, it will take to help the average Black San Franciscan to close the racial wealth gap. The plan holds the city accountable while offering compensation to help level the playing field and allow Black residents to build generational wealth like their white counterparts do every day. It's been estimated that the plan would exceed San Francisco's municipal budget, but there has yet to be any public discourse around what could be done with support from state and federal budgets.
While the committee awaits feedback, the advisory board's president, Aaron Peskin, expressed hope for its approval. "There are so many efforts that result in incredible reports that just end up gathering dust on a shelf. We cannot let this be one of them," Peskin told the San Francisco Chronicle.
My hope is that this proposal amounts to something substantial. The truth can be jarring and expensive sometimes, and we all have to be honest here about what this country has robbed us of. I want to see Black folks, somewhere in the U.S., get reparations in my lifetime. And if we're going to haggle, $5 million is a good place to start.
#usanews #usa_news