A key panel dominated by Democrats tanked New York Gov. Kathy Hochul's nominee to lead the state's highest court on Wednesday, handing the governor a humiliating defeat at the hands of members of her own party ― and a victory for progressive lawmakers determined to hold the line against a judicial pick they deemed too conservative.
After a nearly five-hour hearing, the 19 members of the New York state Senate Judiciary Committee voted narrowly to block the nomination of Judge Hector LaSalle, whom Hochul tapped to serve as chief judge of the New York State Court of Appeals.
Ten Democratic members of the committee voted "no," while nine committee members ― three Democrats and six Republicans ― voted to advance his nomination for a floor vote. Of the latter group, two Democrats voted "yes" and the rest voted to advance his nomination "without recommendations," indicating issues with the nominee that stopped short of a desire to block him from advancing.
In a statement reacting to the outcome, Hochul argued that several state senators' statements opposing LaSalle's nomination prior to the committee hearing undermined the hearing on Wednesday.
"While this was a thorough hearing, it was not a fair one, because the outcome was predetermined," she said.
LaSalle's nomination is not yet officially dead. Hochul believes that the state Senate's constitutional role to provide "advice and consent" on executive branch nominees entitles LaSalle to a vote on the floor of the Senate where the math may be more favorable to his confirmation.
"While the Committee plays a role, we believe the Constitution requires action by the full Senate," Hochul said Wednesday.
The state Senate's Democratic leaders maintain that they can fulfill that role through a committee hearing and vote alone, though Hochul has indicated that she plans to petition a court to force a floor vote.
"I hope that we turn the page on this chapter, and that the governor finds a nominee that my colleagues can coalesce around," Judiciary Committee Chair Brad Hoylman-Sigal (D), who voted against advancing LaSalle's nomination, told reporters after the hearing.
Although LaSalle's defeat in a committee vote was highly anticipated, the outcome has major implications for Hochul and intra-Democratic Party dynamics in New York.
LaSalle, who would have been the state's first Latino chief judge of the highest court, had the support of a number of Latino groups and politicians in New York. A number of Hochul allies, including U.S. House Democratic Leader Hakeem Jeffries of Brooklyn, also spoke up in LaSalle's defense in recent days.
But skepticism from a host of Democratic-aligned interest groups, including organized labor, abortion rights advocates, and civil rights activists and their allies in the state Senate, ultimately doomed his candidacy.
Criticism of some of LaSalle's rulings on union rights, as well as abortion and civil rights policies, carried extra resonance for Democratic senators in light of the increasingly conservative turn of the U.S. Supreme Court and a desire to see New York's judiciary as a counterweight to those decisions.
"We have a [U.S.] Supreme Court that is in full-on battle mode against our civil liberties, both as New Yorkers and as Americans," Hoylman-Sigal said at Wednesday's press conference. "So I think we understand … how crucial the chief judge position is, and that I think resulted in the attention and examination thoroughly of this nominee's record."
In addition, the legacy of former Chief Justice Janet DiFiore, whose resignation in July created the opening for Hochul to fill, loomed over state Senate Democrats' consideration of LaSalle.
DiFiore, a former Republican turned conservative Democrat, infuriated Democrats with her April decision effectively throwing out the state legislature's new congressional and state senate district maps on the grounds that they violated the state constitution's ban on partisan gerrymandering.
Following DiFiore's departure, a number of state Senate Democrats suggested that they wanted a more progressive replacement.
"It's time for a new direction in our judicial branch," Hoylman-Sigal said in July.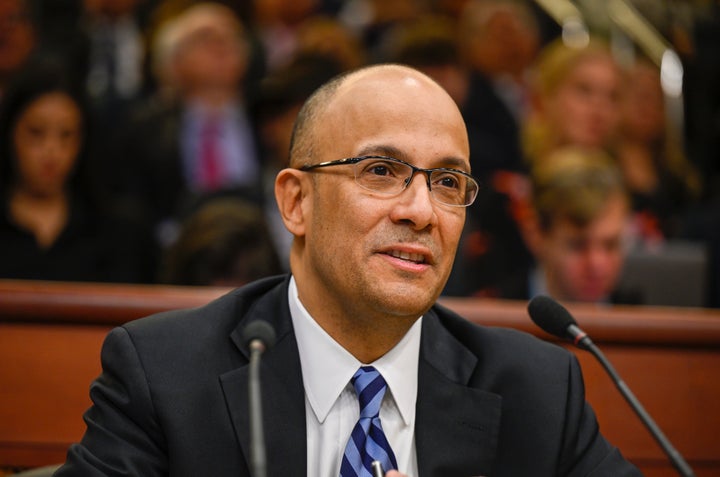 Some critics objected to LaSalle, who is presiding justice of the largest branch of the state's intermediate appellate courts, based on biographical details, noting his stint as a prosecutor on Long Island.
But plenty of opponents of LaSalle's nomination pointed to specific rulings he made. Soon, opposition to his confirmation grew to rapidly encompass a range of groups within the Democratic coalition.
Labor unions decried his 2015 ruling overturning a precedent barring companies from suing union leaders for defamation. Abortion rights groups faulted him for a 2017 ruling upholding the right of an anti-abortion "crisis pregnancy center" not to comply with a subpoena from the state attorney general seeking the personal information of its employees. And civil rights advocates objected to a 2014 ruling in which LaSalle said it was not unconstitutional for a prosecutor to strike jurors based on their skin color, since skin color, rather than race, is not a category of people constitutionally protected from discrimination.
The fight over LaSalle also divided younger Latino politicians from their older counterparts, who are more likely to prioritize ethnic solidarity over ideology. While New York state Sen. Luis Sepúlveda, Democratic consultant Luis Miranda Jr., and former New York City Council President Melissa Mark-Viverito were ardent supporters of LaSalle's, many younger Latino lawmakers with progressive leanings, such as Sens. Gustavo Rivera and Jessica Ramos, came out early against him.
"I would much rather see a white judge, an Asian judge, a Black judge, a purple judge, who has better politics," said one Latino New York lawmaker, who requested anonymity to speak freely.
At the same time, the battle over LaSalle's nomination became a proxy battle for power between rival factions of New York's reigning Democratic Party. Many of the same labor unions and progressive groups with misgivings about LaSalle felt that Hochul's actions reflected insufficient gratitude for the work they had done to help carry her across the finish line in her closer-than-expected bid for a full term as governor in November.
But Hochul, a moderate who enjoyed a brief honeymoon with the left after former Gov. Andrew Cuomo's resignation in August 2021, had a different take-away from her near-defeat in the election. Her GOP challenger, former Rep. Lee Zeldin (R), had hammered her over rising crime and a law restricting use of cash bail that Cuomo signed into law in 2019. She has suggested that further rollbacks of the cash bail law will be a priority this year, indicating that she is prepared for a fight with left-leaning Democrats in the legislature.
Hochul saw LaSalle's nomination as a chance to reclaim lost ground for moderate Democrats, and perhaps set the tone for future battles, according to a New York Democratic strategist sympathetic to the governor, who requested anonymity for professional reasons.
"At some point it became a bigger fight about who's going to control Albany," the strategist said.
To that end, she engaged in a last-minute push to confirm LaSalle by rallying with Latino leaders.
In a speech at a church on Sunday ahead of Martin Luther King Day, Hochul even claimed that the opposition to LaSalle was a betrayal of King's legacy.
But in the end, it was too little, too late. Last week, New York Senate Democrats expanded the judiciary committee to include four more lawmakers ― one Republican and three Democrats, including Ramos, the labor committee chair who was already on record against LaSalle.
To many observers, it was the final sign that LaSalle's bid was dead on arrival.
"If you're going to die on a hill, you want to at least have organized a good effort," the Democratic strategist said of Hochul's management of the confirmation fight. "And she didn't really do that."
#usanews #usa_news