Northern Illinois University (NIU) is planning on hosting several sessions for faculty and instructors that tackle topics like "White fatigue," "antiracism," and "decolonization in the classroom."
The Faculty of Academy of Cultural Competence and Equity (FACCE) is described as an initiative where participants can join either a monthly workshop series during fall 2022 and spring 2023 or a weeklong summer institute for "learning" and "professional development."
During the training, NIU faculty experts will speak on how to make classrooms and pedagogy more inclusive, with an emphasis on access, equity, and inclusion. 
BLACK INSTRUCTOR AT BLACK COLLEGE DEEMED 'ANTI-BLACK' FOR ASKING THAT STUDENTS NOT WEAR 'DURAG', 'HOODIES'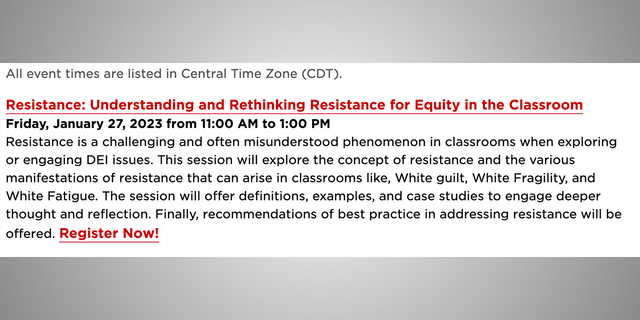 Educators partaking in the program will learn about a variety of topics, such as decolonization in the classroom, antiracism, queer and trans inclusion, navigating resistance, and culturally competent leadership skills. 
The first session for the 2023 academic year will be held on Friday, January 27 and will explore "resistance" and its various manifestations, such as White guilt, White Fragility, and White Fatigue.  
Several other workshop titles include "The Act of Decolonizing: Examining Classroom Spaces and Curricula Through a Lens of Justice," "Anti-Racism: Tracing The Roots, Persistence, and Countering of a Racial Hierarchy," as well as "When Did Immigrants Become Illegal," and "Decolonizing Gender and Sexuality In Our Teaching and Learning Contexts."
Another workshop focuses on "Working Through And With Our Implicit Biases."
NIUs Social Justice Education and Center for Innovative Teaching and Learning departments did not immediately return Fox News Digital's request for comment to explain some of these terms.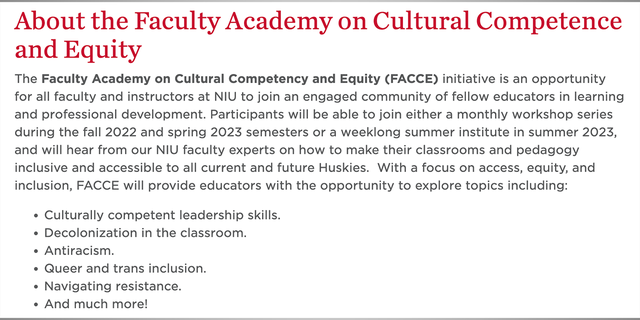 PETE HEGSETH: ELITES AT THIS IVY LEAGUE INSTITUTION ARE TRYING TO ERASE HISTORY WITH WOKE IDEOLOGY
The NIU webpage for the academy curriculum includes outlined learning objectives, which include the ability to understand the "historical and societal context of issues related to social injustice, inequity, and oppression."
Other learning objective examples focus on undergoing "critical self-reflection" of "internalized messaging and biases," engaging with case studies to foster a "culturally responsive" learning environment and applying "anti-racism" and "decolonization" as curriculum frameworks. 
A Certificate of Completion for the monthly FACCE series is received after participants attend 7 of the Fall and Spring semester sessions, or successfully complete the 2023 Summer Academy.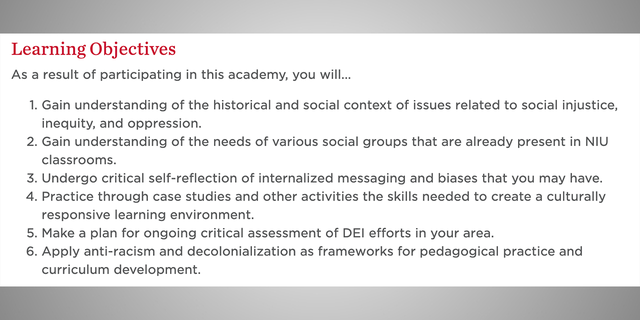 At least 236 colleges or universities have some form of mandatory student training of coursework on ideas related to critical race theory (CRT), according to a database with information from more than 500 institutions.
Among those are 149 institutions that have some form of mandatory faculty or staff training, with 138 mandating school-wide curricular requirements. CriticalRace.org, which compiles the research, told Fox News Digital that these programs focus on concepts like "anti-racism," "equity," "implicit bias" and CRT – all of which have fueled national debate over left-wing influences in education.
CLICK HERE TO GET THE FOX NEWS APP
Defenses of CRT-associated materials have ranged from outright denying CRT is being taught, to claiming that the underlying ideas are key to creating an inclusive educational environment.
These types of trainings have also been defended as ways to dismantle "systemic bias" against minorities. 
Northern Illinois University did not immediately respond to Fox News Digital's request for comment.
Fox News' Sam Dorman contributed to this report. 
#usanews #usa_news