Democrat Josh Shapiro took the oath of office Tuesday to become the 48th governor of Pennsylvania, placing his hand on a stack of three Jewish Bibles at an inaugural ceremony outside the state Capitol to cap his blowout win in November's election.
Shapiro, 49, takes over in the nation's fifth-most populous state with more experience in state government than any of his recent predecessors, including six years as Pennsylvania's elected attorney general and seven as a state lawmaker.
Chief Justice Debra Todd administered the oath on a stage erected behind the ornate Capitol in Harrisburg, with U.S. Sens. Bob Casey and John Fetterman, ex-governors, members of Congress and several thousand others bundled against the cold winter day.
"I am humbled to stand before you today as Pennsylvania's 48th governor," Shapiro said at the start of his 23-minute speech with his wife and four children nearby. "Along the winding road that has led to this moment, I have been grounded in my faith and family."
Shapiro succeeds term-limited Democratic Gov. Tom Wolf, and is the first governor of Pennsylvania since 1966 to be elected to succeed a member of his own party.
DEMOCRAT JOSH SHAPIRO TO BECOME PENNSYLVANIA'S 48TH GOVERNOR AT TUESDAY'S INAUGURAL CELEBRATION
On stage with Shapiro were just over a dozen people he invited — including survivors of child sexual abuse, parents of children killed by gun violence and the widows of two state troopers killed in the line of duty — who aides say symbolize his work as attorney general and his bipartisan policy aims as governor.
"Your stories, your courage have stayed with me," Shapiro said, addressing them. "And, they will motivate me every day as I serve as your governor."
Shapiro did not spell out specific policy aims in his speech. But he emphasized themes that he has developed before and after the election: that voters are embracing democracy and tolerance, rejecting extremism and hate, and asking their leaders to protect their rights and make progress on important quality-of-life issues.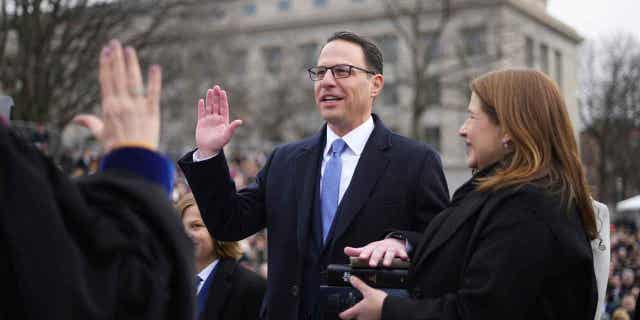 "Now is the time to join together behind the unifying strength of three simple truths that have sustained our nation over the past two-and-a-half centuries: that above all else, beyond any momentary political differences, we value our freedom, we cherish our democracy and we love this country," Shapiro said.
An hours before the inaugural ceremony, Shapiro's friends and supporters, political elite and many who will work in the new administration packed into the Senate chamber to witness the swearing-in of Democrat Austin Davis, 33, as Pennsylvania's first Black lieutenant governor.
DEMOCRAT JOSH SHAPIRO RECEIVES ADDITIONAL SUPPORT FROM REPUBLICANS IN PENNSYLVANIA GUBERNATORIAL RACE
Shapiro takes the reins of a sprawling state government — it employs roughly 80,000 employees and handles more than $100 billion a year in state and federal money — that has billions in reserve and a stronger-than-usual economy for the slow-growing state.
But he also is moving across the street from the attorney general's office to the executive suite in the Capitol even as the House of Representatives is paralyzed by a partisan fight for control and Republican lawmakers are aiming to remove some executive branch leeway to enact regulations.
Shapiro himself has preached bipartisanship, emphasizing his support from independents and Republicans in the election when he rolled up a powerhouse 15 percentage-point victory over the far-right Republican nominee, state Sen. Doug Mastriano.
For at least the next two years, every new law under Shapiro must have a GOP stamp of approval, considering the six-seat Republican majority in the state Senate.
To that end, Shapiro has tried to avoid radioactive political issues, staked out the middle on various entrenched policy fights and hired several Republicans for his Cabinet.
The Senate's ranking Republican, Senate President Pro Tempore Kim Ward, R-Westmoreland, said Shapiro's speech sounded "pretty bipartisan."
"I think that's very important because that's how we're going to govern with the Republican Senate and the Democratic House and governor," Ward said.
Shapiro will sign ethics orders for his administration later this week, aides say, and will speak to a joint session of the Legislature when he presents his first budget plan March 7.
Shapiro also resigned Tuesday as attorney general, leaving in control his top deputy of six years, Michelle Henry, 54, a career prosecutor from Bucks County whom Shapiro plans to nominate to fill the last two years of his term.
Shapiro, a devout Jew, chose a stack of three Jewish Bibles on which to take his oath, making religious tolerance a prominent part of the event, with members of several faiths delivering an invocation beforehand.
One was a family Bible; the second was from the Tree of Life Synagogue in Pittsburgh where a gunman in 2018 killed 11 worshippers in the deadliest antisemitic attack in U.S. history; and the third was an Army-issued tome carried by Herman Hershman of Philadelphia on D-Day in 1944.
CLICK HERE TO GET THE FOX NEWS APP
The inauguration culminated in a sold-out, $50-per-ticket bash at Rock Lititz Studios in Lititz where hundreds watched performances by rappers Wiz Khalifa and Meek Mill, singer-songwriter Smokey Robinson and indie rock band Mt. Joy.
The event space was draped in shades of red and blue lights and decor before Shapiro — introduced by Mill — emerged later in the evening with the new lieutenant governor. Shouting over the crowd, he called it a night to celebrate Pennsylvania, "a place where we believe in opportunity, a place where we believe in real freedom."
"And folks, we can't wait to get to work for you tomorrow," Shapiro said. "Let's keep going, everybody."
#usanews #usa_news