CNN
 — 

Embattled freshman Rep. George Santos has been awarded seats on two low-level committees after House Republicans debated where to put the New York congressman, who is facing mounting legal issues and growing calls to resign for extensively lying about his resume.
Several GOP sources told CNN that the House Republican Steering Committee, controlled by Speaker Kevin McCarthy and his top allies, tapped Santos to serve on two House panels: the Committee on Small Business and the Committee on Science, Space, and Technology. Santos had privately lobbied GOP leaders to serve on two more high-profile committees, one overseeing the financial sector and another on foreign policy, but top Republicans rejected that pitch as some chairmen balked at adding him to their panels.
Still, Republican leaders for now have decided to treat Santos like any other member of the House, even as questions grow over his past and as some have raised security concerns about allowing him to have access to classified briefings.
Rep. Roger Williams, a Texas Republican and the chairman of the House Small Business Committee for the 118th Congress, defended the decision to name Santos to his committee.
"I don't condone what he said, what he's done. I don't think anybody does. But that's not my role. He was elected," Williams told CNN.
The controversy surrounding Santos presents an early test of McCarthy's leadership as speaker, creating a distraction as the new GOP majority attempts to roll out its agenda. But McCarthy and GOP leaders know full well that if Santos were to resign, he'd vacate a seat in a district that President Joe Biden carried by eight points, giving Democrats a real shot at further tightening the Republicans' razor-thin House majority.
Despite refusing to call on Santos to resign, McCarthy told reporters he didn't know about Santos embellishing his resume but he "always had a few questions about it." McCarthy said that Santos should be subjected to a House ethics probe and that it's up to voters in his district – not lawmakers – to decide his fate.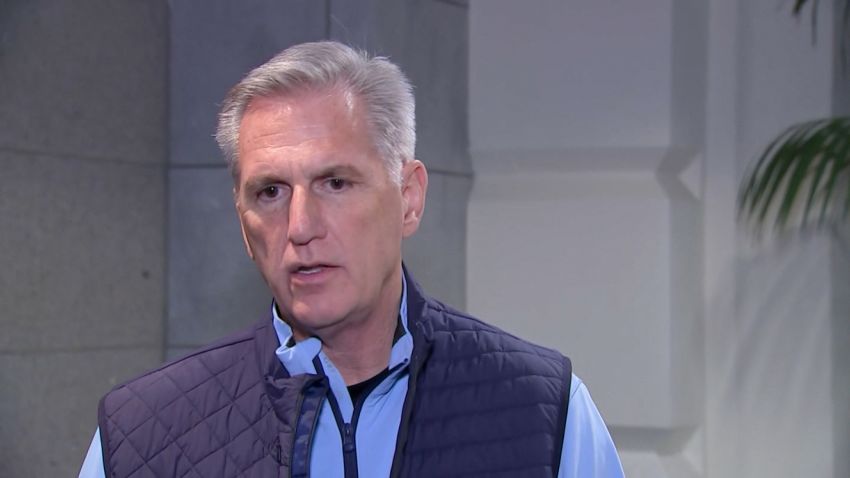 Watch McCarthy acknowledge apprehension he had about George Santos' resume
Other top Republicans also aligned themselves with McCarthy's position.
Indeed, House Majority Leader Steve Scalise stopped short of calling on Santos to resign, saying on Tuesday he's been "answering some very serious questions" and now he has "to focus on the things that he promised he would do."
Scalise added: "He ran on an agenda and he's got to follow through – as well as answering questions that have been raised."
Rep. Byron Donalds, a Florida Republican, who sits on the Steering Committee that names members to their spots, defended the plan to install Santos on a committees.
"In this country you're innocent until proven guilty," Donalds said. "There have been members who issues have come up (for) in the past. They were allowed to be on their committees, be sat on committees. And then the legal process takes hold and we make adjustments. So that's probably what's going to happen."
Senior House Republicans have privately acknowledged there's no easy way to handle the controversy surrounding Santos as they faced the decision of which committee assignments to give him. Their concern: If they were to deny him a spot now, it would set a precedent for other members who are facing intense scrutiny from the press, but have not been charged with a crime, two GOP sources said. Instead, they said, Republicans will follow the normal GOP conference procedures that would lead him to be booted from committees if he's indicted. Yet in 2019, then-House Minority Leader McCarthy and his allies on the Steering Committee booted then-Rep. Steve King off of his committees after his racist comments came to light.
But Republicans know that Santos' problems could get worse and force them to take stronger action against him.
Santos is already facing a federal probe led by prosecutors in New York who are investigating his finances.
In a separate matter, CNN reported that law enforcement officials in Brazil will reinstate fraud charges against Santos. Prosecutors said they will seek a "formal response" from Santos related to a stolen checkbook in 2008, after police suspended an investigation into him because they were unable to find him for nearly a decade.
In an interview last month with the New York Post, Santos denied being charged with any crime in Brazil, saying "I am not a criminal here – not here or in Brazil or any jurisdiction in the world. Absolutely not. That didn't happen."
Santos admitted to stealing a man's checkbook that was in his mother's possession to purchase clothing and shoes in 2008, according to documents obtained by CNN.
#usanews #usa_news