Family estrangements ― a term used broadly to describe situations in which someone cuts off all communication with one or more relatives ― seem to be more common than ever.
Over one-quarter of adults responding to a U.S. survey by the Cornell Family Reconciliation Project reported being estranged from a family member. When applied to the general population, that means tens of millions of Americans may potentially be estranged from a relative.
In the polarized years since Donald Trump clinched the presidency in 2016, Americans are increasingly subscribing to a kind of political tribalism, even within their families. In 2019, 35% of Republicans and 45% of Democrats said they would be unhappy if their child married someone from the opposing political party ― a sharp uptick in disapproval since people were polled on the subject 50 years ago, The Atlantic reports.
"I do miss them," said Jerry, whose left-leaning brother and sister dropped him from their Facebook friends list and changed their phone numbers.
"It was not always like this. We were at one time a tight group, but since our parents' passing away in 1999 and 2011, politics has consumed them," he said. "And there's no way they would ever vote conservative or I would vote liberal."
In a high-profile example of this trend, former Republican Rep. Adam Kinzinger of Illinois was shunned by multiple family members who believed he'd joined the "Devil's Army" by voting to impeach Trump.
"A blunt social media post, a slip on the family text thread, a careless remark during a holiday celebration — the smallest offense can shatter a sibling bond made brittle by intense political partisanship."

– Fern Schumer Chapman, author of "Brothers, Sisters, Strangers: Sibling Estrangement and the Road to Reconciliation"
Deborah Duley, psychotherapist and founder of Empowered Connections in Maryland, said she sees clients struggle with this on the regular.
"It seems that their family members feel more empowered in the past few years to say what they want regardless of how hurtful this could be towards their family member," said Duley, whose counseling practice specializes in women, girls and the LGBTQ+ community.
"Some family members feel they can say how excited they are that the Supreme Court overturned Roe v. Wade," she said.
The pandemic has also exacerbated the divide, given how politicized arguments about mask usage, vaccination status and individual risk assessments still are.
"A blunt social media post, a slip on the family text thread, a careless remark during a holiday celebration — the smallest offense can shatter a sibling bond made brittle by intense political partisanship," said Fern Schumer Chapman, author of "Brothers, Sisters, Strangers: Sibling Estrangement and the Road to Reconciliation."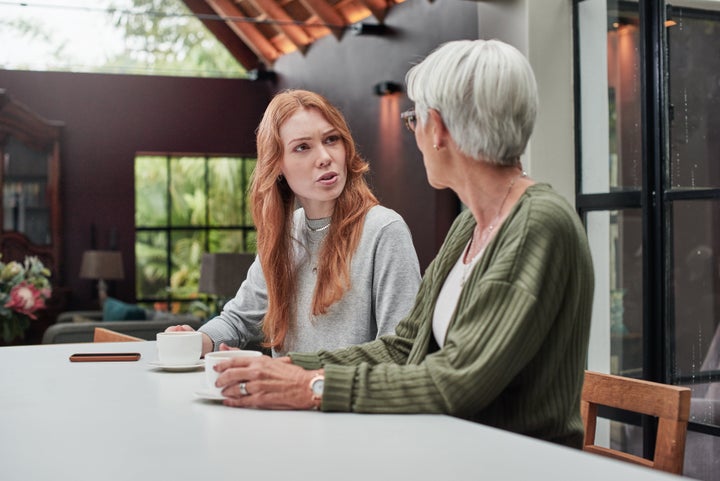 Can these bonds ever be recovered? Is walking away ever the best option for your mental well-being? In this season of familial rifts, we asked family therapists like Schumer Chapman and Duley to share some of the suggestions they give to clients considering cutting ties with family members over politics. Here's what they had to say.
Take time to weigh the pros and cons of a potential estrangement.
Ibinye Osibodu-Onyali, a therapist in Houston, asks clients in this situation to weigh the pros and cons of cutting a family member off.
"We explore questions like, if we were to put politics aside, will the relationship still be worth saving? Are there other parts of the relationship that you would miss? Is it possible to still respect your family members despite their political opinions?"
Joshua Coleman, a psychologist and author of "Rules of Estrangement: Why Adult Children Cut Ties and How to Heal the Conflict," believes that some people are too quick to end relationships with friends and relatives with whom they disagree.
"It's usually better to just agree to disagree and focus your time and attention on what's valuable about that person, especially when you consider that estrangements often fracture out into other relationships such as siblings, cousins, or grandparents," he said.
Maintaining the relationship typically requires one person to take "the high road, show leadership toward healing, and not allow himself or herself to be pulled into conflict," Coleman added.
Try to understand why your family member believes what they believe.
If the parties involved are able to separate the person from their ideology, there's room to preserve the relationship, Osibodu-Onyali said.
"Sometimes it might be worth it to try and understand why the other person has come to believe what they believe rather than trying to convince them to believe what you believe," she said. "Only then can families move forward."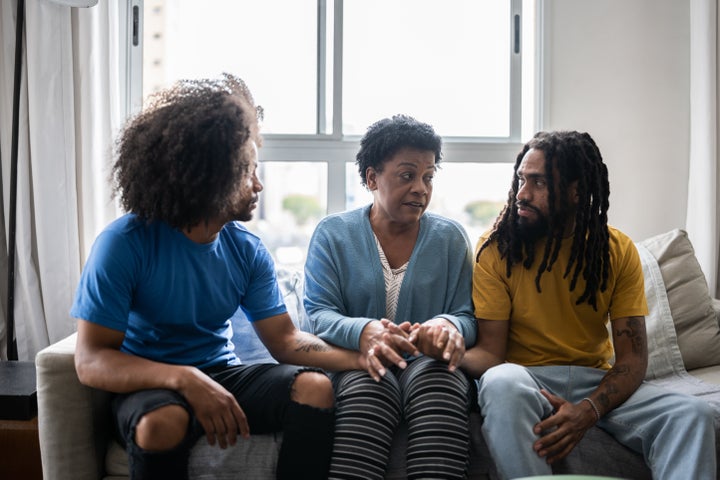 It's OK to limit social media posts and ease back on family get-togethers.
If you find your sibling's politics offensive, restrict or block social media accounts, Schumer Chapman advised.
"Then for offline conversations, have an exit strategy for the moments when things get tense," she said. "Use strong boundaries as a shield so you're in control and the toxicity doesn't get to you."
A restrictive arrangement is a better choice between having no sibling relationship and having some contact with a brother or sister, she said.
Duley says you may want to minimize contact as much as possible, including skipping any "extra" events such as recurring family game nights.
"Other suggestions included avoiding them completely, shortening [your] time at a holiday dinner ― maybe you leave early or come late ― and thinking about taking a break from this relative completely until further notice," she said.
It's also OK to cut toxic people out of your life, even if they're family.
Politics has always come between family members, but there's no doubt that the tenor of these conversations post-Trump has become more intense; many people really feel like they can't accept someone whose morals and values are so at odds with their own. It's the idea that the personal is political.
As one person tweeted recently, "Disagreeing over politics only applies to sh*t like 'I want our local tax dollars to fund x street vs y new project.' Compassion cannot be allowed to be political, otherwise — well, look where that landed us. This is why I'm estranged from my family: Self care."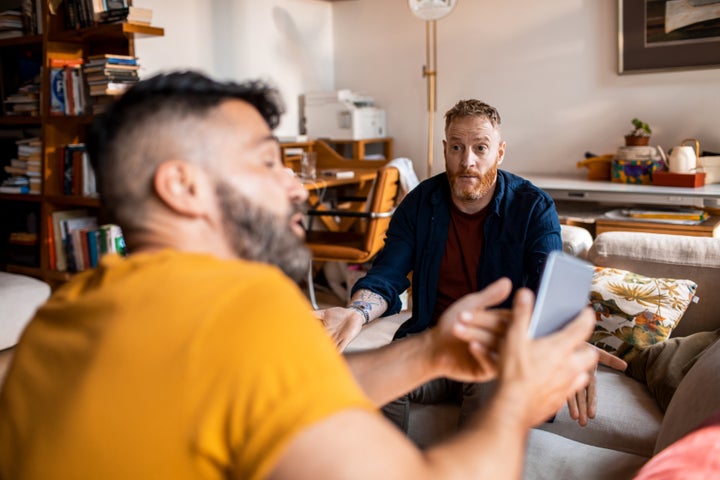 Is estrangement ― or at least distancing ― ever a form of self-care, especially if a family member's actions and words are taking a toll on your well-being?
"I have always been in favor of cutting any toxic person out of your life no matter their relation to you," she said. "Toxicity all feels the same no matter who the person is to us so to protect our mental health, cutting off from certain people can sometimes be warranted and even encouraged."
Sometimes estrangement is the best option, especially if you're constantly being hurt by the family member in question.
"Just because it's your father does not mean they can treat you disrespectfully over a disagreement," she said. "Are they calling you names? Putting you down? Being purposefully mean and unkind over your opinions and actions? If so, it's time to make a decision about protecting yourself."
Of course, as all the therapists stressed to us, distancing is not a decision to be made lightly. Duley recommends asking yourself the following questions before cutting ties:
How close is this person to me?
How likely are they to discuss this issue with me rationally and calmly?
Is there a chance we can be at odds on political viewpoints yet still maintain a relationship?
"If you can answer these questions honestly, they will give you enough information to decide whether or not to keep this person in your circle," she said. "If they are unable to be rational and calm, distancing yourself can be the solution such as unfollowing them on social media or restricting their access to you through family events."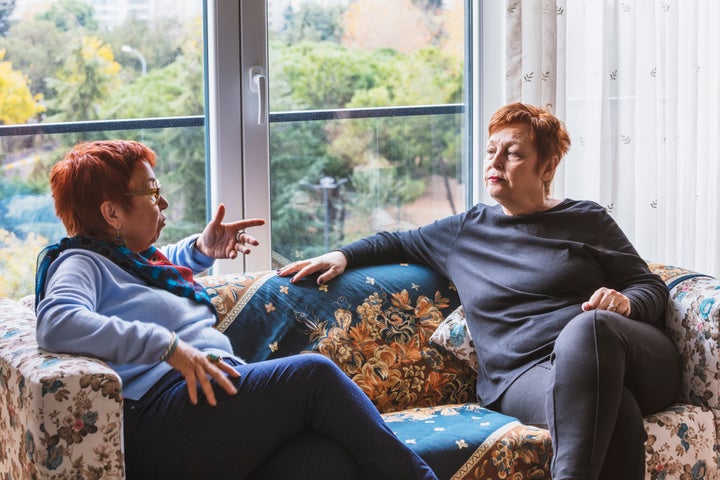 Try to keep the door open to reconciliation.
An estrangement doesn't have to be permanent. If at any point you're looking to repair things with your family member, Schumer Chapman recommends writing an email or letter. In the letter, emphasize your desire to reestablish relations and propose parameters for the relationship, like banning certain topics. Then chat about what your relative needs you to compromise on, too.
To illustrate what this might look like, Schumer Chapman shared the story of a progressive woman she interviewed who managed to end estrangement with her brother, a survivalist type who lives in Idaho.
"She's adopted strategies that her cousins' family uses to transcend their deep political differences. What they do is put their children's needs first," Schumer Chapman said.
"As the woman told me, they always think about what's best for the little ones," she explained. "If that means everyone wears masks at a BBQ to protect the children, that's what they do."
They also deliberately pursue activities that bring the family together, such as kids' sporting events.
"At holiday gatherings, they observe a moratorium on politics enforced by their respected matriarch," Schumer Chapman. "Raised voices, profanity, and personal insults all bring her immediate shut-down."
Now well past their estrangement, the therapist says their family motto is, "We are not that kind of people. This is not who we are or what we do."
#usanews #usa_news