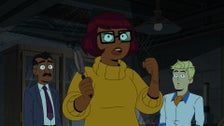 The debut of "Velma" late last week — a reboot posited to be the adult, modern reinvention of TV classic "Scooby-Doo, Where Are You?" — came with an impressive achievement: It was the most-watched premiere of an animated series on HBO Max.
Previews built hype for months leading up to it, boasting a diverse Mystery Inc. crew accompanied by an equally diverse and star-studded cast of voices: a South Asian protagonist Velma (Mindy Kaling), an East Asian Daphne (Constance Wu), a Black Norville, aka Shaggy, (Sam Richardson), with Shay Mitchell, Jane Lynch, Wanda Skyes and others voicing minor characters. The icing on top was the hint of an unfolding queer love between our two frenemies, Velma and Daphne. So, what's not to love?
Brown viewers, including myself, have some notes. We arrived to the series, executive-produced by Kaling, only to experience some unsavory South Asian tropes that simply don't reflect the nuance of our ethnic identities. It's a track we're far too familiar with, having experienced it across "The Mindy Project," "Never Have I Ever" and "The Sex Lives of College Girls": disparaging comments about body hair and being unattractive, relegation to being a loner and misfit, and thirsty quips over an aggressively mediocre white man.
Don't get me wrong; the series' white male showrunner, Charlie Grandy, is also entirely accountable for these depictions. Yet the show falls back on what critics call Kaling's familiar pattern of self-insertion, which centers whiteness as a source of validation and displaces brownness across now four different, highly publicized series.
In Kaling's three other shows, whiteness emerged as an aspiration in the romantic relationships of characters Mindy Lahiri ("The Mindy Project"), Devi Vishwakumar ("Never Have I Ever") and Bela Malhotra ("The Sex Lives of College Girls"). And it's not sitting right with us anymore.
We've evolved past the era of using our culture as a gag line or a reason for self-deprecation.
While promoting "Velma," Kaling raised our hopes when she acknowledged the significance of reimagining the protagonist as a brown girl. "The essence of Velma is not necessarily tied to her whiteness," she said last fall. "And I identify so much as her character, and I think so many people do, so it's like, yeah, let's make her Indian in this series."
Kaling's right, in a superficial sense. In the series, Velma isn't technically tied to whiteness — she probably ticks off "Asian," then "South Asian" on her fictional standardized tests. But in Velma's neon-soaked animated world, being brown has two connotations — being a punchline at worst (the second scene in the first episode is a rapid sequence commenting on Velma's weight, "handsome face," and "hairy gorilla arms") or being ignored at best. The gray area that Velma occupies represents a divide: Is Kaling doing the work of the bullies by putting down her own brown protagonist? Or is she, as a brown person, perfectly justified in making these jokes?
Velma's character (who, to be clear, is written by a group of people and not just Kaling), is reminiscent of the world roughly a decade ago. It was a time when audiences were still laughing at Apu Nahasapeemapetilon on "The Simpsons" and comedian Russell Peters (who conveniently voices Velma's father, Aman), who used trite stereotypes about Indians in his stand-up. "The Mindy Project" debuted in 2012 employing the very tropes we see in "Velma," ones that would only somehow reincarnate in each subsequent show by its titular creator (less so in "Never Have I Ever," but exaggerated in "The Sex Lives of College Girls").
Of course, it's not easy to create a singular character who represents all South Asian Americans, since our experiences can't be homogenized. And the show does have some great nuances — particularly in making Velma queer, something that past depictions of her character have assiduously avoided. I argue, though, that we've evolved past that era of using our culture as a gag line or a reason for self-deprecation.
And so, when I saw the first two episodes of "Velma," I immediately went to social media to see if it was sitting wrong with anyone else. And, based on the deluge of disappointed tweets, I wasn't alone. Here are a few that resonated the most:
#usanews #usa_news