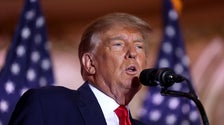 WASHINGTON ― Donald Trump promised Thursday to deliver a "big political speech" at the "annual roundtable" for Judicial Watch ― a tax-exempt charity that under the law is not supposed to be engaging in politics at all.
The coup-attempting former president, apparently still smarting from a recent magazine story that described his 2024 effort as virtually nonexistent, claimed Thursday night's appearance proved that he is, in fact, campaigning.
"Making a big political speech today at TRUMP DORAL, in Miami," he wrote. "The Fake News says I am not campaigning very hard. I say they are stupid and corrupt, with the Election still a long time away."
His appearance will be hosted by Judicial Watch, which has a 501(c)(3) tax exemption. This allows donors to deduct their gifts to the group but also prohibits it from engaging in politics.
Jill Farrell, Judicial Watch's communications director, said she had no concerns about Trump's planned remarks at a "private" event that is not permitting news media coverage.
"This is not a campaign speech," she told HuffPost. "There is no 'there' there."
Robert Maguire of the Citizens for Responsibility and Ethics in Washington said Judicial Watch's coziness with Trump is proof that the IRS is incapable of enforcing regulations on tax-exempt groups. "This is further evidence of the absolute inability of the IRS to take action against these groups that are clearly political outfits that are using their tax-exempt status as a shield," he said.
Other tax-exempt groups have been more careful about avoiding politics.
When failed Republican candidate for Arizona governor Kari Lake appeared at Turning Point USA's conference last month in Phoenix, group president Charlie Kirk made a point of coming on stage prior to her remarks to state that her visit was being sponsored by TPUSA Action, the charity's 501(c)(4) arm.
Organizations registered under that provision can engage in some politics, and donations to them are not tax deductible.
On its tax forms for both 2019 and 2020, the latest available to the public, Judicial Watch checked the "NO" box in answer to the question: "Did the organization engage in direct or indirect campaign activities on behalf of or in opposition to candidates for public office?"
Lloyd Mayer, a professor and tax-exempt organizations expert at Notre Dame University's law school, said Judicial Watch had the right to invite Trump as a former president and would not be breaking rules so long as Trump did not speak about his campaign. "And even if Trump makes such a mention, if Judicial Watch instructed him not to but he went off script, Judicial Watch would have a defense because it could claim it took reasonable measures to avoid any such mention," Mayer said.
Marcus Owens, a former head of the Exempt Organizations Division at the IRS, said a "narrowly tailored" speech by Trump about his experience as president was legitimate. "The challenge for Judicial Watch is that it's very difficult to imagine Donald Trump staying on script and not talking about his political future," he said.
Owens said the fact that the event is being held at a Trump property, with profits flowing directly into Trump's pocket, was also curious. "It calls into question whether Judicial Watch is making a contribution to Donald Trump's campaign," he said. "They are counting on the IRS not having the agents and ability, financially, to undertake an audit of Judicial Watch at this point."
Judicial Watch's president, Tom Fitton, has been a public supporter of Trump for years. According to an email found by the House Jan. 6 committee, Fitton advised Trump on Oct. 31, 2020, to declare on election night regardless of the result: "We had an election today ― and I won."
Fitton sent another email on Election Day itself to remind Trump of his earlier memo. Soon afterward, in the wee hours of Nov. 4, Trump took Fitton's advice and declared: "Frankly, we did win this election."
Trump continued lying about a "stolen" election for the next two months and attempted to coerce his own vice president into declaring him the election winner. The effort culminated in the violence at the Capitol on Jan. 6, 2021, which resulted in five dead police officers.
In a statement, Fitton said Judicial Watch was "honored" to have Trump speak to its supporters. "President Trump engaged in a historic battle against government corruption and abuse, a battle which continues to this day," Fitton said. "We are honored he will address and educate Judicial Watch's supporters about the ongoing rule of law crisis that so threatens our republic."
#usanews #usa_news