Climate activist Greta Thunberg was arrested for protesting the expansion of a coal mine which was caught on video and sent social media into a frenzy. 
Thunberg was one of many protesters carried away by police while protesting the demolition of an abandoned village for the expansion of a coal mine in Germany. Thunberg, a self-proclaimed "autistic climate justice advocate," has spent many years in the public eye warning about climate change.
After video emerged of police detaining her, some Twitter users claimed the arrest was staged while others compared it to when Rep. Alexandria Ocasio-Cortez, D-N.Y., was arrested protesting abortion rights. 
THUNBERG SWIPES AT ANDREW TATE AMID HUMAN TRAFFICKING CHARGES IN TWITTER SPAT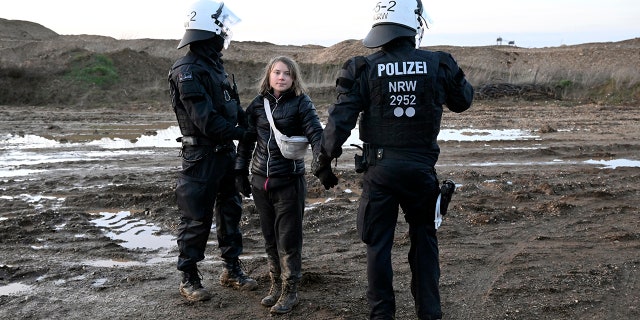 "LMFAO Greta literally staged being arrested for the cameras," senior digital strategist Greg Price at X Strategies LLC tweeted. 
The footage he shared showed the climate activist standing and smiling while flanked by what appears to be German policemen as a cameraman took pictures.
Fox News contributor Guy Benson responded by posting photos of Ocasio-Cortez smiling and putting her hands behind her back, mimicking being handcuffed. He added the caption, "same energy." 
 Journalist Andy Ngo gave a grim description of the protest as a whole, suggesting it had been rife with left-wing violence. 
"At the autonomous zone in #Luetzerath, Germany by militant leftists, #Antifa & climate extremists, Antifa surrounded and attacked journalists," he wrote. "The violent occupation has been praised by leftists & Greta Thunberg for stopping a coal mine expansion."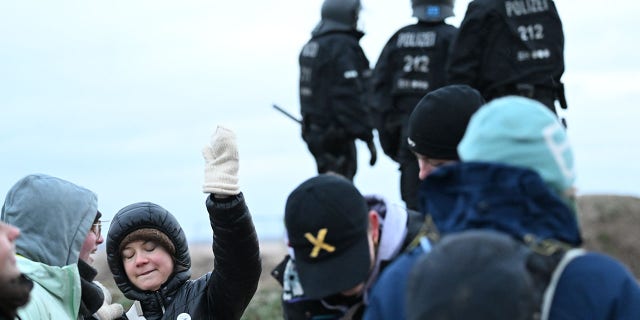 UK CLIMATE PROTESTERS GLUE THEMSELVES TO CONSTABLE FRAME
Conservative commentator Ian Miles Cheong slammed Greta for protesting the mine in the first place.
"Greta Thunberg is in Germany protesting a coal mine because she thinks it's better for elderly Germans to freeze in winter than it is for Germany to develop any sort of coherent energy strategy," he tweeted. "Make it make sense."
Some of Thunberg's fellow environmentalists weighed in and showed solidarity with her. 
"Greta's first arrest. It's time for many more of us to stand up and risk arrest for the sake of a livable planet," NASA climate scientist Peter Kalmus wrote. "It will turn the tide."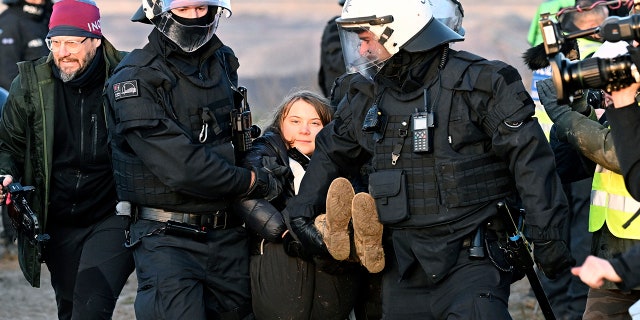 CLICK HERE TO GET THE FOX NEWS APP
Climate campaigner Mike Hudema suggested the future of millions is at risk.
"Greta Thunberg has been detained in Germany for protesting the expansion of a coal mine despite the government claiming it will exit coal by 2030," he tweeted. The coal expansion betrays 'present and future generations.'"
#usanews #usa_news