CNN
 — 

The gun allegedly used by a 6-year-old boy to shoot his teacher at a Newport News, Virginia, school was legally purchased by the child's mother, officials said.
The boy took the firearm from his home to school in his backpack Friday, Newport News Police Chief Steve Drew said Monday.
The teacher was "providing class instruction when the 6-year-old child displayed a firearm, pointed it at her and fired one round," Drew said at a news conference. "There was no physical struggle or fight."
The teacher was shot in the chest, through her hand, the chief said. She is in stable condition, he said.
Drew declined to comment on whether the gun had been secured in the home, saying more interviews and investigation were needed.
The boy is under a temporary detention order and is being evaluated at a local hospital.
"We have been in contact with our commonwealth attorney and some other entities to help us best get services to this young man," Drew said Friday.
Once all interviews are conducted, police will present the information to the commonwealth attorney's office to determine whether there will be any charges against the parents, Drew said.
The teacher was first identified by her alma mater, James Madison University, as Abby Zwerner.
The school, Richneck Elementary, will be closed this week to give students "time to heal," the school announced.
The police chief, Newport News mayor and the school superintendent on Monday praised the response by Zwerner, school staff and other teachers after the shooting.
The police department received a call at 1:59 p.m. on Friday that a teacher had been shot, Drew said. When officers entered the classroom where the shooting happened five minutes later, they saw the boy was being physically restrained by a school employee.
The 6-year-old was combative and struck the employee restraining him, and officers took control, escorting him out of the building and into a police car.
The wounded teacher made sure all her students made it out off the classroom just after the shooting, Drew said. She was the last to leave her classroom, making her way to the administration office.
Newport News Mayor Phillip Jones discussed meeting heroes while a Marine and said Zwerner would be welcomed among them anytime.
"Abby was faithful as a teacher," Jones said. "She ensured that everyone was accounted for and that she was the last one to leave."
"What we saw were teachers who took immediate response to secure their students," Newport News Public Schools Superintendent George Parker said. "To make sure they separated themselves from a potential threat – and they responded accordingly."
The elementary school had an emergency plan in place that allowed for immediate medical care for the injured teacher, Parker said Friday.
"While no amount of planning can guarantee that a tragedy such as this will not occur; please know that our collective efforts and preparation resulted in immediate medical care for our faculty member, no injuries to students, and a safe and efficient reunification process for our families and students," Parker said.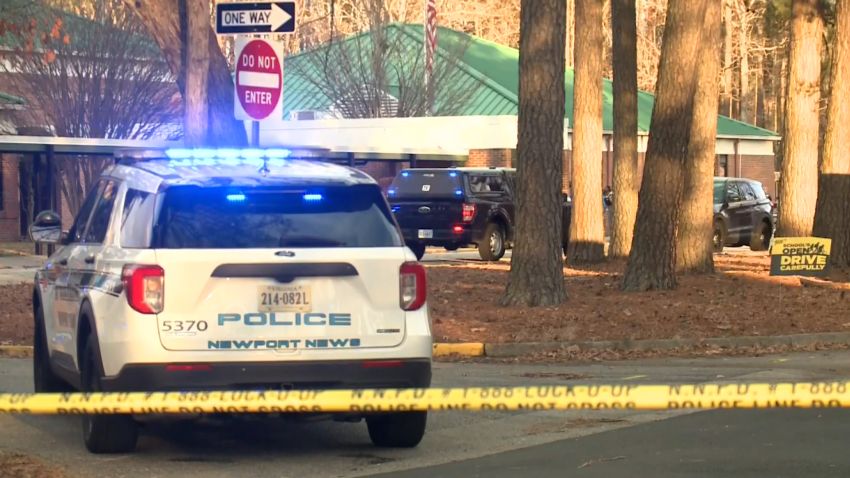 Police investigation underway after 1st grader shot his teacher
The school does not have a resource officer assigned to it, district officials told CNN on Monday. Only middle schools and high schools have a resource officer on campus, the district said, while elementary schools have security guards who do not carry weapons.
Richneck Elementary shares a security guard with a neighboring school, and the district could not tell CNN which school the guard was when the shooting happened.
The district also could not tell CNN if there were any disciplinary actions against the 6-year-old prior to the shooting.
As the investigation continues and police probe how the young boy gained access to a firearm and what led up to the shooting, community members are grappling with what happened.
"It's a very difficult thing to process," Mayor Jones told CNN on Sunday. "The fact that we have a 6-year-old individual with the ability to bring a gun into school and harm his teacher – something that we're still grappling with."
The mayor would not comment on the child's family or their involvement with the investigation.
"There's a lot of questions that we have to answer as a community," the mayor added. "Up with, how a 6-year-old was able to have a gun, know how to use it in such a deliberate manner … The individuals responsible will be held accountable. I can promise that."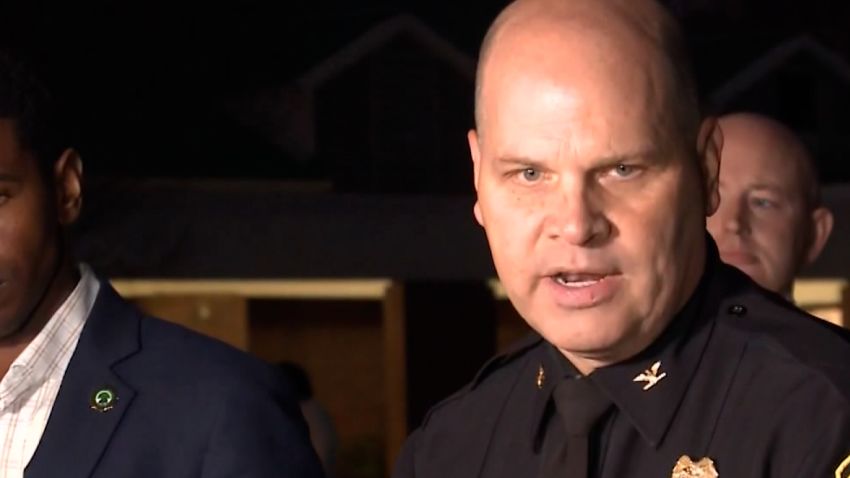 Police chief answers questions after he says 6-year-old shot teacher at school
Friday's shooting was the first of 2023 at a US school, according to analysis by CNN. But shootings in US schools have become far more common than they are in any other country. In 2022, there were 60 shootings at K-12 schools, the CNN analysis shows.
Still, school shootings by a suspect so young are relatively rare. According to the K-12 School Shooting Database, which tracks shootings in American schools going back to 1970, there have been three other cases in which the suspect was as young as 6: in 2000, 2011 and 2021.
Students and a grandmother who was at the school described the harrowing moments in the aftermath of Friday's shooting.
"We were doing math … an announcer came on, she was like, 'Lockdown, I repeat lockdown,'" said fifth grader Novah Jones, who was not in the room where the shooting happened.
"I was scared … it was like my first lockdown and I didn't know what to do, so I just hid under my desk like everybody was."
Novah at first believed there was a man with a gun at the school, she said in a CNN interview with her and her mother.
"I was thinking that … a man was going to shoot us," Novah said.
A faculty member ran into the main office to say a teacher had been shot, said Lawonda Sample-Rusk, who was picking up her grandsons at the school when the shooting happened.
She was frightened gunfire had erupted in one of her grandsons' classrooms, she said. "I was about to walk down to their classrooms myself, but then the teacher who was shot ran into the office," Sample-Rusk told CNN. "She was saying 'Call 911! Call 911!'"
The teacher fell to her knees, Sample-Rusk said, and crawled behind a desk. A receptionist used a code word over the intercom to tell other faculty the school was going into lockdown.
Three or four other people were with the teacher, Sample-Rusk said, each helping to give her aid.
"The wound was in her chest area and everybody was taking turns applying pressure on her wound and trying to keep her aware," Sample-Rusk said, adding first responders arrived a few minutes later.
Parents hurried to the scene as news spread of the shooting, living through a nightmare families of students at so many other American schools have shared.
When Mark Anthony Garcia found out about the shooting, he raced to the school, where his son is in second grade.
"There was police helicopters everywhere outside, traffic was jammed up," he told "CNN This Morning" on Monday. "Then there was a 2-mile radius cordoned off of parked cars and people running, trying to actually get to the scene."
Garcia's son, Mark Jr., said his teacher heard the shooting and shepherded his class back to their classroom, "and then when we got there, we all stayed quiet."
"Two people were crying," he said. "And when the cops came, we were marching to the gym."
Following the shooting, all students at the school were evacuated from their classrooms with their teachers and taken to the gymnasium, where they were with counselors and officers, the police chief told CNN affiliate WTKR.
Though she was able to return home safely, Novah said she had trouble sleeping that night, worried that "he still had the gun and he was going to come to my house."
"I had like flashbacks," Novah said.
Licensed therapists are available to help parents with tips for talking with children, counseling services and resource referrals, Richneck Elementary said in an update on its website.
Correction: A previous version of this story overstated the number of shootings last year in K-12 schools. It is 60.
#usanews #usa_news