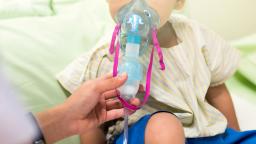 CNN
 — 

When Covid-19 patients younger than 5 also test positive for another respiratory virus, they tend to become sicker and develop more severe disease, a new study suggests.
Among hospitalized children younger than 5, testing positive for both Covid-19 and another respiratory virus at the same time is associated with about twice the odds of severe respiratory illness than those who tested negative for other viruses, according to the study published Wednesday in the journal Pediatrics.
The study comes amid a harsh season of respiratory viruses, including RSV, flu, Covid-19 and other viruses that overwhelmed children's hospitals. The findings demonstrate the impact respiratory viruses have on pediatric hospitals and how "continued surveillance" of circulating Covid-19 and other illnesses can help predict future surges in hospitalizations, wrote the researchers, from the US Centers for Disease Control and Prevention and various universities and health departments across the United States.
Caring for young children with overlapping respiratory illnesses was something Jenevieve Silva has experienced firsthand throughout the Covid-19 pandemic.
"The height of the illnesses was from September through mid-November, when our household just could not catch a break," she said.
The mother of eight, based in San Jose, California, said that her toddler-age twin boys "have been battered by viruses" since they started preschool in May 2021.
Last October, Silva's twins tested positive for Covid-19 and then developed what their pediatrician suspected was another respiratory viral infection, possibly respiratory syncytial virus or RSV, around the same time.
"Based on what the pediatrician told us, she said 'I highly believe that they had these overlapping viruses,'" Silva said, adding that the boys' symptoms included shortness of breath, cough, fatigue, and fever, with one twin having a 105-degree fever for four days straight.
Warm baths and massaging Vicks VapoRub onto their backs and chest helped ease their pain, but watching her boys battle these respiratory illnesses was "brutal," Silva said.
"They had just looked so frail – they looked sick, like something deeper than just back-to-back viruses," she said. "It was hell. I mean, it was really bad."
The boys have recovered and are currently "doing great" and have gained healthy weight, Silva said, but she worries that they developed asthma following their illnesses.
Ever since October, when they had the overlapping viruses, "the doctor has now said it seems like that might have triggered asthma in them. And so now, ever since then, when they get a cold, they have asthma symptoms – violent episodes of coughing, sometimes throwing up," Silva said.
"I can't be the only mom dealing with virus after virus," she said, adding that for other parents out there, she has a message of hope: "Be patient. Listen to your doctor."
The new study included data on 4,372 children who were hospitalized with Covid-19. Among those who were tested for other respiratory viruses, 21% had a codetection, meaning another respiratory virus was also detected in their test results. The data came from the US Centers for Disease Control and Prevention's Covid-19 hospitalization surveillance network called COVID-NET, with data from across 14 states.
The researchers noted that they focused on codetection, not coinfection, since testing wouldn't necessarily show that a child was actively infected with both viruses just because they test positive.
Overall, "this study found that respiratory virus codetections were rare in the first year of the pandemic, RSV and rhinovirus or enterovirus codetections increased during the Delta-predominant period and influenza codetections were infrequent throughout the first 2 years of the pandemic," the researchers wrote in their study.
The data also showed that children with codetections were more likely to be younger than 5, receive increased oxygen support, and be admitted to the intensive care unit. No significant associations were seen among children 5 and older.
Specifically for children younger than 2, testing positive for respiratory syncytial virus or RSV while having Covid-19 was significantly associated with severe illness.
More research is needed on the precise impact that two respiratory viruses can simultaneously have on the body, said Dr. William Schaffner, a professor in the Division of Infectious Diseases at Vanderbilt University Medical Center and medical director of the National Foundation for Infectious Diseases, who was not involved in the new study.
"But we do think that being attacked by two viruses, particularly if you are less than five years of age, it's been clearly demonstrated by this study, it does tend to make your illness more severe, more likely to be prolonged in the hospital, more likely to be in the pediatric intensive care unit," Schaffner said. "And so clearly, having your lungs and your throat and your body – generally your immune system – attacked by two viruses simultaneously, understandably might make some young children more severely ill."
Dr. Asuncion Mejias, associate professor of pediatric infectious diseases at Nationwide Children's Hospital, said hospitalized children she has treated for Covid-19 and codetections of other respiratory viruses often require increased oxygen support and treatment in the intensive care unit.
"Covid is a very proinflammatory virus, so it really weakens your immune response," said Mejias. "And when you haven't recovered yet, and you get a second hit, in this case, RSV or rhinovirus, you develop a more severe disease."
Overall, Schaffner said that these new study findings are more reason why it remains important to make sure children are up to date on their Covid-19 vaccinations as well as vaccinated against the flu.
Mejias agreed, emphasizing the importance of safe practices to prevent the spread of viruses to children too young to be vaccinated.
"The pandemic taught us how contagious these viruses are," Mejias said about respiratory pathogens.
"If somebody is sick, try to avoid contact," she said. "These viruses are not only transmitted by saliva and secretions but by hands. It can survive in your hands for more than 30 minutes. So if you touch your mouth and then touch a little baby, the baby can self inoculate the virus and become infected. So washing hands and all these measures are very important."
#usanews #usa_news