Backlash ensued soon after a monument meant to honour
Rev Dr Martin Luther King Jr
and his wife Coretta Scott King's legacy in Boston was unveiled.
The 20-foot tall, 40-foot wide "The Embrace" statue was unveiled Friday on
Boston Common
, where King gave a speech on April 23, 1965, to a crowd of 22,000.
The statue was inspired by a photograph of King and Scott King which captured them hugging after he won the Nobel Peace Prize in 1964.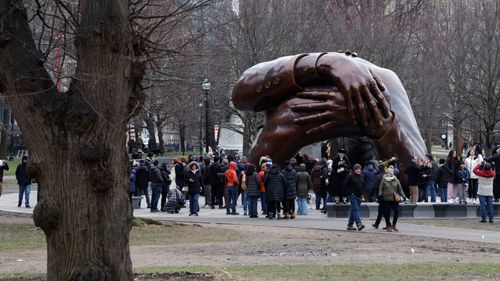 The art piece, designed by Brooklyn-based conceptual artist Hank Willis Thomas, only features the couple's arms during the embrace and not their heads, which has sparked criticism and mockery online.
Some people described it as hideous or disrespectful while others posted memes and said it resembled a sex act.
Seneca Scott, a community organiser in Oakland, California, and cousin of Scott King, told CNN the statue was insulting to his family.
He previously described it as a "masturbatory metal homage" in an essay published by Compact Magazine.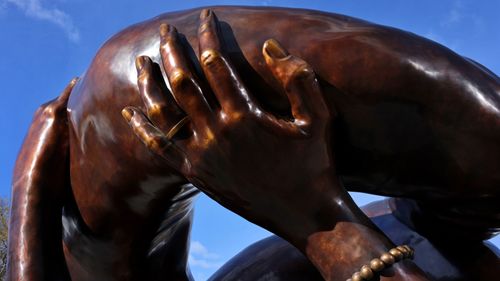 "If you can look at it from all angles, and it's probably two people hugging each other, it's four hands. It's not the missing heads that's the atrocity that other people clamp onto that; it's a stump that looked like a penis. That's a joke," Scott told CNN.
But Martin Luther King III said on Monday he was grateful to be able to see a statue representing his parents' love story and their partnership.
While some people have negative opinions about the monument, he told CNN's Don Lemon on Monday he liked it.
"I think that's a huge representation of bringing people together," King said.
"I think the artist did a great job.
"I'm satisfied. Yeah, it didn't have my mom and dad's images, but it represents something that brings people together.
"And in this time, day and age, when there's so much division, we need symbols that talk about bringing us together."
Thomas appeared Tuesday on "CNN This Morning" and said his goal was to capture "the feeling of love" in the Kings' relationship and has no plans of changing the statue.
"This is a piece that was selected by the people of Boston. This is not Hank just came and put something.
Thousands of people worked on this, thousands of people actually put it together and no one saw this, I would say, perverse perspective," Thomas said.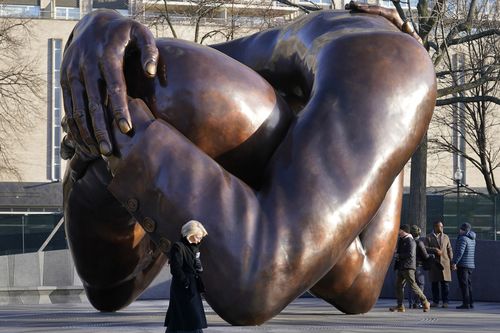 He noted other monuments like the Vietnam Veterans Memorial and the Washington Monument drew criticism in the past and "The Embrace" is just another case of it.
In his newsletter, Thomas said earlier this month the piece was not only a monument to King and Scott King "but a monument to love and the power it holds."
A representative for Embrace Boston, a racial and economic justice group nonprofit behind the creation of the monument, declined to comment about the criticism and deferred to King III's comments.
"The Embrace is intended to inspire visitors to reflect on the values of racial and economic justice that both Kings espoused," the group said about the memorial on its website.
Sign up here
to receive our daily newsletters and breaking news alerts, sent straight to your inbox.
#australiannews #australian_news